[Continuing a series of Japanese game music interviews, Gamasutra chats with classic Sega composer Takenobu Mitsuyoshi, with insight on his history in the game business and his contributions to the EXTRA Hyper game concert held just after Tokyo Game Show this year.]
Takenobu Mitsuyoshi has written music for such Sega arcade series as
Daytona USA, Sega Rally
and
Virtua Fighter
. He was also involved in composing music for the soundtrack to the acclaimed Sega Dreamcast title
Shenmue
. In 2003, he created the album "
From Loud 2 Low ~Takenobu Mitsuyoshi Works~
." Published by Hitmaker Records, the selections include arrangements from various Sega titles, featuring the musician's participation as a composer and performer. Mitsuyoshi has performed his video game music live on stage in various contexts. He performed at this year's Games Convention in Leipzig, Germany and attended the Montreal Game Summit. For the past two years, he has participated in both
EXTRA Hyper Game Music
events in Tokyo, hosted by
5pb Records
. Singing vocals as part of the Sega Sound Team, dubbed "H.," their set included rock remixes of classic Sega titles including
Fantasy Zone
and
Space Harrier
. Following the game concert, we had the chance to hear from the musician on the challenges inherent in arranging Sega arcade songs for live rock and roll performances. The discussion offers some insights into Mitsuyoshi's unique path in the video game industry and how it intersects with the Sega sound team's enthusiasm for rock music.
First of all, congratulations on H.'s pulling out all the stops at this year's EXTRA Hyper game concert.
Takenobu Mitsuyoshi: Thanks for mentioning it, on behalf of H.! This performance marks our second year at the EXTRA event, and it was a thrill to witness the excitement of the packed audience as we got up on stage to perform. The first song we played was from
Space Harrier
, the drummer keeping time without a click track, and I was impressed with how well it captured a genuine rock sound.
This is your second time performing at the concert. Do you find it useful to take a break from writing music every so often and sing for a crowd of pumped video game fans?
TM: Normally, I'm in front of my desk, typing away at my PC, so definitely yes! I work on songs and sound effects, so my work is related to music, but it's a different kind of relationship. Our jobs at Sega allow us the time to really study music, and, to a certain extent, it enhances our motivation to work together to create something for a live event like this.
We spoke with composer Hip Tanaka after the show, and he said that his only qualms with the concert were the number of men there to see the 8Bit Idolm@sters perform.
TM: That's Tanaka-san's sense of humor. Truth be told, it's men that make up a large percentage of video game music enthusiasts, for whatever reason. This is actually a really old discussion that goes at least as far as back as when I joined the SST Band. The ratio of men to women hasn't really changed much. In fact, this time around, the popularity of the Idolm@ster vocalists has led to the number of male fans multiplying out of control, I'm afraid. That's just a given, considering the circumstances. Gender aside, we can in all honesty express our gratitude to the 2000 attendees who turned out to listen to our video game music.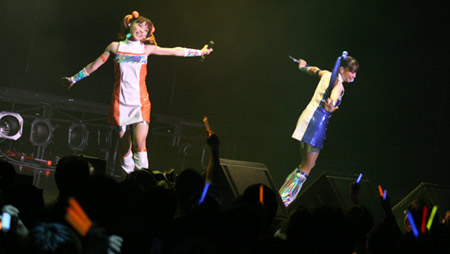 Performers from the Famison 8-bit Idolm@sters series on stage at the 2008 EXTRA Hyper Game Music Event.
Last year was the first ever EXTRA. How did you and your fellow band members at Sega decide which songs to perform for the show? TM: As with last year, the concept behind the EXTRA series was to summon up memories of the good old days of arcade music as an affirmation of its significance to us. With that premise in mind, H. was allotted the role of transforming slices of Sega's classic game themes into a musical performance. We brought this combination of the established melodies and altogether new ideas, and the audience was genuinely delighted with the results. It was all grounded on the basis that these were pieces of music that they remembered listening to in the arcades. To make it a novel experience, we have the live drums on hand, for instance, and all the music has been arranged once more from the ground up. Do you find it difficult coming up with lyrics to games like Space Harrier and Fantasy Zone, seeing as dialogue is not a prominent aspect of the experience? TM: Well, one of the songs features the refrain "YA-DA-YO!" ("What are you doing to me!") I think this phrase pretty much sums up the player's frustration when facing certain bosses. "Let's Go Away!" is another one, which relates to the desire to lose yourself in the game world. You could say the lyrics change depending on the character of the game that is chosen as the subject of the arrangement.
Takenobu Mitsuyoshi and percussionist Rony Barrak riff on the theme from Daytona
When did you start working on the songs from for this year's concert? TM: We received word that we were invited to this year's EXTRA about two months before the performance, though it took a month before we had arrived at all the particulars of our plan. We were fortunate enough to need less time to prepare, seeing as it was our second year in succession, though there were difficult passages, including a ten-minute medley, and the songs were new as well. Are there any notable differences between this year's selections and last year's? TM: I would have to say that the most significant change was having live drums. Last time, all the drums were recorded, which makes for a huge difference. There was a much stronger sound to the band this time around. You might have difficulty believing it, but our drummer was an 8th grader! Our set was ten minutes shorter in duration than it was last year, so we were a little worried about that. We kept the idea of the medley, this time including one from Fantasy Zone, but had to cut the ballads from the set list out of consideration for the time constraints.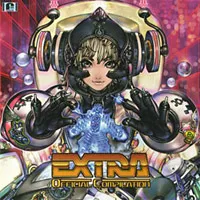 What would you say were some of the highlights of the show for you? TM: I would have to go with the Korg DS Trio. The idea of performing live on a really practically priced piece of equipment has been something that people have talked about for awhile, but I think it was finally demonstrated on stage with tremendous impact. I thought, this surely was pure video game music, from the instrument down to the conception and composition. Nobuyoshi Sano of the Korg DS Trio often goes by the name Sanodg. In terms of your own career as a video game composer, you are sometimes listed as R. Saburomaru. Is there a story behind the pseudonym? TM: When I was first hired to write music for Sega, the company was working on a competitive bike racing game called "GP Rider." At that time there was a dedicated cabinet released called the R360, which had both vertical and horizontal rotation. They created a game for the cabinet called G-LOC, which they asked me to write music for. After that, I became a member of the SST Band, and everyone there was named after a Sega title. I had long hair in those days. Though it wasn't like I wore it in a topknot like a samurai, I liked the idea of that kind of image. I took on the nickname R. Saburomaru ("三郎丸" being an antiquated way of saying "360"). At the time, Sega didn't list the names of musicians on CD liner notes, so I was credited as "R.三郎丸." You come from Fukuoka originally. Was working for Sega something that you had always planned on doing, or did circumstances take you by surprise? TM: It's no mistake that I was born in Fukuoka, but at three years of age, my father, who was a businessman, was transferred to Chiba Prefecture, and our family changed residences. I have no trace of a Fukuoka dialect. In high school and college I worked hard to maintain my musical craft, majoring in economics before deciding to pursue a career in music. I started learning classical piano when I was in my second year of high school. At that time, a friend of mine introduced me to Galaxy Force. I was surprised at how different the sound was from what I thought of as typical video game music. At that time, I was in a band, and I wondered whether this might be relevant experience to the video game music industry. I eventually applied for a job at Sega, hoping that I would be chosen as a member of the SST BAND. While many things came about by happenstance rather than by design in my winding up applying for a job at Sega, since then, I can honestly say that my life has headed in a direction that I feel I have determined for myself. You have participated in the development of some rather historic arcade game series. Were you always a fan of the arcades? What was it like making songs for Daytona USA? TM: I am honored to be a part of the history of arcade music, knowing there are many others who have contributed to its development, so thank you for your mentioning that. My first encounter with a games was through the PC. I had an NEC PC-6001 mk2 when I was in high school, and I was into games like Mappy, Xevious, and Pac-Man. Space invaders was another favorite of mine. In college I occasionally played the NES, but not so many arcade games. It was not until I entered the game industry that I discovered the arcade titles of Sega. During the development of Daytona USA, Namco released Ridge Racer. We received executive orders from Sega that we had to make something better than Ridge Racer, so the team really hunkered down, taking on the spirit of a sports team, to create the best possible graphics and music. I was working on sound for the game, so we put lyrics to the music, added the noise of a V8 engine, along with a CD quality audio system. Ridge Racer had none of these features. It was a big success.
How did you become involved in the Shenmue project? TM: It took a long time to develop Shenmue. It was my tenth year at Sega when the game was released ... but it didn't feel that way because half of that time had been spent on the soundtrack to Shenmue. My job as a sound director was to give instructions to staff regarding the music, which required understanding the setting and scenario, avoiding the mistake of letting the soundtrack wander too far outside the thematic concept of the project. I was involved in discussions with designers and programmers, while collaborating with [Sega game designer and producer] Yu Suzuki. It was more of a directorial approach than has been the case with other projects… and there were a lot of meetings. This is a game series that many players look back on with great fondness. In terms of your own experience writing music for the game, what do you remember most vividly about the Yokosuka chapter of the series? TM: The main theme of Shenmue stands out in my mind. You might have heard this already, but at first, Yu Suzuki gave me an overview of the storyline before asking me to start writing the music. I then proceeded to compose one song, purely based on my impressions. While it did not become the main theme for the game, that song has gone on to be played by many orchestras worldwide. Another memorable musical theme from the game is Ryuji Iuchi's "Earth and Sea". This piece of music for me conjures up the "will to battle," which I think is a significant motif of the game. Another memorable music project that you participated in is the Street Fighter Tribute album. How did you become involved in the arranged music project, and what was your experience remixing the famous Ryu stage theme? TM: When I was first asked to work on this arranged album, the video game industry was just beginning to experiment with venturing beyond the perimeters of individual companies on a given music project. I was really interested in the idea of [composer] Shinji Hosoe inviting many sound creators to work on it together. I had also spent a lot of time playing Street Fighter with my brother on the PC Engine, so I felt no hesitation in joining the team. Working alongside so many well-known sound creators, my task was to make a remix that was unique, so I decided to incorporate a vocal track, knowing it was my particular strength. I also had the idea that since I was a member of the project, I had might as well work on a tune for a major character in the game. I submitted my request, and, luckily, I was able to work on it. Initially, I had in mind that I would write English lyrics, so I chose an 80's American pop style with a fast-pace. The only thing I regret is using the direct translation from an online service, so the words themselves do not quite manage to express what I had in mind. We only had time to briefly touch upon your many original and arranged video game music projects, but is there anything you would like to say to those in English-language territories who enjoy your music? TM: Recently I have had many chances to visit other countries, meeting listeners in person to hear their feedback. It has been a chance to discover directly that there are a lot of people who enjoy my work. I'm touched by the enthusiasm of gamers, and the particulars of their language, ethnicity, age and gender are not an issue. Because my music uses the game as a medium to connect with the player, the experience is universal. Right now, I am thinking about game players outside of Japan more than ever, and I feel more motivated to do good work. Following the experience I had with Daytona, I hope that when people hear the name "Mitsuyoshi" they will think of the drive to make memorable music.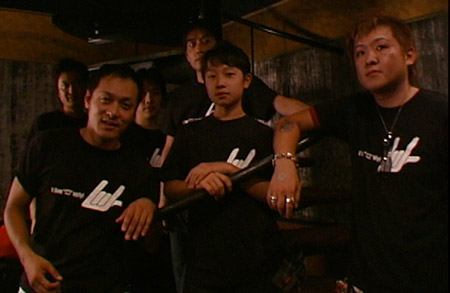 H. at the 2008 EXTRA Hyper Game Music Event in Shin-Kiba, Tokyo. From left to right: Mitsuharu Fukuyama, Takenobu Mitsuyoshi, Takehiro Kai, Hiroshi Kawaguchi, Eisei Kudoh, and Hidenori Shoji.
[This interview was conducted by Jeriaska, with translation by Ryojiro Sato. Images courtesy of Idolm@ster and EXTRA Official Compilation courtesy of 5pb Records. Photos of H. by Jeriaska. This article is available in Japanese at Game Design Current.]