[GamerBytes editor Ryan Langley offers charts and leaderboard data for Xbox Live Arcade titles in December 2010, to provide an indication of which titles are were hits or misses last month on the Xbox 360's digital service.]
In as years December's been a bit of a quiet month for the Xbox Live Arcade -- it's certainly difficult to get any recognition when everybody is on holidays. But Microsoft made the effort in 2010 with some top quality games like
A World Of Keflings
,
Raskulls
and
Ilomilo
in their Games For The Holidays promotion. Did it all pay off? And what of the many deals throughout the month -- both weekly and daily discounts on some of the top games? We delve deep into the leaderboard statistics for each of the new releases and see how it all went: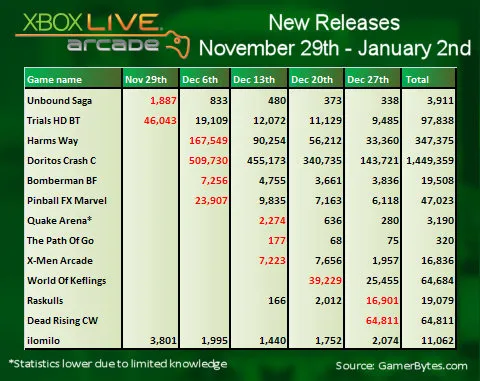 Trials Saga
For the week of November 29th, there was only one new release: Vogster's
Unbound Saga
. Based on the game's Leaderboards, it seems to have done poorly, with less than 4,000 players on its Leaderboards. The game did not get a lot of publicity prior to its launch, and currently has a
Metacritic rating of 51
, with few major websites willing to review it. What was released during that week and did better was the newest track pack for
Trials HD
. This new 400MSP 'Big Thrills' pack added 46,043 new players in the first week, nearing 100,000 players for the month. This was less than the
first pack
, but still a very good amount.
Land Of The Free
Back in 2008, the Doritos-branded
Dash Of Destruction
was released, a free title for anyone to play. In December, they released two more titles:
Doritos' Crash Course
and
Harm's Way
, both also free. While
Harm's Way
was the graphically superior title, the Avatar-based
Takeshi's Castle
style of
Crash Course
won over more people, with over half a million people playing it on the first day, and 1.5 million by the end of the month.
Harm's Way
, despite still being free, was downloaded far less. Outside of this there was another release:
Bomberman Battlefest
, the semi-sequel to the original
Bomberman Live
from back in 2007. The original was a huge seller, with over half a million people on its Leaderboards, while
Battlefest
seems to have come out with a whimper. Metacritic only shows
four reviews
, too. There was also one new piece of DLC, which could be considered a full release in and of itself.
Pinball FX 2
released the
Marvel
pack, 4 new pinball tables based around the license. It did very well in the beginning, with over 23,000 new players in the first week, with over 47,000 for the month. This is actually more than the standard tables for
Pinball FX 2
did in its
first week
, which was only 19,000. This pack was also released on the PSN as a separate title entirely.
The Arcade Experience
Quake Arena Arcade, X-Men Arcade
, and Microsoft's own
The Path Of Go
were all released on the week of December 13th.
Quake Arena
has been delayed for some time now, thanks to exchanges of publishing rights from Activision to Bethesda. It was also developed by the same team who worked on
Bomberman Battlefest
. However it didn't do very well at all -- very few people are on the Leaderboards at all, with just over 3,100 in the month. Though this might just be those in ranked matches, it's still a very low number. Perhaps this could be due to the fact that you can play the same game for free online on any PC with
Quake Live
. The title was reviewed extensively, but has a
Metacritic rating
of 69.
X-Men Arcade
comes in a long line of beat-em-up games coming to the Xbox Live Arcade thanks to the popularity of
Castle Crashers
and
Teenage Mutant Ninja Turtles
. Alas, it hasn't seen the same kind of popularity of those games -- with 16,836 players popping up in the first month, according to Leaderboards. Microsoft's research department developed their own complex AI, and decided to implement it into a game of
Go
for the Xbox Live Arcade. However, it doesn't seem to have struck a chord; only 320 people are on the "time played" Leaderboards, which is amazingly low. Absolutely no outlet out there
reviewed it
either. Perhaps it's too complex for the XBLA audience.
From A Kingdom To A World
A Kingdom Of Keflings
was a giant success for NinjaBee, with over half a million people on their Leaderboards now, partly due to the extensive early Avatar support. The sequel might not do quite as well, but it hasn't stopped it from selling quite a few copies in its first few weeks. Part of the 'Games For The Holidays' promotion,
Keflings 2
added 39,229 players in its first week with 64,684 in the month, a decent amount compared to most Xbox Live Arcade titles. It should continue to sell nicely for some time to come -- and the original is still selling quite a bit too.
You're a Dirty Raskull
Despite being in the middle of a promotion, three new releases popped up in the final week of the year -- Halfbrick's
Raskulls
was the promoted game, but Capcom's
Dead Rising: Case West
and Naked Sky and EA's
Microbot
were also released during this week.
Case West
was released on Monday the 27th rather than Wednesday the 29th for reasons unknown -- likely to get the new Xbox owners enticed as quickly as possible. For the week it added 64,811 new players -- far less than
Dead Rising: Case 0
added during its first week, but this new expansion was also twice as expensive.
Raskulls
did pretty well also, adding 16,901 players in the first week for a total of 19,071. The game was available early for those who purchased the new
Keflings
, as they could access it via an in-game menu. As for
Microbot
, it had no good Leaderboards to follow, so we don't know how well it's sold. But considering EA didn't notify anyone of its release prior, and that it was on sale in the middle of January for half price, I imagine it may have sunk quite quickly
Ilomilo
is also on this list; it was released on January 6th, 2011, but was available early to those who downloaded
Keflings, Raskulls
or those who went to a secret website to get a trial code. 11,062 players decided to invest in the puzzler prior to its official release.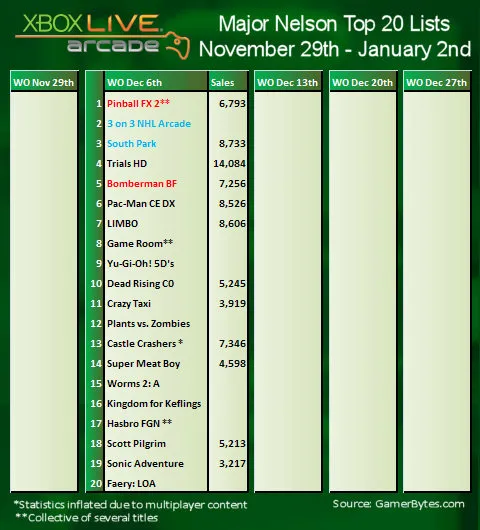 The Single Top 20
Due to the holidays and just general distractions, only one Top 20 was released for December. One of the least crazy weeks, too;
Pinball FX 2
sits on top with the release of
Marvel Pinball, Trials HD
and
Limbo
continue to do increasingly well.
South Park
and
NHL 3-on-3 Arcade
were also hits after being on sale for that week. It does show us a few extra details -- Game Room seems to be doing alright once popular titles started getting released on the platform, and
Crazy Taxi
and
Plants Vs. Zombies
are still doing well a while after their release.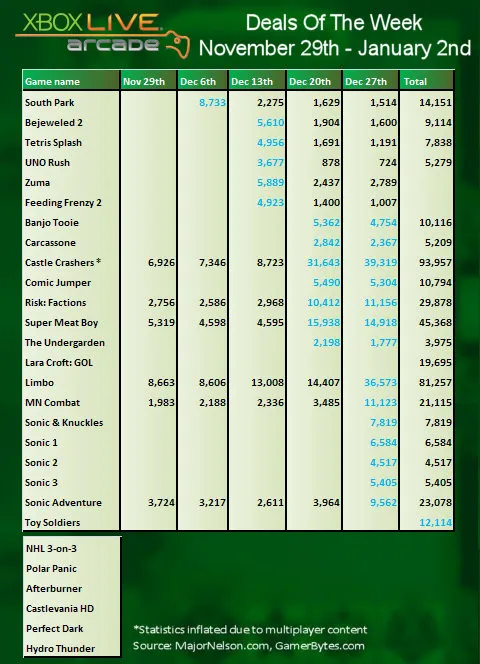 December Deals
Much like last year, December was filled with all sorts of deals both weekly and daily thanks to Christmas.
South Park, Polar Panic
and
NHL 3-On-3 Arcade
were the first to go on sale, with
NHL
hitting second most downloaded game that week and
South Park
being third.
Polar Panic
didn't even hit the Top 20.
Bejeweled 2, Tetris, UNO Rush, Zuma
and
Feeding Frenzy 2
all went on sale for one week, all selling pretty much the same throughout -- more than they've done for a while, at the very least. The next set were on sale for two weeks straight:
Banjo Tooie, Carcassone, Castle Crashers, Comic Jumper, RISK Factions, Super Meat Boy
and the
The Undergarden
went on sale throughout Christmas, and up to the New Year. While
Comic Jumper
and
The Undergarden
received meager additional sales,
Castle Crashers, RISK
and
Super Meat Boy
all did very well during this time, actually allowing
Castle Crashers
to hit over 2 million users on the Leaderboards.
The Daily Deals
Throughout this time, some games went on sale for just one day.
Limbo
went on sale for 33% off and saw a big bump in sales. Another day saw all
Sonic
-based XBLA games get discounts, including
Sonic & Knuckles
getting dropped to just 120MSP, or $1.50. Each game did pretty well for being on such short notice -- as noted by many, you could get the entire Genesis Sonic lineup for less Points than the not-so-favored
Sonic 4.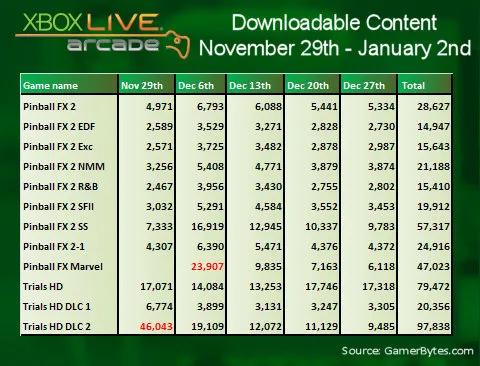 Pinball Wizard
Pinball FX 2
's "
Game Room
for Pinball" idea has worked very well, as you can see from this list. While some of the older tables might just be getting imported from
Pinball FX 1
, there still seems to be a substantial amount of people buying them anew for FX2. The SuperScore ("SS") shows all the new players per week who play one of anything, which is still quite high for something that came out in October.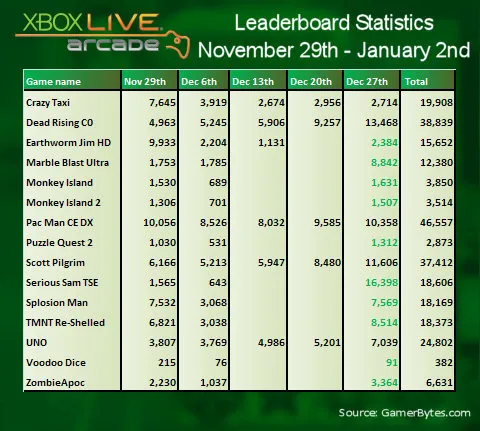 Pac Man Fever
We also followed many other titles during December. Unfortunately due to numerous issues, we were unable to follow all weeks for each game. Those numbers in green are collections of several weeks of stats, and not just one week's worth. The most notable game of this list is
Pac Man CE DX
, which has barely dropped off throughout December, which is usually incredibly difficult to do. It didn't have a tremendous first week, but no fall off over time is an awesome thing to see for this great game.
2011 And Beyond
January will be an interesting month. Games like
Ilomilo
will finally be released and the shooter
Breach
will become available. It's not a massive release list in the grand scheme of things, but we could see some good sales during an otherwise slow period.