Last week, Insomniac Games welcomed around 100 members of the game-playing public into its offices for its first ever community day, to celebrate and promote the launch of its fall PlayStation 3 title,
Resistance 2
, with its most passionate fans -- and shared a surprisingly robust number of development secrets with the public. The event was held at Insomniac's Burbank, California headquarters, and the day was split into two theater sessions that concentrated on the making of the game, and also included lunch, gameplay sessions, studio tours, and signings for the fans. Insomniac CEO and
Resistance 2
creative director Ted Price welcomed the fans to the event with genuine gratitude, explaining, "This is the first event like this we've ever had. We've never had so many people come into Insomniac, and it's something we've been looking forward to and planning for awhile... we want to show our appreciation for what you guys have been doing for us over the years."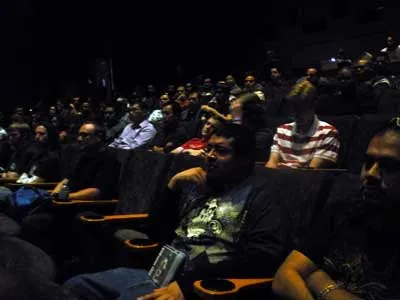 Price thanked the fans, who had largely come to the Greater Los Angeles-based studio under their own power and on their own dime. He pointed out that this passionate group has been invaluable in building community, moderating the MyResistance.Net forums, and giving "objective feedback, positive reinforcement, and occasionally some really blunt criticism." Said Price, "If we don't know what you guys are thinking about our games, we can't improve our games." After the welcome, the development team launched into a surprisingly candid and complex discussion of the making of the game, which was released last week in North America (and which is due this month in other major PS3 territories.) The huge discussion panel included 11 Insomniac staffers, as well as Susan Bonds, president and CEO of 42 Entertainment, which produced the alternate reality game which served as a viral marketing campaign and companion to the title. Over half of the questions were initially asked by Insomniac community staffers James Stevenson and Bryan Intihar; the remainder, many extremely savvy, were asked by the community.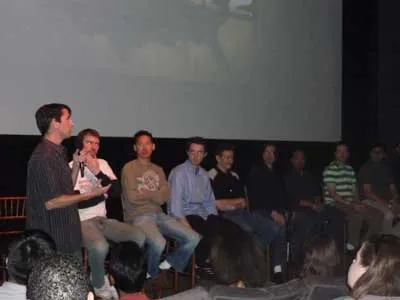 According to Price, the creative process for Resistance 2 was team-led, in a spirit of collaboration. "The creative directors on the project are responsible for being the consensus builders... we go and ask the team, hey, what do you want to do?" This sentiment was echoed by Jay Biegel, co-op lead designer. "Insomniac is very centered around collaboration, so any change or creation of weapons, there's a lot of teamwork involved... one of the things I think is really special about Insomniac is that collaboration. Designers like to think we start the conversation... but if you're a good designer you listen to other people." Biegel also included the attendees in this: "If the community has any good ideas for weapons, put them forward." Big Changes Tools group director Andy Burke explained that improved engine tech is what sets Resistance 2 apart from the studio's other games. "A few years ago, for Ratchet & Clank Future, we redid our toolset to make everything a bit more streamlined and manage the huge amounts of data... to make people able to see their changes in the game as fast as possible." Mike McManus, gameplay programmer, noted a big change was that "we used streaming in the game, which was a pretty big change both for tools and for engine." Biegel was adamant that the game's co-op design marked a big change for the title, saying, "We really wanted to do something different and special with co-op... the team was passionate with making it something different." The game is somewhat designed to reward teamwork and punish lone wolves with death. "We wanted to focus on what we think is the future of gaming -- that teamwork that happens organically." When asked about the huge boss encounters, Price explained that beyond delivering entertainment to gamers, these have a benefit to the creative process at Insomniac, as well: "One thing bosses have done for us is fostered a lot more collaboration between our animators and gameplay programmers... there's a lot of back and forth, and it was really cool to see the team gelling over these monsters." Adalbert Kinsey, senior technical animator, discussed Insomniac's approach to motion captured animation -- Resistance 2 being the first game for which the studio has utilized mocap. "We developed a way to take the motion capture and overlay it with hand-keyed animation without destroying any of the underlying motion capture. So you were picking up on the small details of a human's motion, while making sure he fits into our game engine and hits the poses that we need to hit -- always have the gun at the right height, that kind of thing." The change wasn't simple for Insomniac, as the artists there appreciate hand-keyed animation. Kinsey continued, "In the past, mocap doesn't have the snap and feel of a hand-animated character. People tend to smooth it out a bit... we tried ot make sure that we didn't destroy the motion capture, so the small little details stay" Huge Game, Viral Marketing Ed Kim, the game's project manager, discussed how managing a game with three major modes -- with high player counts (60 multi, eight co-op) -- became a major task for the team. "In R2, just the addition of such a big co-op mode, and competitive [mode], to a big single player [mode] as well makes it infinitely more difficult. We'd have to rely on single player assets to adapt them for multiplayer and vice versa, keeping track of the timeframe of when assets would be done... or what changes would be made." Kim concluded: "I don't even know where to start, it was a big challenge across the board. One of the more stressful things about it was, we have a reputation to uphold. Keeping the quality across the board took a lot of collaboration among all the teams and all the departments." Susan Bonds explained the creative process behind the ARG viral marketing campaign for the game -- which included gruesome footage of mutated soldiers. "Our number one question was, who is [protagonist] Nathan Hale and why was he resistant to the Chimeran virus, and who's watching him? Those seem like interesting things to work on." The story, which turned out to be Hale's origin story, was based on a "mysterious" photo from Resistance 1, never addressed by either game's story. It showed Hale with a group of other soldiers, who (according to 42's Insomniac-sanctioned fiction) turn out to be victims of military experiments in Alaska. When it came to building ideas for the viral videos, "Guys wrote things on the whiteboard like 'meat suffication, your insides liquefy, and you throw up organs'." Questions from the Fans While some of the fan questions trod into territory you'd expect -- questions about patches, updates, quibbles about design decisions and modes -- many of them were very cogent and development-focused. One fan asked if there's a point in the creative process writing is no longer necessary. Chief creative officer Brian Hastings replied, "I always think that's going to be the case and it's never the case... we always are writing up to the point here our localization people in Europe say, 'We'll kill you if you add one more line.' As design changes... a lot of times that will mean, let's change the writing. It goes right up until the wire."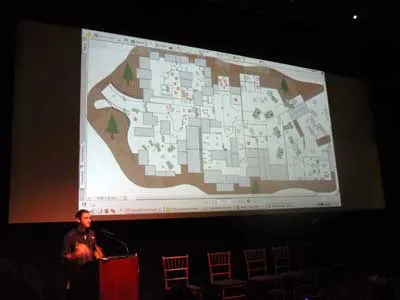 The Origins of Resistance and Its Sequel When asked if there was any connection between Insomniac's PS1 FPS sleeper Disruptor and the Resistance series, Ted Price was reminded that Hastings "suggested an FPS in 2003... way before the PS3 came out, so we wanted to create a game that would be attractive to the hardcore players." When asked where the initial idea came from, Price revealed that Resistance originally had a heavy sci-fi theme for much of its development. "It started out as lizards and space opera and time travel. We spent maybe eight months concepting a completely different story and a different set of enemies and worlds. Everybody was really lukewarm. We kind of reached a crisis." The team moved to World War I, but abandoned it because of the weaponry; then briefly stopped at WWII but dropped that theme because of its prevalence, and finally settled on the alternate '50s history concept which the series has stuck with. The game has a bleaker tone than its predecessor, and without getting into spoiler territory, fans who had completed the game wanted to know why it ended on a down note. Hastings said, "Every story's going to have an up or down ending. At one point we did discuss more of a Hollywood ending, and it... felt like we were lying to ourselves. The story couldn't end this way, believably." Price continued, "We did talk a lot about creating a bleaker world and a greater sense of despair, because if the stakes aren't raised, it's not compelling to the player. Our goal was to push that as far as we could to make players feel really overwhelmed. We wanted it to have an emotional impact on players." Audio director Dwight Okahara did note that this informed the creative process with the game's audio, however. "[The developers] created this bleak dead world, and we can't do a lot with that, so we added a lot of atmosphere into that with this Americana." The game relies on radios -- which play both period music, and spoken dialogue -- for atmosphere. Changes Are Driven by Audience Issues A commenter complained about the fact that R2 has moved to a Halo-like dual weapon system, compared to its predecessor's more traditional large cache of weapons. But Hastings pointed out some unexpected reasoning behind the shift. "During focus testing, we found that people used different weapons a lot more with the dual-weapon system, and used the alt-fires a lot more." An equally interesting counter to the complaint that the game's co-op mode doesn't follow its single player campaign was also made by Jay Biegel. "All of the superficial add-ons you have to do to gate in a second player would detract from the personal story. Imagine playing BioShock in two player -- it would be horrible." Ted Price summed up these decisions in conclusion of the fascinating roundtable: "We have to make changes for fans, and new fans... and that is why we made a lot of changes from Resistance 1."