A recent video on the YouTube channel Battle(non)sense takes a closer look at how the Rocket League's netcode affects lag in online matches and runs down how its performance stacks up against other major online games.
The whole channel is a goldmine for developers curious about how different multiplayer games set up their netcode and how different configurations can change the overall in-game experience.
In this particular video, the channel's creator Chris runs several tests in Rocket League to find the average lag between two players in an online match.
The analysis about Rocket League starts at about 8:11 in the video above, but the first portion is also worth watching as it covers a lot of general but useful information about how online game servers function.
According to the tests shown in the video, Rocket League uses dedicated servers with average update rates of 60 Hz for both public and private matches. He calculated that it takes an average of 60 milliseconds for one player's jumping movement to register on another player's screen. When compared against other games with a similar refresh rate like Overwatch and Counter-Strike: Global Offensive, Rocket League's performance is about average.
But when stacked against games that send or receive data at less than 60 Hz, the difference in lag is considerably larger. For example, Rocket League's lag for a jumping movement is nearly half as much as that of Call of Duty: Modern Warfare Remastered which averaged 117 milliseconds.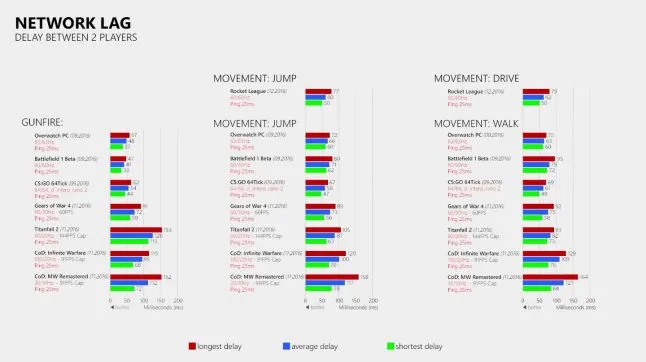 Be sure to check out the channel Battle(non)sense for similar analyses on games like Gears of War 4, Call of Duty: Infinite Warfare, and more.