"Everybody you talk to thinks of the internet as this hate-filled place. Why do we think that's a normal part of gaming experiences?"
- Riot's lead designer of social systems, Jeffrey Lin
To say that Riot's free-to-play MOBA, League of Legends, is a competitive game would be an understatement.
The team-based RTS currently attracts over 27 million players each day, and is one of the most popular eSports in the world, with the final of 2015 League of Legends World Championships pulling in an audience of 36 million viewers.
As is the case with competitive gaming, whether you're a pro or not, winning is everything, and in League, the only way to emerge victorious is to work together. It's a reality that means struggling newcomers or out of form players don't have much time to learn the ropes before being singled out by their frustrated teammates.
In an attempt to better understand the online behavior of its players, Riot is putting its extensive resources to good use, and has established a research team, led by cognitive neuroscientist Jeffrey Lin, to learn more about the game's complex social systems.
Speaking to science journal, Nature, Lin praised Riot's transparency and willingness to learn. What's more, the company isn't squirreling its data away, but rather putting it into the hands of as many researchers and scientists as possible.
One of Lin's experiments was devised to see if Riot could make small changes to dispel player negativity, and found that small color coded in-game tips presented to players before matches could reduce negative attitudes, verbal abuse, and offensive language.
Although it's the first drop in a larger ocean, Lin says the results from the experiment — shown below — were "epic", and served as the inspiration behind Riot's League of Legends "Tribunal" system, a peer review system that lets players review reported incidents and hand out appropriate punishments.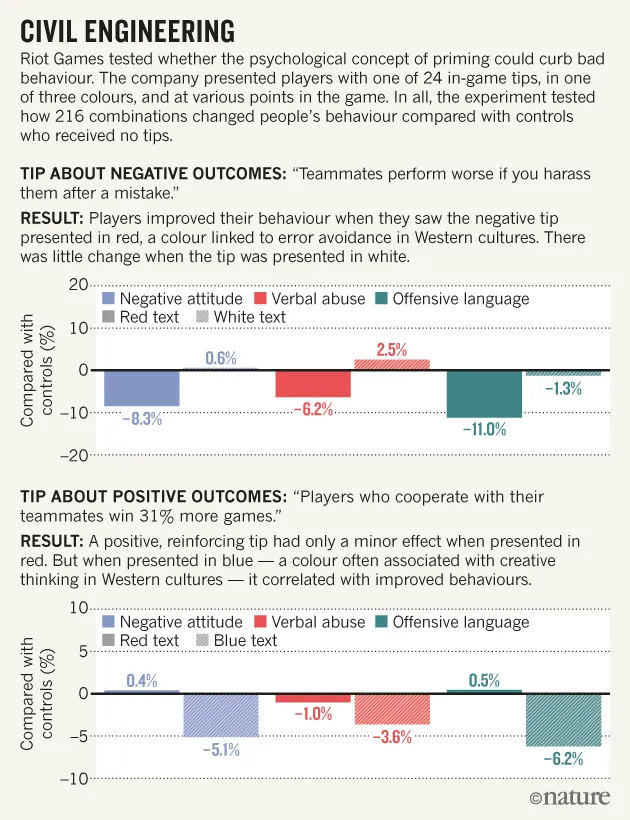 Picture credit: Nature
Read the full story on Nature to find out more about Riot's research initiative.