To mark the fifth anniversary of Everybody's Gone To The Rapture the developers of the game The Chinese Room are re-releasing some of the archived blog posts that coincided with the release of this award-winning title.

The following text was first published in early summer 2015 on a now defunct gonetotherapture.playstation.com


Authored by the Creative Director of The Chinese Room Dan Pinchbeck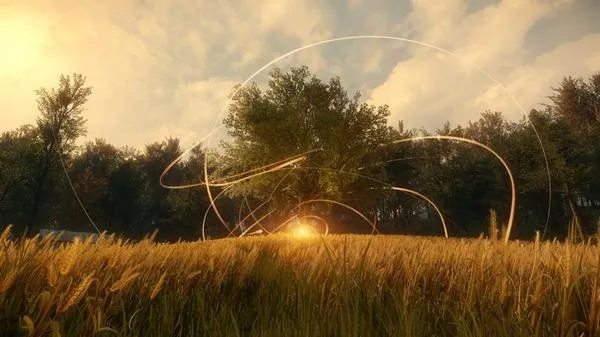 So here we are. It's the beginning of summer and that means the apocalypse is almost ready to begin. We thought you'd like an update of where Rapture is and what we're up to right now.
There's two bits of big news:
First, we've now got a Facebook page which we'll use alongside Twitter to get regular updates about the game out now – so make sure you follow us there. We're going to be releasing lots of new information about Rapture, including a development diary over the next couple of weeks, so it's really worth following us.
Also launching soon will be a dedicated Rapture website with lots of new and really exciting content. We'll let you know as soon as that's live, so again following us on Twitter or Facebook is the best way of finding that out.
Finally, we're taking a playable build of Rapture to E3 – that's right, THE WHOLE GAME. Which is really very exciting. If you've got a press pass and want to play the game and talk to us – drop us a line!
The major tasks now are bug lists and performance, and tweaking all of the content in the game to create the best possible experience for you. In reality, this is a mix of grunt work and finesse. The grunt work is trawling through the world, making sure that we've culled out props clipping through each other, heightmap issues, player foley set-ups (making sure that footsteps are sounding like they are landing on the right materials), ensuring save-games and the front-end menus are robust and bug free… it's not glamorous work, but it's where the attention to detail really kicks in and makes the difference. This being our first console title, it also means we're dealing with platform specific requirements for the first time, getting things like SharePlay and Remote Play working. We're working closely with SCEA's QA teams and have a large devtrack buglist we're ploughing through. Next to that is performance optimisation, a challenge in a game like Rapture where we've got a single large level and lots of gorgeous visuals to manage. Ensuring we can still get strong long-distance vistas, and capping pop-in as much as is technically feasible whilst pushing the framerate up is a long and tough job, but again, it's the unglamorous but critically important part of game development.
There's still creative finesse happening as well. Last week we closed out two weeks of live testing. Each morning we'd sit down and play the build together, taking pages of notes of where we could finesse the experience: adding, moving or adapting visuals, adjusting the mix and positioning of music and audio, checking signposting and pacing and AI movement. This all got dumped into a huge list on our internal wiki and then time-estimated and prioritised. The team are balancing time between bug fixes and working through this list – we had a fantastically intense day last Thursday where we cleared all of the high priority finesse notes which was a brilliant thing to get done for all of us. Being able to have time to do this is both really important and a testament to how hard the team have worked to bring the game home with time to actually push hard on finesse. Being able to add those little touches that bring the world to life – graffiti, location-specific ambiences, the colouration of a flower-bed, a note from one character to another. It's hugely rewarding to see it fall into place.
We've got a couple of big final things to do. We re-recording some voice-over recently and that's all in the game now and we'll be announcing the cast list soon, which we're very excited about, as we've got an amazing group of actor's together for this project. Jess is back in the studio this weekend with the Sony Music team, recording final choral pieces, then that goes into the game next week and then she and Adam head off to LA for a week to do the final game mix. And once that's done – the audio for Rapture is locked and finished.
It's quite a scary process, locking things down in a game. Knowing when it's done is a tough psychological threshold. You know there will always be things you can improve, you could go on making a game indefinitely, but at some point you have to sit back and say "we're done". And we are pretty much done. We've always said as a studio that if we crunch, we've failed the team and so far we've managed to keep things at a reasonable level. Everyone is dog tired, but working incredibly hard and we've managed to protect weekends and (most) evenings and that's something Jess and I are really proud of. It's a big part of our ethos – it's not just the games you make, it's how you make them. I think we've managed to keep that ethos afloat.
And we've made the best game we could – it moves the genre forwards in new ways, we've pushed up in terms of quality and complexity beyond anything we've made before, and we're really proud of it.
So going forwards – things now start to ramp up towards launch. We're going to launch a new studio Facebook page (a new one for us) and get more regular updates and blogs out to you. Yes, a release date will be announced pretty soon, Sony are working on a fantastic site with some very cool exclusive content on it that we'll make sure you know about as soon as it's up. I'm flying out to E3 where I'll be doing press-demos and interviews about Rapture, and we've got a few more very cool things heading your way over the coming weeks. Expect to hear a lot more soon, and we're just really excited about finally letting you loose in Yaughton Valley.