Electronic Arts' live games are front and center at the close of Q2 FY21, particularly games in its FIFA and Madden franchises while mainstays like Apex Legends continue to grow.
EA reports $282 million in revenue from full game sales and a whopping $869 million in revenue from live services (and other sources), making for a combined net revenue of $1.15 billion for the three month period ending September 30.
In a press release, EA COO and CFO Blake Jorgensen points out that the quarter came in "well above our guidance" and that live services, particularly Madden and FIFA are to thank for that fact.
While it doesn't share game-by-game breakdowns for all its titles, EA does note FIFA 20 now has nearly 25 million players on console and PC combined, while Madden NFL 21 has increased its playerbase by 30 percent year-over-year.
"We are on track to deliver strong growth this year and expect continued growth in fiscal 2022 and in the years to come," says Gorgensen. "Apex Legends is on track to become our latest billion-dollar franchise by the end of the fiscal year. All of our studios continue to execute amazingly welland have enabled us to launch an industry-leading eight games since the beginning of the fiscal year, while continuing to deliver live services content and expand onto new platforms."
Given that the fiscal year is set to end on March 31, 2021, Apex Legends' christening as a billion dollar franchise is right around the corner. In its earnings presentation, EA goes on to note that Apex Legends' net bookings are up 24 percent year-over-year, with the game likely to deliver $500 million this fiscal year alone.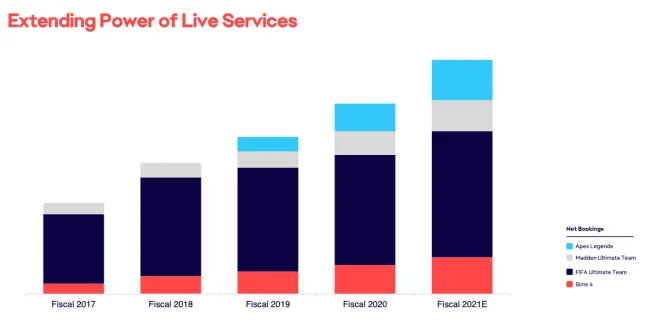 Stepping outside of the fiscal year for a moment, net bookings for the trailing 12 months are up 8 percent year-over-year at $5.58 billion while cash flow for that same period reached a record $2.04 billion. Live service revenue during that trailing 12 month period is also up year-over-year, coming in at $3.9 billion versus $3.3 billion the year before.
"We're humbled to see people around the world connecting through our games during this unprecedented period," reads a statement from EA CEO Andrew Wilson. "Our focus continues to be on everything we can do for our people, our players, and our communities. Thanks to the amazing dedication and determination of our teams at Electronic Arts, we're able to deliver the games, experiences and content choices that our players are looking for during this challenging time."