As part of a
recent, exclusive NPD analysis
, Gamasutra examines system tie ratios and software sales for 2008, finding that games for Nintendo DS and Wii accounted for some 49 percent of all U.S. game software units sold in the year. According to data passed along by Michael Pachter, analyst for Wedbush Morgan Securities, around 268 million units of console and handheld software were sold during 2008. This is up 15 percent from the prior year, and on average, 8.5 units of software were sold per second in 2008. Nintendo revealed in a recent press release that 132 million units of software were sold for its systems during the year, or just over 49 percent of all software units sold in 2008. Of that 132 million, we estimate that over 70 million were for the Nintendo Wii, and most of the remaining 60 million were on the Nintendo DS -- with a million or so on the Game Boy Advance. The Wii software tie ratio appears to be approaching 6.0 games per system. Incidentally, Pachter noted that the Wii accounted for 37 percent of all software dollars in December 2008, surpassing the record set by the PlayStation 2 in December 2003. Here's a look at the overall game sales by unit totals, split by hardware manufacturer in 2008, as compiled by Gamasutra from the above information: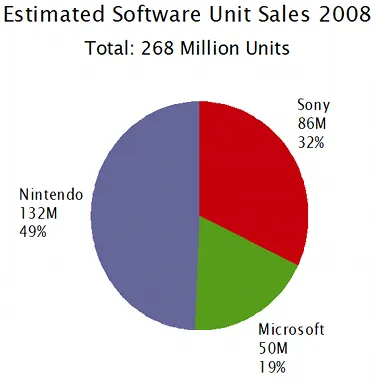 Interestingly, Microsoft has often touted the Xbox 360 software tie ratio in its press releases, but declined to do so for December 2008. While it is often logically dubious to base a conclusion on a lack of information, the absence of a comment from Microsoft and the constant 8.1 tie ratio from September through November leads one to suspect that the system's tie ratio may have remained constant or even dropped slightly in December. Assuming that the tie ratio did remain constant, Microsoft would have sold around 12 million units of software in December, and in the neighborhood of 48-49 million units of Xbox 360 software for all of 2008, up from around 41 million units in 2007. According to software sales figures from Sony, it appears that more than 27 million PS3 software units were sold in 2008, or more than double the 12.5 million PS3 software units we estimate they sold in 2007. With approximately 41 million units of software launch-to-date (LTD), an average 6.0 units of software have been sold per PlayStation 3 system. Therefore, the remaining 57 million units of software are primarily for the PlayStation 2, with some lesser fraction for the PSP. Further analysis along these lines is available in Gamasutra's
end of year NPD analysis
.