With digital marketplaces becoming increasingly crowded, Mike Rose, talent scout at game developer and publisher tinyBuild (and former UK editor of Gamasutra) dug into the current state of indie sales expectations for digital platforms.
First, he covered Nintendo Wii U's eShop. "A lot of developers said they had a really nice launch on Wii U, but sales dissipated shortly thereafter," said Rose.
eShop developers that Rose spoke with said sales could get a boost if Nintendo were looser with price-cuts and sales. That said, developers considered the Wii U a very worthwhile port.
"If you're porting to other platforms, you might want to consider porting to Wii U if you haven't already," he said.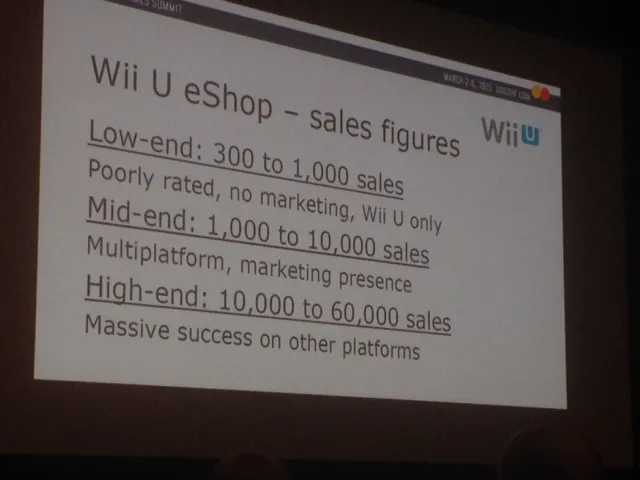 Onto the 3DS, he said that sales are respectable for 3DS eShop indie games. But it's not exactly a hotbed for indie releases -- there are only about 15 "indie" games on the 3DS eShop. He added that Japanese versions of games consistently exceed expectations, according to devs he spoke with, but porting to 3DS is relatively costly.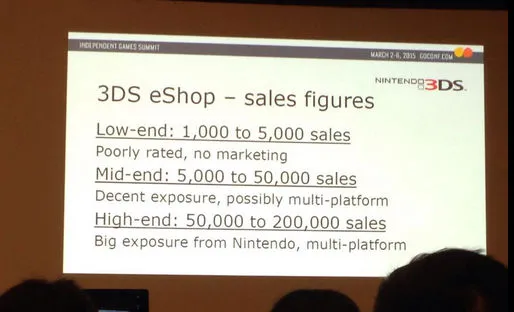 Slide via Jenna Hoffstein
Rose moved onto the rapidly-growing Steam storefront, which now has 125 million users and an expanding library with thousands of games (4,500 games to date - seven released per day).
Steam is becoming an increasingly crowded and competitive marketplace, so developers have to consider new avenues to get their games noticed. "If you get big with YouTubers or Twitch streamers, you can get up to 3 million sales," he said. "Probably not likely to happen to you, but you can dream!"
While Steam is becoming a tougher place to launch a game, developers do have more opportunities to stretch the tail of their releases. "The great thing about PC is that you can extend the life of the game in various ways," said Rose, through bundles and Steam sales, for example.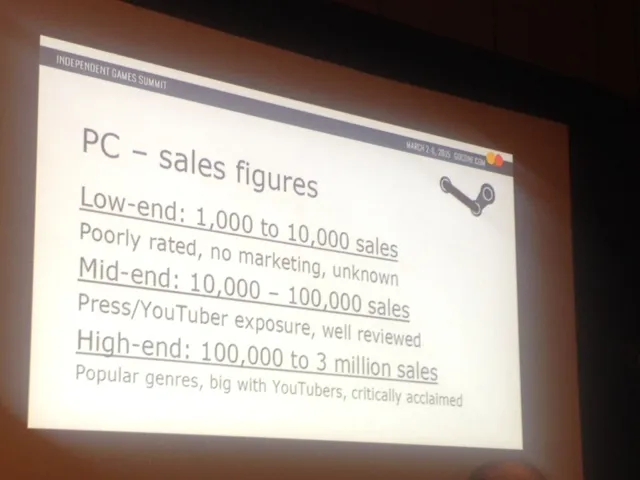 Mobile is as tough as ever, being a mature, crowded market. Rose said about 500 games launched every day on iOS in 2014, and 250 a day on Android. "On Steam, at least you get featured in the new releases at least," he said, comparing PC to the mobile market. "That's not the case on mobile…you have to make [exposure] happen yourself."
iOS still contributes highest percentage of sales for developers Rose spoke with, though Android (where piracy is more common) is making strides.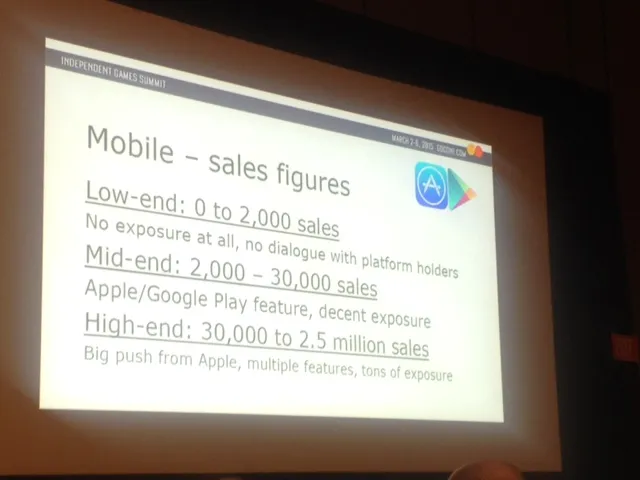 Xbox One figures were a bit harder to come by, said Rose. He did note that Xbox One's parity clause has "put some developers off." As for PS4, he said developers' games sell a bit better than they do on Xbox One, but they seem to be in about the same ballpark. But his data was from before Christmas 2014, when PS4 sold a few million more hardware units. So he said he expects 2015 to be bigger.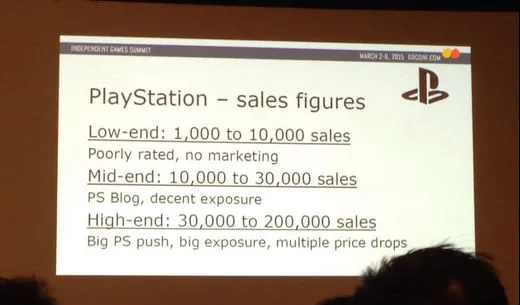 Slide via Jenna Hoffstein
In the end, Rose's takeaways were:
It may be well worth porting to Wii U
The 3DS is worth considering
Mobile is risky, but yields big successes
This year will determine the success of indies on Xbox One and PlayStation
But PlayStation looks on top right now