The design of Gorogoa, the debut game by Jason Roberts, launched to widespread acclaim in December, blossomed from a failed comic book that Roberts attempted to write in 2012.
In a talk titled, 'Gorogoa: The Design of a Cosmic Acrostic', delivered at the Game Developers Conference 2018 in San Francisco, Roberts told a packed room about his attempt to write and draw a comic book, which stalled ten pages in. "Through that process I came to realize that composing the page was more interesting to me that sequential storytelling," Roberts said. "I had to do something with it, even if it wasn't going to be a comic."
Working in the comic book medium led Roberts to think carefully about frames—those squares and rectangles through which a comic book author tells a story—and, more broadly, how we encounter so much of the world, be it via smartphones or televisions. "When you work on a comic you cannot ignore the frame," he said.
With Gorogoa, Roberts wanted to make the frame poignant and intentional. "A frame can be a clue," he said. "It leads the viewer's attention and represents curation: it cares about what it contains, isn't neutral, and represents a choice about what to include and exclude.
"A frame is an act of affection; you see things in a frame because they're precious. And a frame is mysterious; it begs the question: what's beyond the boundaries of what you can see?"
Finally, Roberts said, a frame is like a prison: a box, or fence around whatever is inside, that creates an unconscious tension in the viewer. These revelations led Roberts to consider how he might tell a story that resonated with these inherent properties of a comic book frame.
"Once you add interactivity, you transfer the properties of the frame to whatever you're zooming in on," he said. "And once you put together multiple frames, you are putting together a gallery exhibition. Whenever you put multiple frames together, your mind looks for connections." Roberts likened this feeling to the detective running red strings between seemingly connected clues.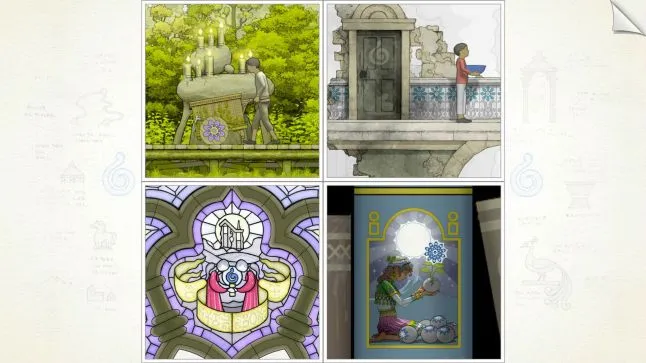 Every feature of Gorogoa's design Roberts explained, flows from this central theme: the search for meaning hidden all around you in the worlds you inhabit.
The larger possibility of how the frames could be connected to tell a story is what led Roberts away from traditional comic book-style sequential storytelling. This led him to consider how Gorogoa's delivery mechanism could be used as a kind of cosmic acrostic, whereby different, seemingly unrelated frames could be used to create puzzles and meaning.
Roberts revealed that he considered removing puzzles for the game altogether, in order to allow players to stumble across secret connections in the game world. Eventually, however, he decided to keep puzzles in order to impose a pattern on the experience. "A true sense of mystery requires a half-glimpsed pattern," he said.
Roberts was careful, however, not to include puzzles that were too mechanically complex. Balance was crucial, he said. While some puzzles could be theoretically solved by accident, later in the game Roberts ensured that players could not tumble across solutions in order to reassure the player by rewarding them for making deductions.
Roberts compared the act and risk of creating a non-linear, lightly puzzle-based approach to storytelling to ripping the pages out of a novel, and scattering them around a city for a person to find and piece back together. "It might be a delightful novel, and a delightful scavenger hunt," he said. "But do the two things work together to create something wonderful and meaningful?"
While Roberts was keen to ensure that the interplay between the story and mechanics in Gorogoa presented a meaningful parable and subtext that could be detected by players, he also valued leaving room for player interpretation, something which is out of his hands.