[Gamasutra contributor Ryan Langley examines November 2012's Xbox Live Arcade debuts and continuing successes, with charts and Leaderboard data showing the performance of titles like Pool Nation, Toe Jam & Earl, and Pid]
November is a big month for retail this year – Call of Duty: Black Ops II, Halo 4, and a whole new console in the Wii U. November has been a weird month for digital games in the past, as it tends to be left with little fanfare while bigger games take prominence. This year wasn't much different.
We've pieced together Leaderboard statistics and Metacritic ratings from every title released in November where available, which allows us to get a good look at how new games have sold and how well they were reviewed. We also look at several older titles that continue to do well, as well as specific downloadable content for games that support it.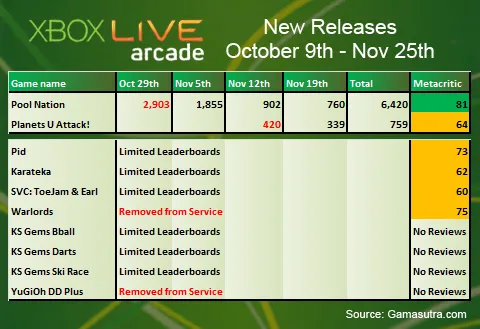 Dip In The Pool
The first two releases for November were Pool Nation, a Pool game made by Cherry Pop Games, and Pid, a unique puzzle platformed developed by Might & Delight in Sweden.
What you'll find this month is that we were almost entirely unable to follow game Leaderboards – either Leaderboards were severely limited or were not very useful to us. Pool Nation was one of the few that allowed us a look – the game added 2,903 players in the first week for a total of 6,420 players for the month.
It's not a whole lot of players, but it might be in line with expectations. There hasn't been a real nice Billiards game on the system - neither Inferno Pool or Bankshot Billiards 2 did a lot, and this was rated quite well on Metacritic. The game came in 9th on the Major Nelson Top 20 in its opening week and 14th in the second week, but by its fourth week it had dropped out of the charts.
Pid had limited Leaderboards, so we were unable to follow it, but by the looks of the little buzz surrounding it nobody even knew it was out – it didn't even hit the Top 20 in its opening week, which is sad to see because it looks pretty unique.
Funkify!
The next two titles available on Xbox Live Arcade was the Sega Vintage Collection of Toe Jam & Earl and Karateka – a reimagining of the 28 year old console game by its original creator Jordan Mechner. Neither game had Leaderboards we could follow – The TJ&E pack only has Leaderboards for specific challenges, and Karateka only had limited amount of names on the list.
Based on the Major Nelson Top 20, The Toe Jam & Earl pack opened up at 7th place while surrounded by several XBLA sales, while Karateka didn't hit the list at all.
No Lords To Attack
In the third week came two new titles… or did they?
Planets Under Attack, also released on PC and PlayStation Network, was released this week and was the second game we could follow for the month. It's a shame then that the game seems to not have sold very well. The game also had very limited reviews, barely giving it a Metacritic rating.
Now Warlords, a remake of Atari's classic arcade title, is the first of this month's redacted releases. The game has been basically done since at least July 2011 and was waiting in the wings for release. Finally after months and months it was released on the store… for a day or two. After that it was removed from the store with no mention as to why.

It was the first release from Atari for a long while, and we just can't fathom why the game might have just sat around the months and months, only to be pulled again.
You just activated my Gem Card!
The final week of the month proved to also be a strange week for releases. Microsoft are now breaking up Rare's Kinect Sports titles out into pieces onto Xbox Live Arcade under the Kinect Sports Gems title, with Basketball, Zombie Darts and Ski Race released this week and more to follow. None of the titles had demos either, which is a weird thing to do for Xbox Live Arcade games.
Unfortunately we weren't able to follow any of the titles, and based on the Major Nelson Top 20 for the week, none of them hit the list.
But alongside these titles was another bizarre addition – Yu-Gi-Oh Decade Duels Plus, a sequel to the previous Yu-Gi-Oh game that got delisted a few months ago. The game was available for a single day, and then removed from the service. No word from Konami as to why.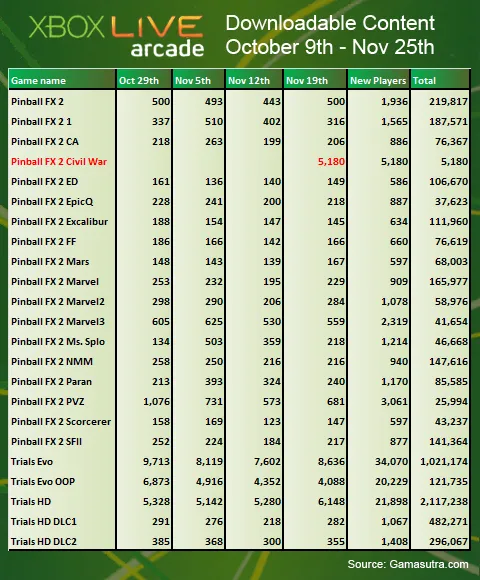 Start a Civil War
A new table came out for Pinball FX 2 this month – a Marvel Civil War table, which added 5,180 players in its first week out. This is almost half of what their last table, based on Plants Vs. Zombies, ended up selling in the same timeframe. Maybe the steam is finally out for more pinball tables?
Trials HD and Trials Evolution continue to sell well – though Evolution is slowly coming down to sell roughly the same amount as the original does per month.

The True Minecraft
So here is a cool new feature we've got for the Xbox Live Arcade Analysis -- our friends at Mojang have passed along the exact sales analytics for the XBLA version of Minecraft to help portray the game correctly in these analysis.
Previously our analytics were for the "Easy Walking Distance" Leaderboards, but due to the local multiplayer abilities the game's numbers were inflated, much like Castle Crashers has always had higher Leaderboards than actual sales due to the multiplayer. We thank Mojang for the help! I encourage other developers to also pass along their sales if they wish to!
Minecraft has officially sold 4,476,904 copies as of the end of the November period, selling between 40 - 60,000 copies a week, and continuing to be the third most played game on all of Xbox Live behind Call of Duty: Black Ops 2 and Halo 4.
Happy Wars continues to add new players each week, though we've still no idea how much money it's made for the developers. We also followed Spelunky and Magic The Gathering 2013, which were on sale for a week, and got a pretty good boost from it.
Lords Of The Arcade
At the moment we're not too sure of what's coming out this December – we do know Guardians Of Middle Earth, a DOTA-Like game, will be out alongside some more Kinect Sports Gem titles, but right now the rest of the month is up in the air. We've had some good released previously in December – Trine 2, Joe Danger and Sonic CD just from last year, so maybe we'll see some other great titles too.