Paul Bettner is CEO and Founder of Playful Corp. and will be at VRDC 2017 to present his talk How to Be a Successful VR Game Studio, which will discuss effective strategies for finding success and avoiding pitfalls as an indie VR game developer. Here, Bettner gives us some information about himself and his work.
Register for VRDC Fall 2017 and join creators of amazing, immersive experiences of all kinds at the premier industry event.
Tell us about yourself and your work in VR/AR
As early backers of Oculus' Kickstarter, we had the chance to meet with the Oculus team just as they were getting started. We were able to go hands-on with the very first Rift prototypes and soon after we partnered with Oculus to build a game with them. We weren't even sure we knew what we wanted to make at the time, but after a number of experiments and prototypes, we fell in love with the potential of 3rd-person in VR and Lucky's Tale was born. Oculus liked it so much they signed on to be the exclusive publisher of the game and we launched Lucky's Tale as a premier bundled title with the debut of the Oculus Rift headset in 2016. Since then we've had the opportunity to partner with Microsoft and recently announced that the sequel, Super Lucky's Tale, is coming to Xbox Play Anywhere this holiday. Most recently at E3 2017 we partnered with GameTrust and Sony to debut a new 3rd-person cinematic platformer, Star Child, designed for VR and for flatscreens.
Without spoiling it too much, tell us what you'll be talking about at VRDC
I'd like to share more about the journey we've been on as an independent developer doing work in VR, about how we've thus-far navigated this emerging industry, and where we're heading from here. I'll discuss the challenges we've faced, share mistakes we've made and the lessons we've learned along the way, and chart a proposed course into the future. Ultimately, it will be a high-level discussion focused on the business and strategy involved in making games and running a studio in this nascent but growing market.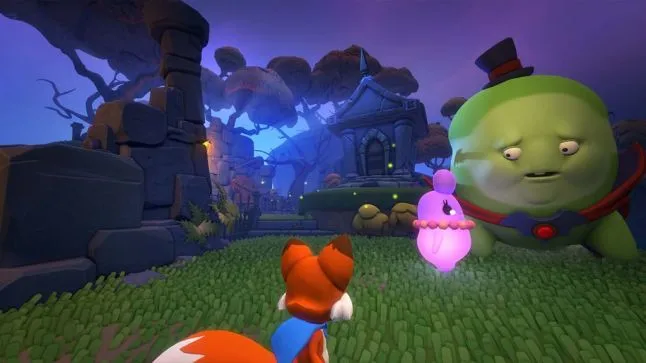 What excites you most about VR/AR?
VR and AR are "turning-point" technologies. They create fundamentally new ways to experience media and entertainment. And even more importantly, they invite new audiences to enjoy these experiences because they ultimately reduce the barriers to entry. You're no longer experiencing content through the window of a screen; you are immersed directly. You no longer need to master an interface or controller to interact with the experience, you just reach out and touch. We still have a ways to go, but when you think about the type of experiences we'll be able to create in the coming years, it is truly the promised land — a place where the underlying technology and platform simply disappear and you're left with pure, direct contact with the content itself. As a creator (and as a consumer), this is what excites me most about VR/AR.
What do you think is the biggest challenge to realizing VR/AR's potential?
There are so many, which is why it's such an exciting and rewarding space to work in. There are obvious VR/AR hardware challenges: reducing cost and weight, improving form factor and tracking, eliminating wires, increasing resolution and fidelity, inventing new types of optics. Input is another unsolved and rapidly evolving area of R&D. And then of course there are the content design challenges, where our work is focused. By removing the "frame", enabling truly natural input, mixing virtual and real-world…not only does this give us the opportunity to reinvent existing genres, it invites us to invent entirely new forms of entertainment. Navigating this unbelievably wide-open and ever-shifting landscape is the biggest challenge we face in realizing the full potential of these technologies.
What was the biggest challenge you faced when making the leap from developing traditional games to creating VR experiences?
I try to view new technologies through the lens of the customer experience. How does a new piece of hardware change the way our players experience our games? In that way, I'm often most concerned with things like "venue" – where and how will people use this technology? Or accessibility – how can a new technology make it easier, more seamless and magical for people to experience our content? So the hardest thing about going from traditional games to VR experiences, or to any new platform really, is to let go of the expectations of what makes some other platform work well, and embrace the unique strengths and weaknesses of the new platform we're building for. As an example: virtual d-pads on touchscreens are no fun, and first-person games in VR where you fly across the room at high speed are an easy way to make people sick. There's no magic bullet, each platform and technology present a unique set of opportunities and challenges. The key for us is to empathize with our customers, to ask "with this unique platform, what would I actually want to experience?" That's how we came up with Words With Friends for mobile. That's how we came up with Lucky's Tale for the first Rift (which — critically — shipped with an Xbox controller.)
How is pitching a VR game to a publisher different?
This is a big part of what I want to cover during my talk at VRDC, but in general, you have to keep in mind that publishers are always going to be weighing whatever fantastic idea you're pitching against the realities of the market. And the bottom line is that the market for VR and AR is currently a challenging landscape to navigate. So you have to come prepared with answers to the tough questions that arise from today's reality — but with a relentless optimism for the future!
Register for VRDC Fall 2017 to hear more about finding success as a VR studio from Paul, and join other creators of amazing, immersive experiences at the premier industry event.