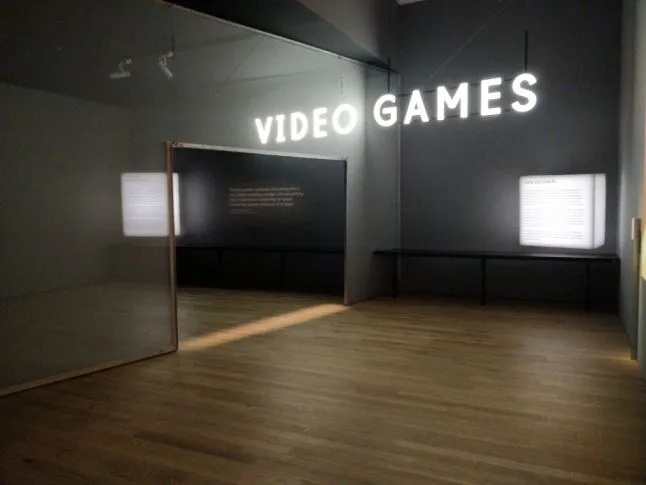 An exhibition to celebrate the rich cultural history of videogames in the city of Dundee has been a long time coming. it has been a major UK hub for video game development for over twenty-five years, and shows no sign of stopping anytime soon. The Dundee-grown Grand Theft Auto series is arguably Scotland's biggest cultural export so it seems only natural that there be some investment into championing this art form and the city that helped pioneer it in its current form. The city is in the midst of a major redevelopment project that has seen a huge investment in the cultural arts – namely in the breathtaking Kengo Kuma designed V&A Museum on Dundee's renovated waterfront. The building – which has been open since September 2018 – now houses the Design/Play/Disrupt videogame exhibit, an exhibition that in the most part is an exciting, insightful and sorely needed examination of the painstaking design process of contemporary video games and their place in the world today.
The exhibition, which is in the ticketed area of the building (£12 for adults and £10 for concessions), first takes patrons on a tour of several major video game productions developmental journey – using audiovisual aids as well as traditional museum displays to map the journey from concept to creation for studios of varying size and scope. Dog-eared notebooks adorned with scrawlings of Lovecraftian creatures from Bloodborne accompanied by the sheet music from the game's orchestral score are as at home in glass cases as early sketches by Lovecraft himself. An illuminated corkboard filled with innumerable post-it notes and a coffee-stained manuscript detailing the plot of The Last of Us are contextualised with analysis of the AI used to make Ellie feel as alive in-game as she does on paper. A testament to the collaborative process of video game story crafting and world-building that would not feel out of place next to the deconstruction of any auteur's filmmaking process. A series of projectors display over 50 different planets from No Mans Sky simultaneously, with the books, toys and worlds that inspired the aesthetics of Hellogames' universe on full display – the vibrancy of the colour pallettes and composition of the pieces that spoke to the game's creators configured like the effects of a passed science fiction author. If you know anybody who still believes that video games are not an art form, take them here – if that doesn't change their mind there's a steep ledge over the sea at the outside of the exhibit that may instead.
The exhibit has a further three rooms, all with a different taste of what makes games great. Focusing on sociopolitical issues in video games and the industry as a whole – including how we can change the industry for the better through accessibility and representation, and where developers are breaking the mould in the way their games engage with deeply rooted societal issues with often innovative, humorous and subversive ways is the focus of the museum's second room. This is an often overlooked aspect of video game criticism and something that I feel is a welcomed inclusion for both fans of games as well as other museum-goers. Many AAA publishers are afraid to talk politics in their games and I think that the way this exhibit situates games as both agent of criticism as well as subject of criticism regarding sociopolitical issues is a breath of fresh air in the sphere and an important perspective going forward in the industry.
A third room acts as a cinema, strewn with big beanbags for patrons to sit on while a series of short films play detailing the vast online arm of gaming. This includes competitive play in Overwatch, vast expansive role-playing in EVE: Online and videogame fandom; whether it be a D-Va makeup tutorial or an IKEA built in Minecraft. In an exhibit that specifically highlights collaboration, competitiveness and group play it felt like there were some interactivity elements missing here. Opportunities for big-screen gaming and to engage with concepts of interactivity on a larger scale are few and far between, and it felt like this cinema-esque museum exhibit was the perfect environment for this. Most people wandered through this section quite quickly – it would have been interesting to see something that got non-gamers riled up and competitive in the same way those they just watched on screen might have. This is an aspect of gaming still in its infancy and expected to grow massively in years to come – competitive gaming and video game fandom on this scale is still an abstract concept to many and some demystifying here through play would have been a fantastic opportunity to show parents why their daughter screams in delight when they win a game of Fortnite or why their son likes to dress up like a Creeper from Minecraft.
Although the cinema room does not necessarily give patrons the opportunity to nurture their competitive streak – the final room is filled with several lo-fi and independent game projects dubbed as the "punk" of gaming. Handmade arcade machines with endearing indie titles and super lo-fi experimental rigs show patrons those on the fringes of game development – away from the scope of AAA and the polish of the video game BAFTAs – these guys are the ones having real fun with innovative passion projects. A collaboration with Edinburgh-based We Throw Switches brings some better-known titles from their annual beers and games GAMESAREFOREVERYONE nights at The Caves in Edinburgh, as well as a number of cabinets brought over from the previous Design/Play/Disrupt in London. This gives everyone a chance to have some fun mashing some buttons and flickng some joysticks on makeshift arcade machines. The set-up is great here and brings the conceptual foresight of the previous three rooms to a satisfying closure with the final finished project – some in-depth and political, some engaging and innovative, others just colourful and fun – all avenues of game development at the grassroots level are on show here. Although these games are fun and unlike anything most will have played, there isn't much for children here and many of the games aren't particularly accessible to non-gamers – it would have been nice to see something that took that first step in making games accessible to audiences with a newfound perspective on gaming.
For those with a keen passion for games looking for insight and further knowledge of a medium they love – there's plenty on offer here and exhibits you wont see anywhere else. For those who haven't played or don't know about videogames but have an open mind, there is even more to see – with articles that permeate to the mainstream of 100 hour crunch weeks, games causing violence and Fortnite addiction rehab centres, this is a welcomed celebration of an art form filled with hardworking and passionate developers inspiring millions of fans all over the world. It is a shame that homegrown Scottish talent was not on display in the exhibition perhaps as much as it could have been focusing more on developments across the pond. Also, there were some glaring holes of opportunity for interactivity – the shining star that makes video games the unique artistic medium that it is – where gamers and non-gamers alike could collaborate and compete. However, this is a thoughtful exhibition that will have people paying a lot more attention to video games once they leave through the doors of the V&A. When Grand Theft Auto III released, a small homegrown Scottish developer gave rise to a global phenomenon and changed the videogame landscape forever. This exhibition takes a massive step forward in empowering and inspiring the next generation of developers to continue to make the tiny city of Dundee a big name in videogames.