HTC and Valve helped jumpstart the Mobile World Congress event in Barcelona today with the announcement that the Vive VR headset will cost $799 when pre-orders open February 29th.
HTC is sticking to its December promise for a commercial launch of the Vive in April, and unveiling a new feature for the SteamVR-powered headset that VR developers may appreciate: the ability to check your phone without taking your headset off.
The Vive Consumer Edition will be capable of connecting with iOS and Android devices to enable the wearer to make or view phone calls, text messages and appointment reminders without removing the headset. There are other minor improvements over the Vive Pre devkit as well, including an added microphone (replete with open API) on the headset.
The headset itself, a pair of wireless controllers, a Vive Link box (to connect it to a PC), two base stations (for tracking the user's movement in a room) and a pair of earbuds are included in the $799 Vive Consumer Edition package announced today.
Valve is expected to also bundle in (for a limited time) free copies of VR games Job Simulator: 2050 Archives from Owlchemy Labs and Northway Games' Fantastic Contraption. The company has been using versions of both in public demos of the Vive for some time.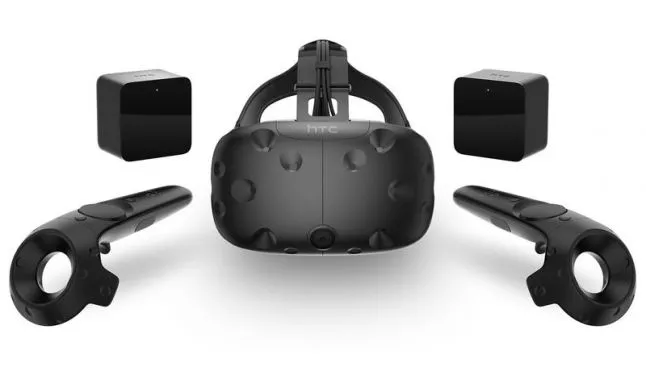 As far as recommended specs go, details are yet scant; HTC and Valve recommend Vive Consumer Edition owners use at least an Nvidia GeForce GTX 970 or an AMD Radeon R9 290 graphics card, which matches Oculus' recommended GPU for its Rift VR headset.
The Rift, incidentally, is also expected to ship in April with two free games (though it won't have tracking stations and will include only an Xbox One gamepad) after having gone up for preorder last month for $599.