If it's possible to sound bleary-eyed, Simon Bennett of UK-based Roll7 is managing it this morning, in the wake of the very surprising results of the UK General Election. After weeks of polling suggesting that the two major parties, Conservative and Labour, were going to be deadlocked, the Conservatives have come away with a victory that is wildly divergent from the predictions. "I've just had a powernap," Bennett confides, before we start the interview.
The reason I want to talk to him is because Labour and the Conservatives aren't the only ones who have been campaigning over the past few weeks. Roll7's Not a Hero was due to release on the day of the General Election, May 7th, and the developer has been hijacking the political event as a marketing opportunity, thrusting their character Bunnylord, a timetravelling rabbit trying to become Mayor of London, into the political conversation.
This has manifested in a range of ways, from the fairly innocuous adoption of political language in their press-releases and social media presence, to the more aggressive move of dressing someone up as Bunnylord and walking around London in the style of a political party, pretending to be canvassers.
I talked to Bennett about how the idea came about, how successful he thinks it has been, and what he plans to do now that the entire political landscape has changed in Britain.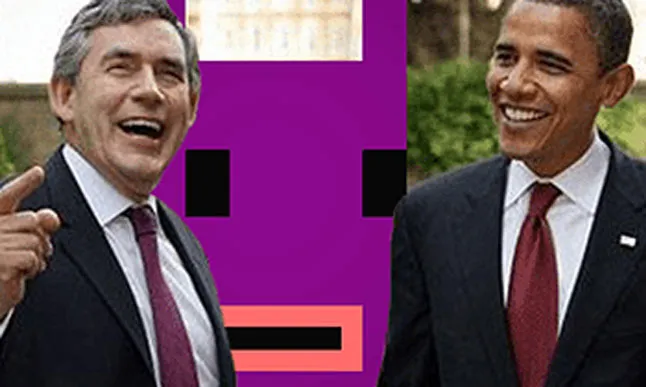 Not a Hero's story is very election-focused. Was that something that you added after you realized you were going to be releasing around the General Election?
It was actually separate. The Bunnylord backstory of him coming back in time to make a difference was always based around him wanting to become Mayor. But as we started building the metagame and the story it became the lowest metric of success, with Prime Minister after, which is spelt wrong, and then King of Britain, which is a confused perspective, and then finally there's Global Megalord. I think we knew there would be an opportunity to link it to the election, but we weren't going to until we did our fourth call to [publisher] Devolver to tell them the game was going to be late again. It was scheduled for release in August last year originally, but we have a very small team working on the project, and we're using an engine that doesn't use any versioning, which makes it impossible for more than one person to work on the game at any one time. So John's been programming everything, so it takes a while. In the last call to Devolver we realized it was going to be done around March, so we may as well release on the 7th, on the day of the General Election. It was at that point that I said to them that it would be a good opportunity. Unfortunately we've had to delay it again, but the delay hasn't necessarily worked to our favor.
Was Devolver on board with using the election as something you can integrate your marketing into? It seems you've really pushed it in the last few weeks.
Funnily enough they weren't. The majority of our sales base will be in America, and while we've pushed a lot on the election theme, Devolver have told us that it doesn't really matter, because a lot of America doesn't know about the UK election, and probably don't care about it very much. So if we're taking the piss out of UKIP, most of them aren't going to know who UKIP are.
We just said we want to do it because we could do some fun stuff with it, and hopefully some of it will translate over the pond.
So you recently went out and about in London with a guy dressed up as Bunnylord presenting yourself as an election party. What else have you done?
When we released the demo for the game, it was as a fully faux-hacked version of the game from a political party called UJIP, and that has its own website which we made, and a silly video which has a censored Nigel Farage saying that Bunnylord is a travesty, he's an immigrant from the future, he shouldn't be able to stand for election. For the most part it was about us doing something fun that we weren't usually going to do, and the intent was to entertain some people and confuse a few more, but basically if it did confuse it would pique their curiosity about what it was all about.
You mean you had some intent to educate people about the UK Election because they were interested in Not a Hero?
Haha, let's not be silly. If anything we took it a bit far. We took another thing a bit far before this election theme which was to say the game was going to be made using this amazing new engine called ISO-Slant, and we built an entire fake company around it. I wouldn't say we have too much time on our hands, but we enjoy doing fun extra stuff around games.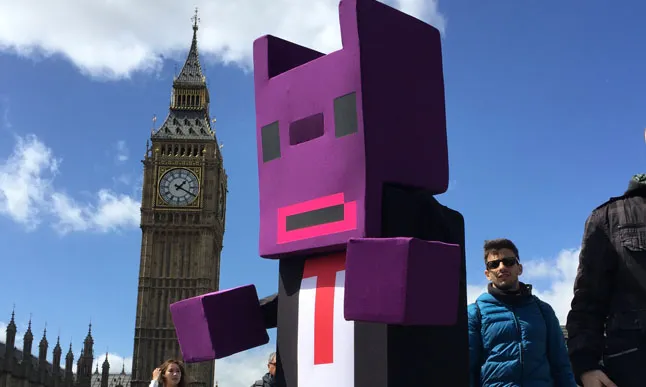 Is something like this expensive for you to do? If not financially, then in terms of time spent? Do you see it as a wise investment?
Honestly I have no idea. Yes it was expensive time-wise, but it gave us a focus and it gave Bunnylord a purpose and a frame of reference, and it allowed us to do things that were topical. He has over a thousand followers on twitter, and it gave him something to talk about. We've had people saying 'Vote Bunnylord', 'I voted Bunnylord', and I guess it's more that it gets people talking about it at the time when we're supposed to be releasing. And that's what you want. If you put together the hours we spent on it, it would probably cost a hell of a lot less than a very very small banner campaign or something like that. We've got way more value out of it than if we'd actually just spent money on bringing a marketing company in to do it for us, without a theme.
And do you think the current political climate in Britain has helped you with doing this, as there are so many marginal parties in the limelight right now and until today things were much more uncertain?
Yes, definitely.
And is it true that when you went out on the streets as the Bunnylord party that you were mistaken as an actual candidate and party?
Our artist Jake is wonderful because, I don't really want to use the word 'naive,' but I will in this case. Bunnylord's colors are purple and yellow which is the same as UKIP, and we were mistaken on the street for UKIP canvassers, which is quite funny. There's a video on Devolver's website of when we got to Downing Street, and we were literally accosted by what can only be described as a drunk. But he was really involved in his politics, this guy called Martin, from a channel called Below the Gangways, and he was doing a lot of blogging and vlogging around the election hype. I think he was following it from pubs. So he accosted us and immediately launched into his own interview with us, which we filmed from his camera. He stunk of alcohol but it makes for quite hilarious viewing.
I think we managed to get a hell of a lot of people taking photos with Bunnylord and handing out fake ballot papers with Bunnylord's name alongside Nicola Sturgeon and David Cameron, and while I don't think people really thought we were a political party, a lot of foreigners did, and we trolled the hell out of them, and that was just fun.
What were the benefits for you of taking advantage of a General Election like this?
I think the benefits were that it gave us something topical that we could jump onto leading up to release. If we had released Not a Hero at any other time I'm sure we would have had some stuff to talk about, but this really allowed us to frame our social media posting and a lot of the content that we put out for our press releases and things like that. It allowed us to be a bit more playful with it. I do think it's been beneficial, I think a lot of people have engaged with it far more on Twitter and Facebook as a result of the time that we're doing it, and I don't think we'd have had as many shares of some of the images and things we've been putting out if we'd have done it during a non-political period.
Is there any sort of measurable metric for the success of the campaign?
This is the thing that we've always had trouble with, and I'm sure that everyone struggles with it. We've never ever been able to link anything to do with marketing to sales in a tangible way. I think, especially because we're on Steam, we are raising awareness of our product, and at some point, it might be that that is one point in the marketing equation that means later on down the line they see it on Steam and remember this, remember hearing a mate saying it's quite good, it's been mentioned in a Let's Play, and all of those things add up to a sale. Rather than saying 'Look at that massive spike in sales because we were mentioned in Vice,' I think it's just about hitting everything as hard as you can for as long as you can, over a sustained period, and hoping that that then has that effect.
I think what we say with OlliOlli when it went up on Steam is that there were absolutely no visible spikes with something like a YouTuber doing a video, there was nothing we could directly attribute to those moments. After that point we just decided we needed to hit everything.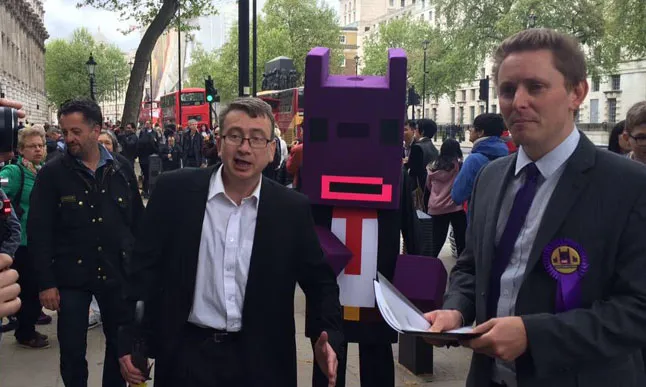 And this is part of that tactic?
Yeah, it's just a small part of it. And unfortunately, as I tweeted out this morning, the plan was to, over the next week, really ramp up the idea of Bunnylord helping to form a coalition, and we could get Bunnylord out again and do some silly stuff, and be commenting on that. But the massively unpredictable nature of a political event like this means that now I don't know what we're going to do. We'll probably just focus more on the core game and stuff, with a few allusions to what's going on.
So you're saying that the unexpected Conservative win has directly hurt your marketing plans for Not a Hero?
Oddly enough, yes. I think there'd be more silly turmoil and things going on that offered us new opportunities if it had been as the polls predicted. That's not to say we can't still do things. We've made a game about a time-travelling rabbit from the future, so we could easily do something where he tells people what the Tories coming into power will actually mean in the future. 'I'm from the future so I can tell you what Conservative policies mean over the next five years.' The problem with that is that it suddenly becomes quite specifically political rather than generally.
So you're not mocking a system you're mocking a party.
Absolutely. We've had fun at the system's expense, and whether having fun with the party is a good idea or not I'm not sure. I've yet to wake up and think about it properly.
That's an interesting problem. Typically games are quite apolitical, so making a stand against or for a Conservative government could be dangerous.
I think for the most part, it's about talking about the game now. We've had a nice bump out of engaging with the Election, and we had Bunnylord's Political Party on Wednesday night with bunting and balloons and everyone in suits and rosettes, but for the most part we've had our fun and we should probably focus on what the game is now, which is a running around shooting people game.