So you've been learning about emotions(+§) and the value of biometric data in user testing, and you want to conduct some user-testing experiments which integrate at least one of the techniques you've been learning about. Unfortunately, you (and/or your employer) don't have the funds invest in, say, a complete EOG tracking system. What can you do instead?

This is expensive AND unethical.
For the purposes of this article, I'm going to assume two things:
1. The experiment you will be conducting will be used to identify critical events that occur while your test subjects are interacting with your product. [1]
2. You have at least 5 test subjects [2] and a space in which to run the experiment.
It is my personal opinion* that tracking the cardiac response of your subjects is most cost-effective method of monitoring subjects' physical reactions when interacting with your product.
Not only are there a wide variety of heart-rate and activity monitors currently on the market, but many of them also include software which allows you to create charts of metrics such as heart rate over the course of workouts, or in our case, experimental sessions. These devices also provide the added benefit of including metrics such as galvanic skin response and if you're willing to shell out a bit more cash, respiration-tracking as well.
By mapping these charts to a timeline and/or a video of each testing session, you can use events such as spikes in heart rate to identify which interaction events had the greatest effect on your test subjects.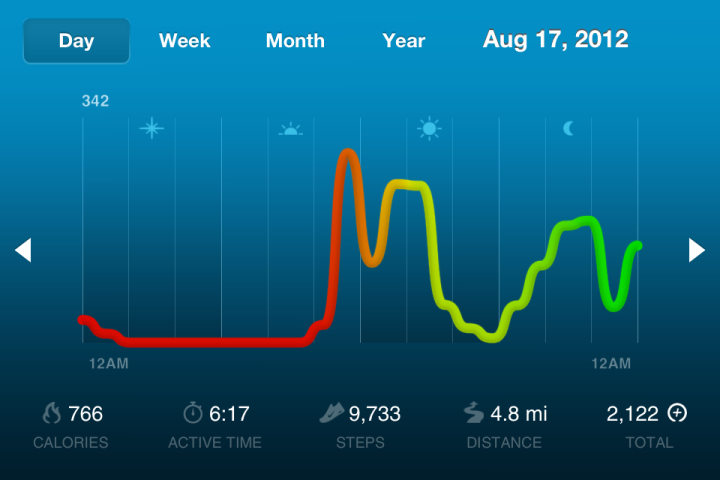 [Source]
For those of you interested in EEG, you do have some relatively inexpensive options available, or you can make your own. The manufacturers of these devices may include proprietary monitoring/tracking software which may be used in a manner similar to the use of cardiac data described above. If you would prefer not to use the default software, or it does not meet your needs, you may be able to find third party software through organizations such as the National Center for Telehealth & Technology and the OpenEEG Project.

[Source]
Got $90 and time to spend? Hack a Day has instructions on how to build an eye-tracking system all by yourself. $99 and you aren't in a hurry? Check out The Eye Tribe's Tracker, which comes with it's own full SDK.

[Source]
If you're really feeling bold, you could even reach out to your local universities to see if they might be willing to sponsor a joint project between you/your company, and their students. The psychology and physiology departments are probably your best bet, but there are a number of schools such as the University of Washington and University of Colorado whose Human-Computer Interaction programs may be willing to offer your project to their students.
Be creative, and good luck.
(*All counter-arguments to this statement are not only welcome, but encouraged. I would love to learn about inexpensive alternative methods. When your idea is proven wrong, you change your opinion, this is how science works.)
Further Reading
References
1. Mirza-Babaei, P., Long, S., Foley, E., & McAllister, G. Understanding the Contribution of Biometrics to Games User Research. Proc. DIGRA (2011).
2. Nielsen, Jakob, and Landauer, Thomas K.: "A mathematical model of the finding of usability problems," Proceedings of ACM INTERCHI'93 Conference (Amsterdam, The Netherlands, 24-29 April 1993), pp. 206-213.
§. Nacke, L.E. (2013). An Introduction to Physiological Player Metrics for Evaluating Games. Chapter 26 in M. Seif El-Nasr, A. Drachen, A. Canossa, (eds.) Game Analytics: Maximizing the Value of Player Data. Springer. pp. 585-619. ISBN 978-1-4471-4768-8. DOI: 10.1007/978-1-4471-4769-5_26, Peer-Reviewed.