"I don't want to be the tree that fell in the forest that nobody heard."
That's how former id Software CEO Todd Hollenshead feels about where he's at in the game industry today.
After a few years away from full-time games work he recently signed on as the business manager of Nerve Software, the venerable Texan studio founded by former id designer Brandon James.
In some ways it's a return to form for Hollenshead, who in the '90s worked with James on games like Quake 2 and Quake 3: Arena. In many ways it's a novel move sideways, from a big industry mainstay to a smaller, scrappier studio that's perhaps best known today for working on the Call of Duty games.
But Nerve also makes its own original games, and in a recent chat with Gamasutra Hollenshead opened up about how, after nearly twenty years at id, he's adapting to the challenges of trying to release and promote indie games in 2018.
"There were a lot of safety nets at id, from the members on the team to the brands that the company had, and all of that sort of stuff...my main role at id was just not to let anything mess up," he said. "So it's very different at Nerve, where I really have to think proactively about all these things, as opposed to defensively or reflexively."
The business of surviving as an indie in 2018
What's so interesting about Hollenshead's new gig is that he's joined right as Nerve, which for nearly twenty years has relied on contract work, is getting behind its own original games in a big way. This is, in part, why he was hired: as far as he knows, he's the first "business guy" to join since the studio opened in 1999.
"Nerve has never really had anybody that focused on business like I do; in fact I'm essentially the only non-development employee here at the company," Hollenshead says. "Everybody except for me and essentially the office manager are all line developers."
Those developers worked to bring Nerve's Bomberman-esque multiplayer puzzler Burnstar to Nintendo's Switch this month, and the studio has a VR game (An Eternity on Pine Bluff Lane) in the works. As you might expect, Hollenshead has been popping by recent game events to talk about the games, his new gig, and his experience running id for nearly twenty years (from Quake through Rage). What you might not expect is that he looks back on those years as a much simpler time.
"One thing I learned from Carmack is that if you can't solve a problem elegantly, the best thing to do is dodge it completely."
"This foundational stuff had already been poured; my main role at id was just not to let anything mess up," Hollenshead recalls. "Whereas at Nerve it's very much more 'Hey we need to develop a strategy for the success of the company.' We need to find the right places to do business, the right partners to do business, the right projects to put our people on."
"And then we have to execute against that stuff," he continues. "And figure out the juggling, within fairly significant financial constraints, of how we deliver the contract work while we still keep the internal IP alive."
It's common to meet devs in this business who don't like to talk about their contract work, or talk about it only as a way to make ends meet while they focus on finishing their own original games. Hollenshead seems happy to talk about how vital work-for-hire is to Nerve: contracts are what keep the studio going; original projects are investments. More importantly, they help the studio keep people employed by having a project to put them on when the contract they were working on gets delayed or cut short.
Burnstar running on the Nintendo Switch
"Being able to have some of your own IP to work on allows you a little bit of a relief valve so there's not so much pressure for everybody to be on a contract all the time," says Hollenshead. "So you can go 'Oh well, hey we have this contract ending and we have these resources that are freeing up, let's put 'em on whatever project it is. It needs some love, it needs a little bit of help.' So as long as we have people working productively on either internal IP or on a contract, that's good. That avoids the downtime."
This proves to be a topic Hollenshead is passionate about, which is kind of refreshing in an executive interview. He claims his driving worry is that people at Nerve won't have a job to do, something he didn't really remember stressing about at id.
"When I'm having a sleepless night, it's mostly being worried about making sure we've got productive products for the staff to be put on...because things don't always go according to expectations," he says.
"We may have a contract that gets terminated prematurely. We may think we get a contract that starts up but it gets delayed for a couple of months, and whereas for a big company a delay here and there isn't that big of a deal, at Nerve a substantial delay could potentially mean that we've got to start contemplating layoffs and things like that. So I think it's the greatest responsibility that I have here, as the business manager, is to make sure that the people working have good quality work."
Adjusting to this way of working seems to be a big shift for Hollenshead, who's trying to apply lessons learned at a high-profile, IP-rich studio to the business of one of that studio's contractors now stepping up to bat on its own original games. A common part of Gamasutra interviews is the ritual sharing of advice for other game devs, but when Hollenshead is put on the spot, he struggles to see how much of what he learned at id might be useful to indie devs like Nerve.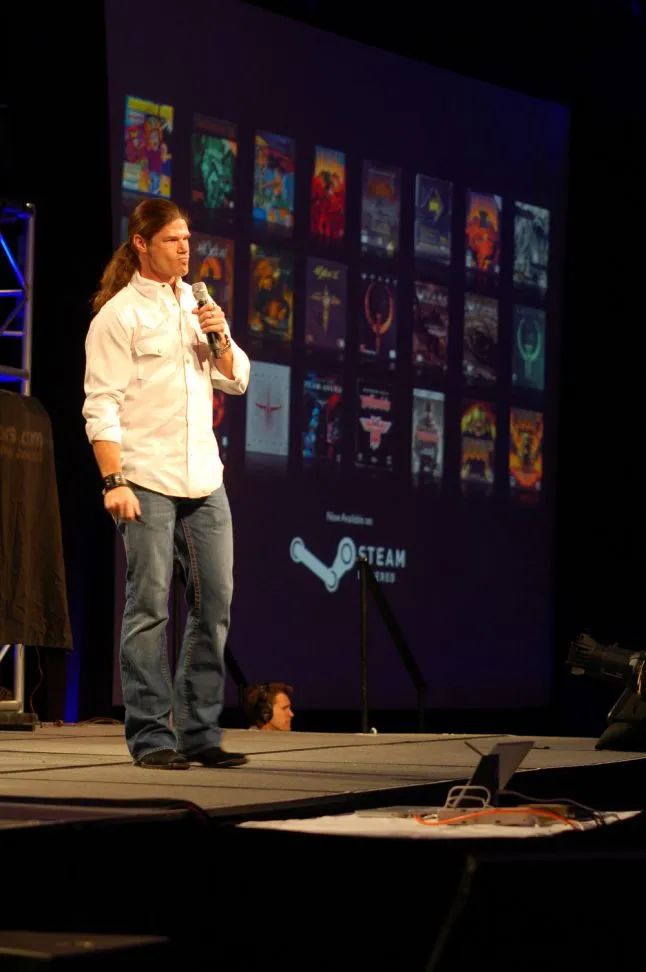 Hollenshead representing id at QuakeCon '07 (image courtesy of Pam Nesiac)
"At id we had plenty of financial resources; if anything we were just constrained from a human capital standpoint.But there was always the opportunity to just find somebody to contract with," he says. "Whereas with Nerve, there's really no backstop. The buck stops with us. If we can't do it here internally, then it's maybe something we just have to pass up. Or we have to figure out how to avoid it; one thing I learned from Carmack is that if you can't solve a problem elegantly, the best thing to do is dodge it completely. So I keep that in mind."
For devs in similar situations, he suggests that while contract work can be a bit of a treadmill with handcuffs, it's a valuable means of keeping the lights on as you try and nurture your own original projects.
"The strategy is foundationally pay the bills with the contract work, and then whe're going to swing for the fences, we're going to hope we score some singles and maybe a home run with some of the internal IP," Hollenshead explains. "For Burnstar, our plan is we're going to start off with the Switch, but if the game resonates onySwitch, then we fully plan to continue to develop additional SKUs and expand the universe. So that to me is, that's a strategy I'm going to carry forward from id to Nerve, on any brand that comes up internally. And then you manage your brands like your children, like your crown jewels. Those are the properties that the company owns, and you just try to make sure that everything about them you do with the top level of quality."
Being seen in 2018
Like many indies, Hollenshead says he's having to learn to deal with a new problem: discoverability (or the lack thereof) of new games in a marketplace that's chock-a-block with games at a wide variety of prices.
"That has been a big challenge at Nerve. At id, there was always the brands: Doom, Wolfenstein, Quake, John Carmack, those are huge safety nets that we don't have here," says Hollenshead. "Our strategy is really media outreach and evangelism."
That's been the driving force of the studio's efforts to promote Burnstar's Switch debut, but fellow devs know that Nintendo's latest console has seen d deluge of games arriving on its storefront this year.
"I'd like to see Nintendo maybe take some hints from some of the stuff that Valve was doing in terms of really getting behind non-Valve titles for Steam."
It's a sign of the Switch's remarkable popularity, and a boon for many devs (especially those who got in early), but at this point it means Nerve faces something of an uphill battle in order to stand out on a digital storefront that Nintendo itself says should ideally see 20-30 new indie games per week.
"For us, I would like to see a little more effort from Nintendo into what's coming soon, and promotion of those sorts of things," Hollenshead says. He's excited about how well the company and its new console seem to be doing, but wishes Nintendo would do a better job of promoting indie games as clearly as it promotes its own products.
"I'd like to see Nintendo maybe take some hints from some of the stuff that Valve was doing in terms of really getting behind non-Valve titles for Steam," he continues. "I'd love to see Nintendo step up and offer some co-marketing, and...if they find your title interesting, I'd love to see them take a more proactive approach in helping you promote it."
By now Burnstar has been out on Switch for a few days, but when we spoke Hollenshead said the team had high hopes but modest sales expectations. The real focus, he said, is always on making sure everyone has work to do and that all of it (both contracts and original projects) is done well. The future of Burnstar depends on whether or not it can find an audience in 2018.
"While we're not necessarily shooting for the moon with huge brands and big marketing campaigns, I still think there's something to be said for starting small and trying to catch the right wave," Hollenshead concludes. "It is sort of scratch and claw for every inch of ground. But when you have success, when you gain traction, you can really feel it and notice it. So in that sense, the effort pays off."