When Take Two began releasing information about the initial sales of Rockstar's Grand Theft Auto 5, the data was difficult to comprehend. A report of $800 million in 24 hours was quickly follwed by $1 billion in three days. By comparison, Activision's Call of Duty: Black Ops II hit $1 billion in 15 days.
As soon as the UK retail figures for GTA5's launch week were reported by MCV UK, I could see that the market had shifted dramatically.
Prior to its release, the UK retail video game market had reached total sales of £351mm for the year, down 17.6 percent relative to the same point last year. (Last year's figure wasn't anything to brag about -- it was down 30 percent from that same week in 2011.) But, after generating £100mm in a single week, the market had not only made up all that ground, but was even up by almost 2 percent.
The next week, EA Sports released FIFA 14, and the market got another boost. However, FIFA sales were down about 25 percent relative to last year, which is disappointing but understandable in a market that's been weak all year long. I think it's quite possible that some gamers are waiting to pick the title up on a new platform this holiday, when the Xbox One and PlayStation 4 launch.
But FIFA and GTA5 sales have kept the market humming along and this week it actually moved further ahead of last year's comparable figure. Here, take a look at the GTA5 effect.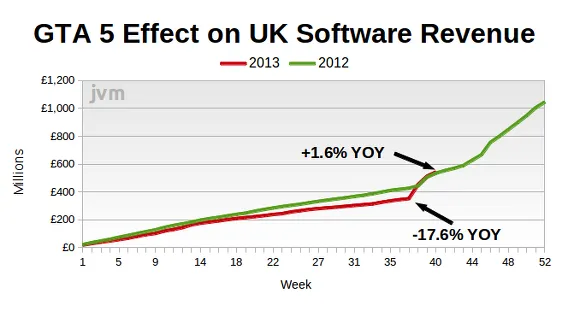 It does look like the UK retail market has recovered some of its former energy, and with more big releases on the horizon I think the full year has a decent chance of showing growth. That's would be some truly amazing news if it happens.
Sales figures for U.S. retail will be reported next week by the NPD Group, and I expect we'll see a similar shift in the market there. I'll try to put together a similar image when that data is made public.
Update on Platform Sales
Meanwhile, the latest figures are now available for platform-specific retail software sales, and it shows that the Xbox 360 continues to dominate in the UK. The PlayStation 3 benefitted significantly from the release of GTA5 and FIFA, and together the two HD consoles accounted for nearly 90 percent of all software units sold at retail in the UK during September. In terms of revenue, those two platforms took nearly 95 percent of sales.
Here are the breakdowns I've estimated from the available data.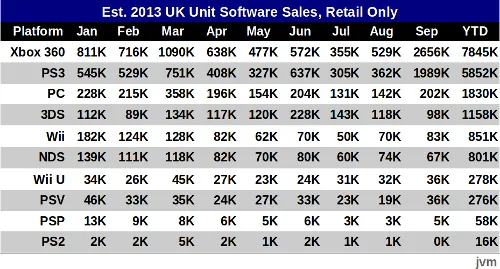 Note: The tables here are sorted by the YTD column.
As you can see above, Wii U software continues to grow slowly, but it actually was slightly behind the PlayStation Vita for the month of September. Year-to-date, the two platforms are essentially tied in terms of units sold. Since Wii U software is significantly more expensive than Vita software, however, Nintendo's platform is ahead in terms of revenue, as the table below shows.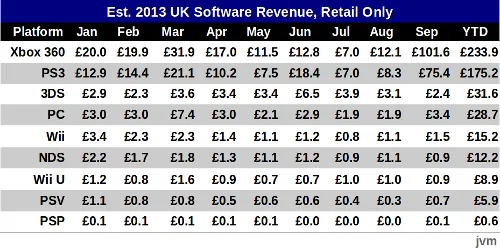 As usual, these tables do not include any digitally distributed software. With several companies reporting quarterly results in the next few weeks, I will be looking at the digital sales figures they report and trying to get a better view of just how the retail/digital shift is progressing.