When it comes to describing hard-core gamers in China, "passionate" might be too gentle of an adjective. Both positive and negative components exist in this passion particularly as it relates to gamers in Internet cafés; on the one hand, the I-cafe industry is experiencing a grand resurgence thanks to hard-core gamers, becoming the hotspot to play popular team-based games like League of Legends and Dota 2, but with this resurgence in popularity has come cautionary tales of taking digital gaming to unsafe levels.
In 2015, usage of Internet cafes appeared to be on the decline as the total number of I-cafés had fallen to 135,000 from the high mark of 350,000 shops across the country a decade before. In the ensuing years consumers had been buying home PCs, and once they had a PC they no longer wished to visit the generally foul I-cafe environment. However, investment into I-cafes and greater competition to recruit a dwindling number of users led to improvement in facilities, and then I-cafés fell into the good fortune of being the perfect spot for groups of friends to play games such as League of Legends in a 5 vs 5 set up, right next to each other.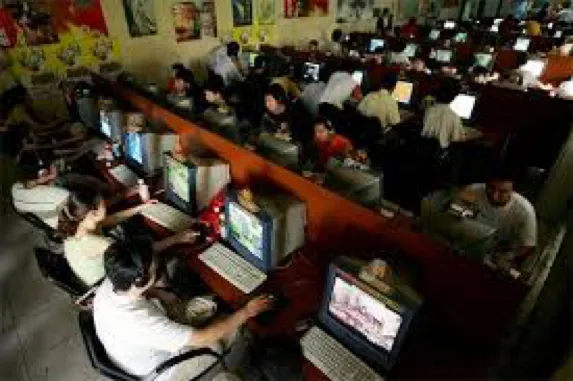 Today I-cafes warmly welcome eSports gamers and people who enjoy watching professional and amateur game tournaments, and the Internet Access Service Association of China (IASAC) says they numbered 146,000 at the end of 2015 having increased in number for two years in a row. It should be noted that 350,000 existed before the government initiated major regulations for health and safety, and that the low number of 135,000 was in 2013 before the surge in global popularity for eSports, particularly around games in the Massive Online Battle Arena (MOBA) genre, of which League of Legends is the leading title.
To be sure, a social environment for competitive gaming is fine. But sometimes Chinese gamers get a bit too involved with their digital lives in a perpetual universe, and at that point the I-café becomes home to a sadder story. Chinese gamers have taken their passion for leveling-up and being the best in their games to extreme levels, going to unthinkable lengths to stay in I-cafes, including birthing a child unassisted and even dying. We have heard of too many examples of sad stories in I-cafés over the years of tracking the Chinese digital games industry. Hence, the happy news that I-cafés nowadays are cleaner settings for social competitive gaming and professional eSports is welcome to our ears, because they give hope that the sad stories will not happen again.
In May 2015, a 24-year-old pregnant woman in Nanchang, China silently gave birth in an I-cafe while playing an online game. As reported by Huffington Post, the woman rejected help from the understandably shocked bystanders and returned to her game.
Just a few months before this Nanchang woman brought new life into the world, another Chinese gamer visited an I-cafe in Shanghai. 19 hours later, he was dead. As reported by Daily Mail, 24-year-old Wu Tai played World of Warcraft for 19 straight hours without a break. Fellow patrons of the I-cafe said he started coughing up blood before eventually slumping into his chair. Onlookers called an ambulance, but while waiting for the paramedics to arrive, Wu (much like the pregnant woman) continued playing his game. Wu was dead by the time medical crews arrived.
And before that, in January of 2015, a 32-year-old man was found dead in an Internet café after playing games for three days straight. He was proclaimed dead from cardiac failure and it was speculated that he had passed several hours before anyone noticed his death because his body had already begun to stiffen, according to CNN.
It just seems that the more the gaming market has risen in prominence, the more we're seeing these events of extreme gaming fanaticism (a negative type of "passion"). But in 2012, a teenager died in Taiwan after playing Diablo 3 for 40 hours straight, tentatively from a blood clot formed due to sitting still for such a long period of time. A year before that, a 33-year-old man died after playing games in an I-café for 27 days in a row (approximately up to 650 hours of playing games). And even before that, a 26-year-old man died after spending his entire New Year holiday break (7 days straight) playing games…and that was in 2007.
According to the Ministry of Culture of the PRC, investment in domestic I-cafes exceeded RMB 20 billion ($3.1 billion) in 2015. The Ministry of Culture is encouraging healthy growth, pushing I-cafes, many of which are in national or provincial chains, to upgrade their systems and facilities if they have not yet started to do so. Other ministries have also instated many health and safety regulations over the years, including keeping a fair distance from schools, restricting users to 18 years old and over, and many environmental rules as well.
The government in no way is encouraging the unhealthy behavior of the extreme I-café visitors who keep playing to the detriment of their own well-being. I-cafés are used for utilitarian reasons, to simply get online when a person has no other Internet access point, and for more: e-commerce, watching online videos or movies, and playing games, to name a few, as a recent Niko survey asking the question "what is your primary reason for going to an I-café?" shows us: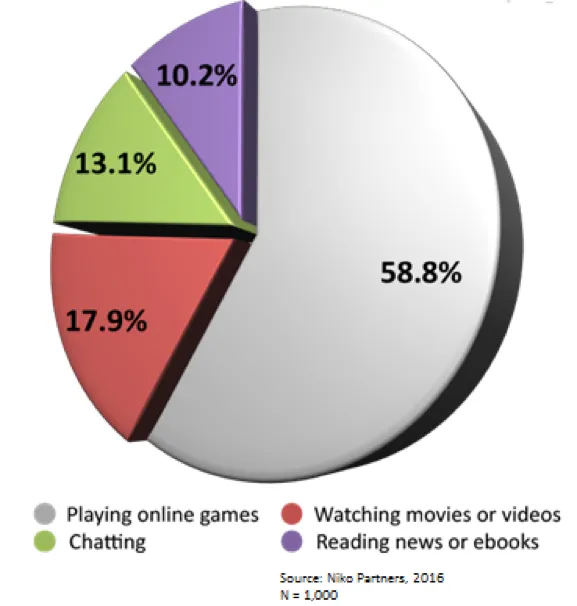 If we've learned one thing about I-cafes in China, it's that have so far stood the test of time. They have survived, adapted, and are now thriving in their transition from a place to check email to live-streaming professional gaming arenas. Because the truth is, despite the negative headlines, both the good and bad aspects of passion for digital games seem to be driving the market for online gaming higher and higher in China, and globally.
Want to know more about the Internet cafe gamers of China? At Niko Partners, we have 14 years of experience following these trends. To learn more, please visit http://nikopartners.com/