The latest edition of Nielsen's annual Games 360 Report shows that virtual and augmented reality devices are becoming more engrained in the public consciousness.
This year's findings are based on data collected via U.S. consumer online surveys in the first quarter of the year. According to Nielsen, the sample was a 50/50 male-female split and featured roughly 2000 people aged 13 or over.
As the graph below shows, VR and AR awareness has increased "drastically" among the "general population" and "gamers" -- and in the case of gamers, awareness of specific devices rose to 63 percent in 2017 from 37 percent in 2016.
Breaking that down, 34 percent of consumers have heard of Samsung's Gear VR -- up from 12 percent last year -- making it the most well-known headset on the market right now.
After that, 26 percent of respondents said they'd heard Sony's PlayStation VR headset, while 25 percent had also heard of the Oculus Rift. Overall, just under half of the general population is unaware of any major devices, down from 72 percent in 2016.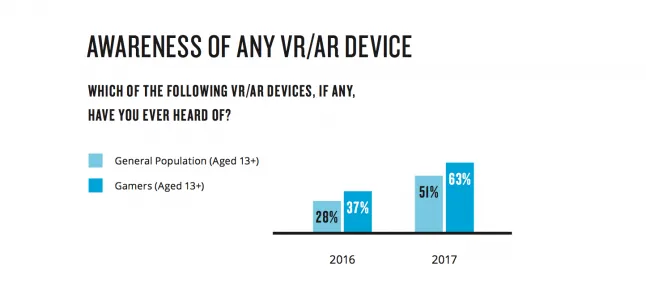 But how many of those in the know actually intend to purchase a VR device? Well, the general population seem equally interested in picking up a Gear VR and PlayStation VR, with 7 percent of those sampled saying they'd "definitely or probably" purchase either device.
As for those classified as gamers, 10 percent claimed they'd be picking up a PlayStation VR headset, while another 9 percent said the same about the Gear VR.
The Oculus Rift was the third most popular purchasing choice for both gamers and the general population, followed by Google Cardboard and the HTC Vive.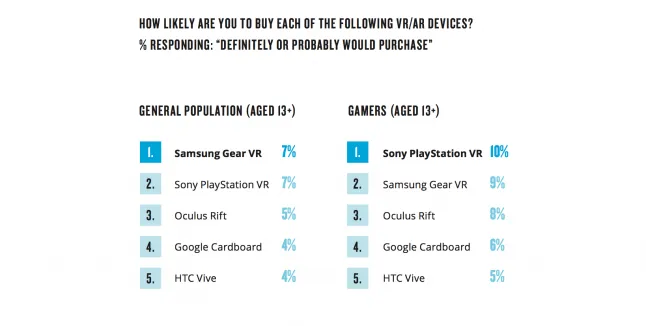 Nielsen says those keen to pick up a VR device are driven by a desire to own new tech, with 53 percent of gamers revealing that "always having the latest gaming system and hardware is important to them." By contrast, only 17 percent of the general population expressed a similar sentiment.
As it currently stands, more men own VR/AR devices than women, with 57 percent of respondents identifying as male. As the graphic below highlights, that split is even higher among those who intend the purchase a VR device in the future.
What's the same in both instances, however, is the fact that both current and future VR players say they spend most of their time on consoles. What's also apparent is that the majority of those VR device owners will be aged 25-34, which could be a reflection of the relatively high retail prices set by many of the big manufacturers.
For more industry insights, including a look into the growing world of eSports, be sure to check out the full report.