The analytics firm SuperData has published its yearly report detailing the overall performance of the global game industry.
This year, the report says that the entire 'interactive entertainment business' generated $108.4 billion in 2017 between cash brought in by the sale of digital games and the eSports, streaming, and VR/AR businesses.
Game developers can use reports like this to keep an eye on trends in the larger game industry, but it is worth noting that the numbers being reported are based on SuperData's own research and, as such, may vary from a company's official figures.
Looking at just digital games, SuperData says mobile platforms were the top breadwinner this time around, bringing in a total of $59.2 billion. That's a $14 billion increase from the numbers reported in 2016. Meanwhile, PC had the second highest revenue for 2017 with $33 billion, followed by the $8.3 billion generated by digital console games.
Despite a strong showing from 'premium' PC games like PlayerUnknown's Battlegrounds, which individually earned 12 percent of all paid-game revenue in 2017, free-to-play games brought in the most global revenue on PC in 2017 by a long shot.
Riot Games' free-to-play multiplayer online battle arena League of Legends brought in $2.1 billion in revenue this year, followed my Nexon and Tencent's Dungeon Fighter Online with $1.6 billion. All in all, SuperData says free-to-play PC games brought in a grand total of $15 billion in revenue, a 15 percent increase from 2016.
By its count, one in three people, or roughly 2.5 billion people, play free-to-play games on either PC or mobile. Between both platforms, free-to-play games generated $82 billion and were responsible for 89 percent of the revenue gathered from digital games in both markets combined.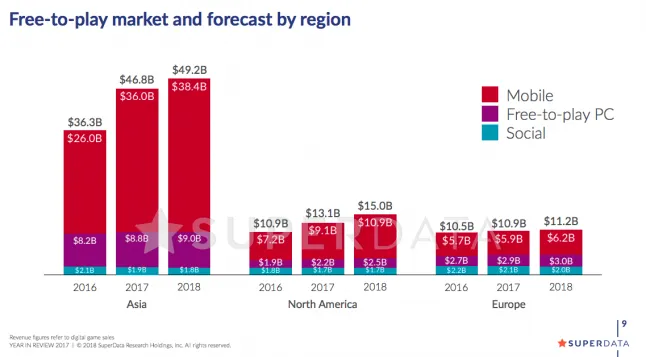 Much of that free-to-play revenue came from Asia, and SuperData expects that trend to continue in 2018. Between PC, mobile, and social free-to-play titles, Asian countries generated $42.8 billion in revenue compared to only $13.1 in the US and $10.9 billion in Europe. The firm's 2018 forecasts predict PC and social free-to-play revenue to remain constant in all three regions while it expects mobile revenue to increase in both North America and Asia in the coming year.
SuperData's full report has more information on their 2017 findings, including rankings for top PC, mobile, and console games and statistics for revenue generated by streaming sites and eSports. That report can be downloaded for free on SuperData's website.