Valve's ambitious Steam Deck is now officially on the market and it's one of the most interesting, borderline magical, pieces of game hardware available today, laying the groundwork for a new hardware category for game developers to reach players.
When Valve originally announced the Steam Deck last summer, the exciting concept was tempered by Valve's spotty history with game hardware. Skeptical game developers compared the Deck to the Valve's "Steam Machines" effort, in which the company partnered with third-party hardware makers to facilitate a line of out-of-the-box Steam-friendly PCs that were meant to act more like consumer-friendly plug-and-play game consoles. That program fizzled out, but Valve was still committed to making open source hardware using an open-source OS, and now we have the Deck.
But even compared to Valve's collaboration on the HTC Vive—especially the first version of Vive—the Steam Deck is easily the most polished hardware Valve has released to date. With Steam Deck, the company seems to have found a balance between its desire to continuously improve a product or service in front of an audience while still providing a level of finish that won't make customers feel like they're part of an expensive beta test.
It's not difficult to imagine that Valve really has met its stated goal of creating a new category of hardware here: the handheld gaming PC.
There are handheld gaming PCs out there, but where Steam Deck pricing opens at $399, the existing handheld PC options are 2x-3x more expensive, often with poorer performance. Steam Deck's aggressive pricing combined with its ease of use for game developers and players are just a couple factors that point to Steam Deck being a legitimate long-term business.

One of the most appealing aspects of Steam Deck from a game development angle is that there's not much additional game development that has to go into getting your game running on a Steam Deck, if any at all. Developers who've gotten their hands on the Steam Deck early can attest to this. While Steam Deck runs on the Linux-based SteamOS 3.0, it runs the Microsoft Windows compatibility layer Proton that enables the hardware to run non-Linux Windows games. This makes porting (if you can even call it that) games to Steam Deck relatively effortless.
Katsuhiro Harada, Tekken game director talks Steam Deck (via Valve)
And for game developers and players, the Steam Deck is something that—for the most part—just works out of the box. Setting up your Steam Deck for play is a matter of turning it on, signing into your Steam account, and downloading games. From there, you can just start playing the latest triple-A games with impressive performance for a mobile PC.
It's that turnkey, "it just works" quality that truly does make Steam Deck feel a bit magical. It meets high expectations in such an effortless, mundane way that it just surprises on initial use. After playing games for a while, you kind of forget about the hardware itself despite the impressive technical feat it's pulling off, and it fades into the background, putting game performance and play at the forefront.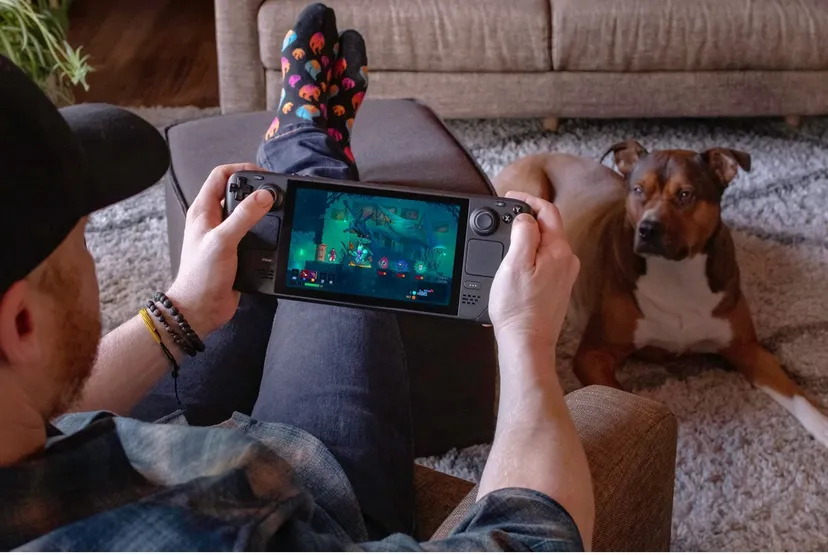 Solid hardware that's built to last
Our review unit was the mid-tier model with a 256GB NVMe SSD for storage and a microSD slot for expansion. All three models have the same computing power, though the base model has the smaller and slower 64 GB eMMC storage.
Showing the Steam Deck to people, the first impression is typically "wow, that's big." The second impression after you let someone handle it is "oh, that's light." While the Steam Deck is a bit of a chonky boi, it does fit well with medium to large-sized hands and is comfortable to hold for long periods of time. A standard Nintendo Switch feels absolutely dainty in comparison. Overall, the Deck feels solid and built to last.
The Deck sports two touch pads that also act as buttons, enabling players to adequately emulate a mouse, and standard console controller-like dual analog setup that everyone is used to. Additionally though, there are four buttons on the back side of the Deck for your middle and ring fingers that are mappable. The 1280x800 touch screen has the responsiveness you'd expect from any new smartphone, and a Steam and Quick Access buttons give easy access for navigating the Deck's UI and on-the-fly options like battery and game performance metrics.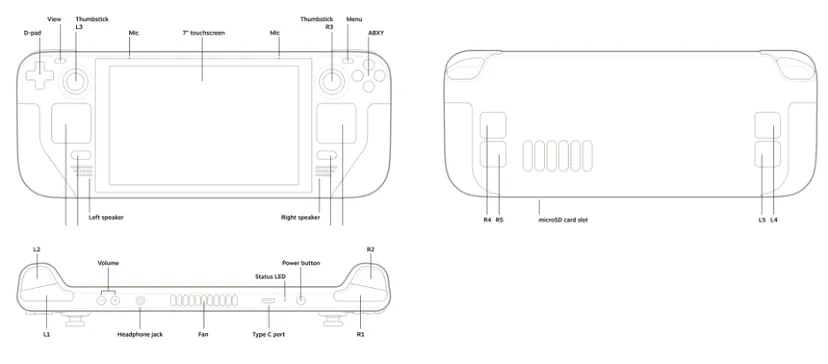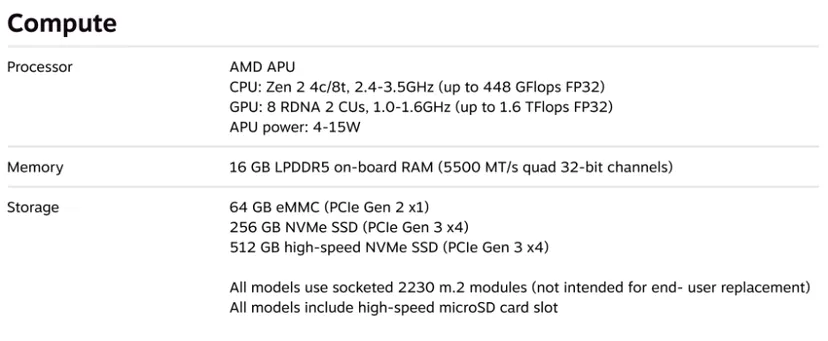 A finicky battery
Speaking of the battery, Valve officially says that the Deck's 40WHr battery will support 2-8 hours of gameplay with games running at 30 frames per second at 50 percent volume and 50 percent brightness. If you don't cap more demanding games like Cyberpunk 2077 or God of War at 30 fps, you can easily drain the battery in under two hours. Tweaking settings in-game to make a game less taxing or enabling V-sync can improve battery life and bring it consistently closer to the two hour minimum. Less taxing games like Dead Cells however can last for several hours before the battery dies.
Valve does include a good amount of options so users can balance performance and power spend, and combined with in-game graphics options you can stretch out the battery life. I found myself fiddling with the built-in automatic thermal power limit and frame rate limiter, as well as in-game graphical settings to try to get the Gamescope performance tool to read a higher battery life estimate.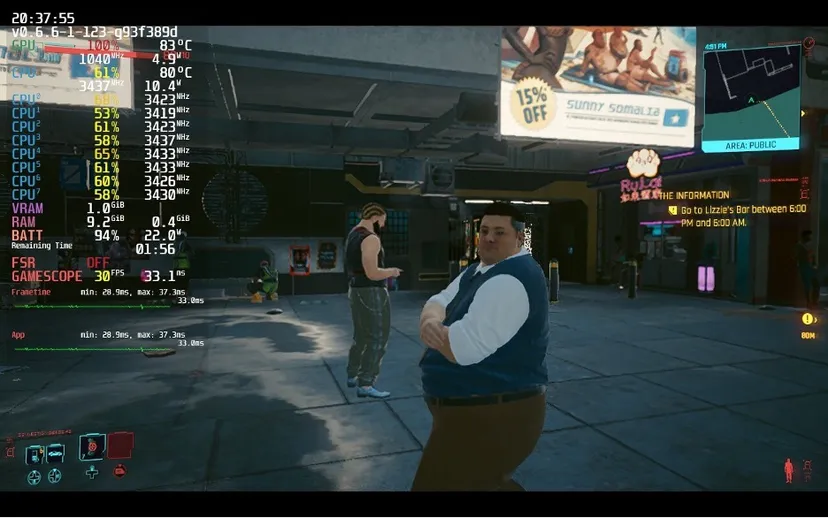 Battery optimization unfortunately isn't quite turnkey if you're seeking the best battery performance, but with some fairly basic tweaking you can find the balance between visual performance and battery performance that's right for you. Like all portable, battery-powered devices, the battery life depends on applications' power usage, and of course that can vary dramatically from game to game and depending on what settings you can tweak.
That said, the battery performance means that you'll probably want to not stray too far from a power outlet. Consumers will basically need to set their expectations and understand that this is a powerful, super-portable gaming PC, and drop any notion that this is somehow going to replace the Switch in terms of portability.
Game performance
In short, the Deck is a powerful piece of hardware and you can expect to run today's most demanding games. Earlier this year, Valve said that 30 fps is the floor when it comes to acceptable framerates on the Deck, and from the games I tested out, Valve has made good on that promise.
Cyberpunk 2077, while not Deck verified by Valve's official standards, ran very well on the Deck at a locked 30 fps and 800p. I ran the in-game benchmarking tool with presets set to Ultra and with the frame rate unlocked I got an average of 45 fps. In busier areas of the game, I would see the frame rate dip momentarily to 26 fps. Overall, it's just surprising to see such a demanding game working functionally on a handheld.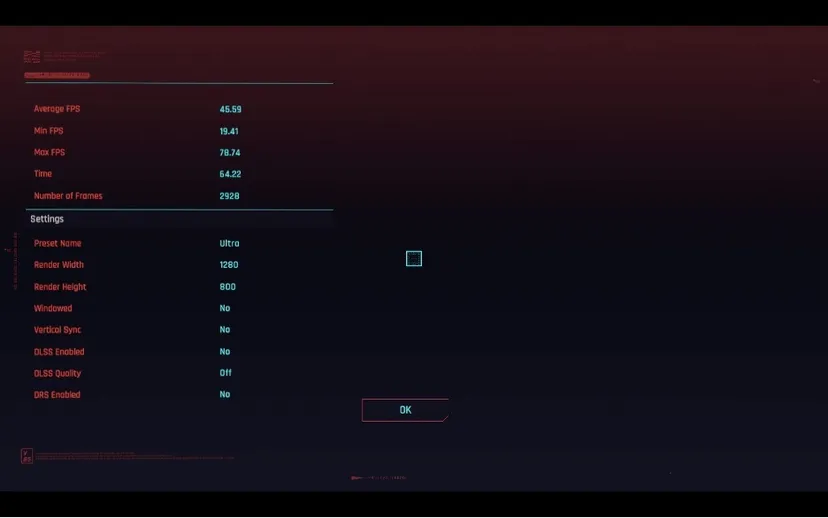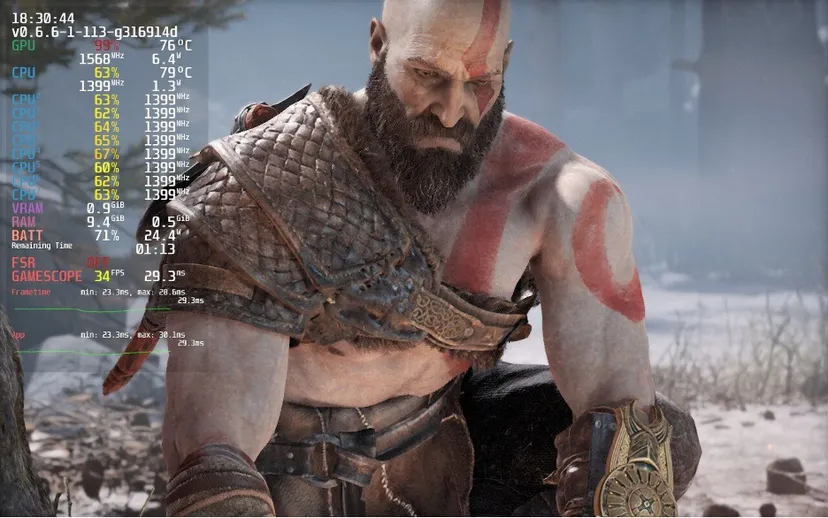 God of War, another demanding game on PC, easily ran in 30 fps locked mode with default graphical settings, and in unlocked could hit around 45 fps. Death Stranding, Deathloop, and Resident Evil Village had similarly impressive performance. Other games with lower graphical demands expectedly ran without a hitch. Hades, which like many other games benefits from Steam Cloud saves (it's always great to pick up a brand new device and start off where you left off on another device), easily ran at 60 fps at 800p. Naturally, other games I tested like Dead Cells, Spelunky 2, Sable, and Disco Elysium ran perfectly.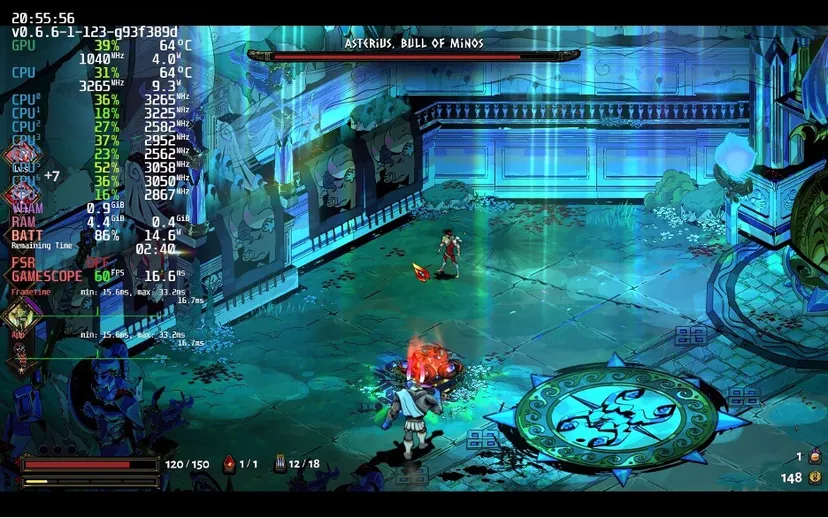 A continuously evolving handheld gaming PC
The review period over the past couple of weeks has been interesting, and it was unlike other hardware reviews I've done in terms of how hot software updates were coming in, right up to the day before launch. Performance improvements in areas such as wi-fi connectivity, faster speed for game suspension and resume, significant updates to UI and storefront layout, and general performance gradually made the Deck experience better as time went on.
Valve also has a tiered system that shows players which games are Deck verified and meet standards of control, performance, UI, and other factors important to a portable game device. The "Great on Deck" list of games continues to expand as Valve tests each game.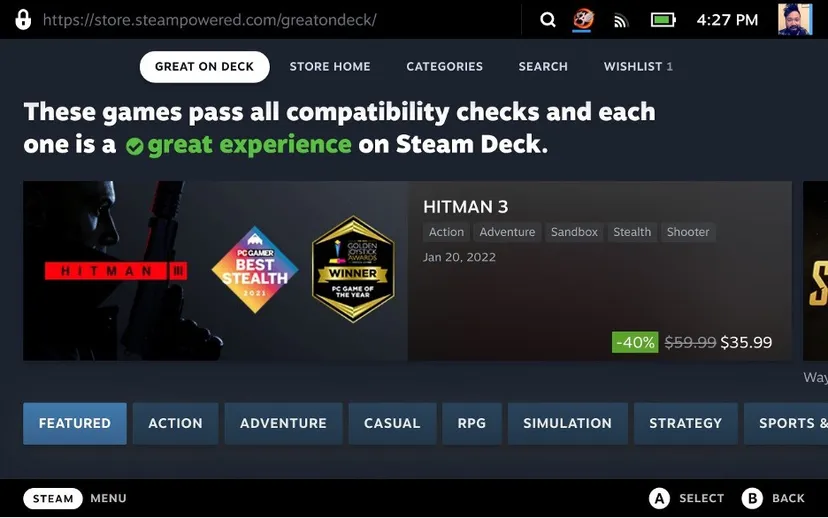 While major software updates may slow as time goes on, it did make me think about how the Deck will be a platform that is continuously evolving. One specific area I would love to see are some battery performance presets to maximize battery life without having to fiddle so much with settings. An area that Valve has already said it will be improving via an update is the docking compatibility, which is important because a lot of people (like myself) like the idea of using the Deck with a larger monitor or TV. (I don't have my hands on an official dock—just a bog standard USB hub—and I had mixed docking results, particularly with resolutions.)
Right now, the docked-to-undocked-and-back experience is not as smooth as we see with a Switch, though Valve said it plans on improving this in the future, including by offering an option to allow players to render select games at a higher resolution than the standard 800p. The docked experience for Deck is distantly second in priority to the handheld experience. But I wonder if we'll really miss being able to play Cyberpunk 2077 at 800p on a big OLED TV anyway…probably not.
The other big question that prospective Steam Deck customers have is its compatibility with Windows. I didn't test the Deck with Windows, and at this point, Windows isn't optimized on Deck quite yet due to drivers that are in review, according to Valve. But the company is working to make Windows an optimized experience on Deck.
This device has a long road ahead of it in terms of significant improvements via software updates beyond its launch and I expect a lot of the initial qualms we see here can be ironed out via software updates.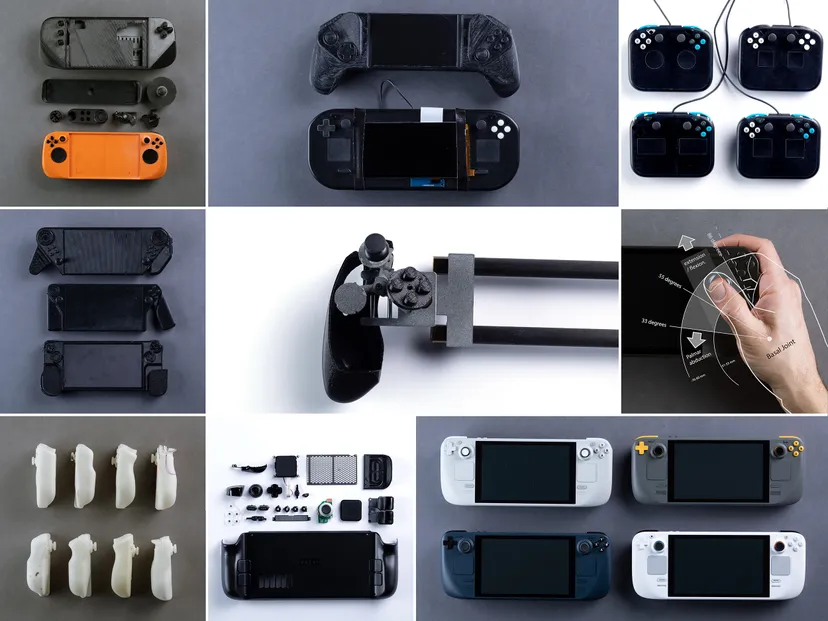 A new, exciting space for game developers
Valve president Gabe Newell has said he expects the Deck to sell millions of units and intends to create a new hardware category. The Deck sets a strong foundation to meet that goal. But reaching that goal is going to take a lot of time, and Newell and Valve understand that. This isn't a short-term play to simply gain more Steam accounts. This is Valve targeting its existing enthusiastic PC gaming audience and hoping that audience lays the foundation for a new hardware category whose ecosystem will include hardware makers beyond Valve.
This is Valve, once again, taking a risk for the sake of the long game and the Steam Deck puts the company in a strong position to make mobile PC gaming a legitimate market. And thanks to ease of development and a relatively turnkey out of the box experience for players, the Deck is poised to take game developers along for the ride.