Sizzle Reel: http://youtu.be/Sz887eNsgPs
We've all grown up playing video games. When I was a kid, I spent most of my time playing Super Mario Brothers 3 on Nintendo, passing the controller between my brothers and I. For me, watching video games meant being physically present and literally watching someone else play games on the TV, which I've spent countless hours doing.
As time went on, and I moved from GoldenEye to Halo through Counter-Strike, World of Warcraft and Call of Duty, more and more of my gaming time was spent playing games with other people -- except not in person -- we were all playing together remotely. The games industry realized that games are more fun when they are social, and consequently almost all big games that are released now have some emphasis on a networked multiplayer mode.
Recently, we've seen games evolve beyond basic multiplayer. For the top players, tournaments and leagues have emerged with their own celebrities. Recognizing that an entire entertainment vertical is growing up around watching gaming content, savvy designers are producing games with spectator modes that are designed to be broadcast, recorded, edited and shared.
Combined with the explosion of user generated video services, every year we've seen more and more gaming content get shared on the web.
This is a major marketing inflection point for an industry that has traditionally reached its consumers through traditional print, TV and digital media campaigns -- now your players are creating and distributing video about your game for you.
Of course, one of the natural outgrowths of this is a shift in power in terms of media consumption when it comes to how gamers are being influenced in the way they think about and talk about games. Whereas in the past, traditional games media outlets like GameSpot and IGN were the trusted sources of games knowledge and opinion, today consumers are turning their attention to the games that world class players are playing and they're placing their trust in the opinions of people who they can actually see playing and beating games.
This isn't what we set out to do. It's a grass roots swing away from the mediated opinions of journalists towards the less mediated, more spontaneous but demonstrably expert opinions of the world's best best players and the communities that follow them.
My guess is that this is much more than simply a shift in habits, but represents a shift in thinking and, ultimately, power too.
The challenge to game developers and publishers now isn't just to make the best, most immersive, addictive and playable games imaginable but also to make games that are easy and fun to watch. By doing this, developers and publishers can create games that can be self propelled as their own marketing and social platforms -- empowering players to create interactive communities that breathe life in to games as a never-ending stream of social events and touch points that, ultimately, lead to greater sales.

Live video hits the Internet
When I started our company five years ago, we had no intention of doing anything in video games at all. We started off as a general internet platform for live video that anyone could use to produce and share a live broadcast with as many people as they wanted. This worked well; over the course of the next four years, we grew the platform, called Justin.tv, to over 30 million unique visitors every month. At the same time (2007-2010) video consumption on the Internet continued to grow, with more and more consumers replacing their TV time with watching web video across many different categories.
One of these categories happened to be gaming video: people watching other people play video games. We first noticed this phenomenon on the site when users started doing it organically: people were creating broadcasts around playing new releases and their favorite games with their fans. At the same time, more and more competitive gaming broadcasts were popping up, streaming the best gamers in the world playing games for prizes.
By the end of 2010, gaming streams were reaching 2 million viewers every month on Justin.tv and we finally got it through our heads that we should figure out what was going on. A small team, lead by my partner and co-founder Emmett Shear, started building gaming specific features to improve the experience of watching and broadcasting video games on the site. This started off as an experiment: could we make the gaming category grow faster than it was already?
After a month, we had grown the gaming specific viewership 15 percent. That seemed pretty good, but we wondered if it was sustainable. Another month, another 15 percent. After six months of solid growth, we decided that the gaming vertical should be its own web site, and in June 2011 we launched TwitchTV at E3, a new site dedicated to watching and sharing gaming video. By December, we had 12 million unique visitors coming to the site every month, and we had shifted the main focus of the company to TwitchTV.
---
But... what are people actually watching?
One of the critical questions we have tried to understand is what gamers are spending their time watching and engaging with in video online, especially with live video. It turns out that they are watching a lot of different content. People broadcast PC games and console games; new releases and classics; multiplayer and single player. As I write this, the top five games are StarCraft II, Heroes of Newerth, Star Wars: The Old Republic, World of Warcraft, and Minecraft.
There are four kinds of broadcasts that I think are most relevant to game developers: content around new games releases (especially developer driven content), charity events streams, professionally produced shows from gaming media companies, and eSports-related streams (primarily tournament and player streams).
Here's a quick overview of each.
Game Releases
The gaming community has traditionally always rallied around new releases. This has been true in the streaming world as well. Many of the top personalities in gaming, each with tens or hundreds of thousands of followers across Twitter, Facebook, YouTube and TwitchTV will broadcast new games the week they come out to millions of fans. Recently, we've seen games like The Elder Scrolls V: Skyrim and Star Wars: The Old Republic get picked up by the community seemingly overnight on the day of launch.
In the past year we've also seen a lot of engagement from the game dev community itself. Several games, like THQ's WWE 12 and Dawn of War have done live broadcasts leading up to launch, reaching hundreds of thousands of their most loyal fans. We've also seen developers reach their fans through other kinds of streams: live developer fan chats, play-throughs of early betas, or sometimes (like in the case of Notch of Minecraft fame) just live coding.
Gaming Media Shows
As gaming content has moved from articles and blog posts towards video, the traditional gaming media properties have followed suit and begun producing more video content to match consumer demand. This has happened with live video as well, with big gaming sites like GameSpot, IGN, Giant Bomb, Joystiq, 1Up, Destructoid and others producing live streaming coverage of new releases.
We've seen new media properties like Destructoid and Cross Counter TV take this to the next level by producing full fledged shows, having their gaming reporter personalities play games, take audience questions and interview guests, all with live broadcasts. Moving forward, I believe that those media properties that want to continue engaging in a way that speaks directly to their audiences will move more and more of their efforts to producing video, both live and on demand.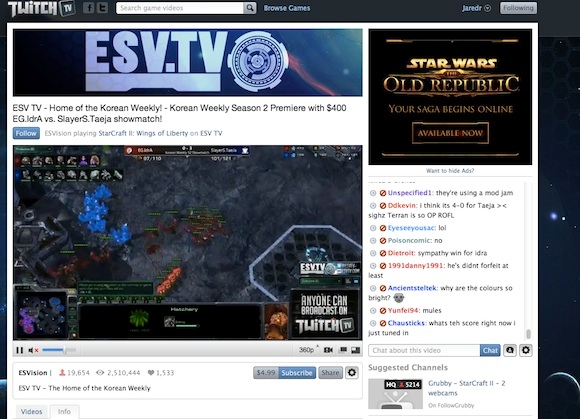 eSports
Finally, the biggest trend in online streaming has definitely been the phenomenal rise of eSports in the past year. The meteoric success of Starcraft 2 in the past 18 months is no secret. Blizzard spent a tremendous amount of effort making Starcraft an eSport, and it has paid off in viewership adoption of StarCraft II as a spectator sport, especially in the U.S. and Europe.
Historically, eSports have not been particularly successful in the West, but have been overwhelmingly successful in Korea. But things are changing. Starcraft was first released internationally by Blizzard Entertainment in 1998, and Koreans were quick to adopt StarCraft as a national pastime. Out of the 9.5 million copies of StarCraft sold, 4.5 million were sold to Koreans. The game is so popular that the best pro players and teams are sponsored by Korea's biggest companies like Samsung and SK Telecom, and make millions of dollars a year in endorsements. Starcraft matches appear on two television stations, and are regulated by the government. Even the Korean Air Force has a team, so that the best players can still play while doing their military service.
The shift in the past 18 months in adoption for eSports is due to three factors: audience size, innovation in the viewing experience, and distribution. The audience is 170 million gamers strong in the US, playing more than 13 hours of video games a month. The innovations have been the spectator modes and ladder matching systems that companies like Blizzard or Riot Games have built into their games, making it easy for non-player viewers to follow the action. In the latest version of StarCraft, there are built in displays for production, army size and more, making viewing much more accessible to the casual fan, especially when combined with some basic commentating from a caster. The distribution is happening across sites like TwitchTV and YouTube, where a new generation of gamers is living.
Since last year the number and popularity of tournaments has skyrocketed, and all of them are broadcasting their content online through live streams. Major League Gaming, which was founded in the 2002, now runs 6 events a year, with over $1 million in tournament prizes awarded for the best players in Call of Duty, Halo, and StarCraft. With the audience growth for competitive gaming, MLG has attracted mainstream sponsors like Dr. Pepper and Sony-Ericksson. Other events, such as IGN's new IGN Pro League, Europe's ESL and Dreamhack, and the new North American Star League (NASL) have attracted tens of thousands of in person attendees and millions of viewers in the last year.
Outside of tournament streams, we're also seeing many more players able to go full-time on gaming through income generated from streaming video content. Through revenue-share options from services like TwitchTV, Blip.tv and YouTube, pro players can make a 5 or 6 figure living just streaming their gameplay to their audience of viewers. This might not seem like much compared with professional athletes, but this is really the first year that making money from streaming gaming and eSports has been a viable career path; if growth continues the top players will soon be pulling down hundreds of thousands annually.
Charity Streams
Many of the most influential gamers have also dedicated significant portions of their time to raising money for gaming charities like Child's Play. One of the most prolific and positive kinds of gaming video being produced at the moment are charity streams, where one or more gaming personalities will get together and do a marathon broadcast, encouraging viewers to donate towards a goal. Think of this as the traditional marathon model of fundraising, except instead of watching a guy run for a mind-numbing 26 miles, the viewer is being entertained on an interactive stream with viewers chatting, auctions and giveaways, and your favorite games.
The number of charity events around gaming has grown with the size of the community. Speed Demos Archive threw an event called Awesome Games Done Quick last month that raised $145,000 for the Prevent Cancer Foundation, all from fans. Desertbus.org has thrown events around making the awesomely boring Desert Bus mini-game (where you drive a bus through the desert for 8 hours) fun, raising a total of $383,000 for Child's Play. The numbers raised charitable causes from these kinds of events are stunning, especially when considering the stereotypes of the gaming audience. With streaming, gamers have been proving that the community is just as or more charitable than most.
---
Why should this matter to you?
Live video is the newest trend in how gamers engage around their favorite titles. We currently see an average session time of 47 minutes on TwitchTV; that means that every time a viewer shows up on the site, they stay and watch 47 minutes of video. This is time that gamers are cutting out of traditional media sources of entertainment: movies, television and internet browsing and -- obviously -- time that's no longer being spent engaging with traditional games media.
In a nut shell: Your audience isn't reading magazines or web sites any more - they're watching videos!
But not just any videos.
Above all else, today's gamers want to watch videos which either show experts at play or capture experts sharing their knowledge about games. These experts are, almost without exception, grass roots players and not traditional games media pundits. TwitchTV provides both the platform and the community within which this is happening.
Some of the most innovative companies in gaming have already taken the first step: designing and integrating spectator modes into their games.
Blizzard's StarCraft II, Riot Games' League of Legends, and Valve's Dota 2 have all incorporated observer modes that allow commentators to see multiple view points within a match, join in high-level game play, informational overlays, and more. For new games, there is an opportunity to extend the life cycle beyond launch by spending time crafting a spectator mode, building a great match making system, and positioning your game as an eSport.
For games that are centered around casual play there is an opportunity as well. Minecraft, one of the top five games on TwitchTV, is extremely popular, with broadcasters producing content around sharing, exploration, discovery and collaborative play. While content created from games like Minecraft doesn't as closely mirror traditional sports, they allow players to share their in-game creativity with the world.
In order to let game developers capitalize on this trend, we're excited to announce the formation of our TwitchTV Developer Program. One of the problems thus far in growing the number of content creators to its full potential has been the relative difficulty of broadcasting: if you want to stream your gameplay, even on PC you have to master complex software to send your video to TwitchTV. Even though we get over 45,000 unique gamers broadcasting content to the site every month, we're constantly aware that number could be much, much higher (remember, the total audience size is over 12 million).
To solve this problem, we are building SDKs to get broadcasting enabled directly from console, PC, web or mobile games. By letting users stream directly from their games, a massive amount of user generate content can be unlocked, opening up an entirely new marketing channel for engaging gamers around a game at launch through maturity. Email us at [email protected] to join the TwitchTV Developer Program and get in on our alpha and beta tests. We are coming soon to a platform near you!