This year we (Gamious) visited Gamescom for the fourth time in a row. Where we normally spend three days with four people at our booth in the business area as part of the Holland Pavilion, this year we also had a booth in the entertainment/consumer area dedicated to our new game Team Racing League. We had a rather cool setup for this booth: we built a small stage with two rows of three theater chairs. Three for team blue, three for team red. Everybody was able to play on the same screen and the people watching could follow the one and only match that was being raced at that time.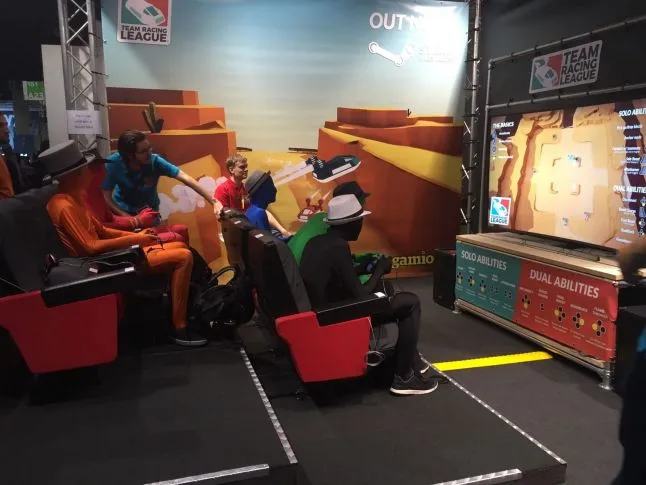 While we had little problems setting up the booth and banners, there was one thing that was kind of difficult: securing our controllers. Weirdly, when Googling and asking fellow (Dutch) game devs, no-one really had a good solution. There is one website we found where you can buy security cases, but these are quite expensive, don't look very good and - most importantly - don't seem easy to handle. The last thing we wanted was players visiting our booth to have issues with a heavy, cumbersome controller. So we decided to pick up our tools and do some DIY shopping.
Two teams, six controllers
Team Racing League is played in two teams of three players. Having 6 controllers connected to one PC meant we couldn't just use Xbox 360/One controllers. The Xbox controller is designed for four people (x-input). When you connect more than four, the triggers won't work correctly and will interfere with other controllers. While the Xbox One adapter supports up to 8 wireless Xbox One controllers, wireless is not a real option when you're exhibiting at an event, because: one, it makes controllers easy to steal and two, you're surrounded by loads of other games and people with wireless devices. Too much can go wrong.
Sugru and colored cases
Since we have Team Blue vs Team Red in our game, we decided to go for a combination of wired Xbox 360 and (wireless) Playstation 4 controllers. The Xbox controllers have a fixed wire of course. The Playstation 4 controllers however do not. A micro USB cable can be connected loosely (depending on the cable). We had to find a solution to hold it together firmly. Nicolae Berbece from Move or Die gave an interesting talk at A MAZE about showcasing your game. He used the following image which served as inspiration:
When talking to him, he also didn't know where to find this solution (so if someone knows where you can buy one: let us know!). The pictures shows a very elegant and strong solution, but from a DIY perspective it can be quite difficult. We chose an easier solution: Sugru. We stumbled upon this moldable glue by accident and are very happy that we did. It works like clay: roll a piece of Sugru into a little ball, mold it in the shape you like and let it dry. We simply connected a high quality micro usb cable to the PS4 controller, molded the Sugru around it and let it dry. Then we taped the Sugru black to make it more consistent to the controller and even more secure. To top it of, we pulled a colored rubber cover around the PS4-controllers. We bought blue ones to mark the controllers for Team Blue. The Xbox controllers got red stickers to mark them for Team Red (we couldn't find rubber cases/covers for wired X360's).
Security cables and drilling
Now that we had six controllers with a secure connection, there was still the issue of theft-security. It's hard to believe, but apparently there are still visitors that attend events and steal hardware from developers. Since you don't want to be halfway through an event and find yourself without enough controllers, making sure they are hard to steal is a smart move. As said before, the hard cases where a no go for us, so we decided to create an anti-theft system for ourselves. Inspired by TheKosherTonyStark, we took a drill, bought some security cable and cable clips and got going. The result was perfect and the execution quite simple:
- First we opened the controllers.
- Then we removed the right rumble.
- We drilled a small hole, just enough for the security cable to go through.
- Inside the controller, we secured the cable with a cable clip so the cable couldn't be removed.
- The clips are made of galvanized iron, so they bring in some weight to bring the controller back in balance with the loss of one rumble.
- We closed the controllers again and voilà, 'Klaar is Kees' (this is a Dutch expression that the job is done).
Team Racing League booth
To secure the cables to the booth. We wedged the other side of the cable between a piece of wood and the elbow rest of the theater chairs so they were firmly attached to each other. The length was just enough so that players had plenty of room to freely use the controller. Should they drop it, it would hang a few centimeters above the floor. The system worked perfectly! Only one cable got a bit of slack in the last hour on the fifth day of Gamescom. That was after hundreds of players using them.
And that was it! An affordable, fool-proof and user friendly way to secure controllers to your booth at an event. If you have any questions about this project, our booth, game or anything else, feel free to contact me at roy[at]gamious.com. In the mean time check out our awesome booth below!
Auf wiedersehn!