Nintendo has released its financials for the three months ended June 30, 2017, revealing a rise in sales and a slight dip in profits.
The Japanese juggernaut saw net sales rise by 148.6 percent year-over-year to 154.1 billion yen ($1.37 billion), while profits fell by 13.8 percent to 21.3 billion yen ($190.4 million).
That doesn't means there's cause for concern, mind, as the company claims it's well on track to meet its full-year profit forecast.
What's more notable is the performance of the Switch, with the latest figures showing 4.7 million units have been sold worldwide in less than four months.
It's a promising start for the handheld-home console hybrid when you consider Nintendo's previous offering, the Wii U, has shifted 13.56 million units in just under five years.
Switch games have also been pulling their weight, and The Legend of Zelda: Breath of the Wild sold another 1.16 million units during the quarter -- taking lifetime sales to 3.92 million.
Mario Kart 8 Deluxe, which launched in April, has sold 3.54 million units worldwide, while springy fighter Arms has racked up 1.18 million sales since launching on June 16. Those figures mean the Switch has now amassed 13.6 million in lifetime software sales since launch.
Looking at the other jewel in Nintendo's crown, the 3DS, hardware sales for the handheld totaled 950,000 for the quarter, which is a year-over-year increase of 1 percent.
It might not sound like much, but it was enough to take lifetime hardware sales past the 67 million mark. The 3DS didn't fare quite as well on the software front, with total sales falling by 31 percent year-over-year to 5.85 million units.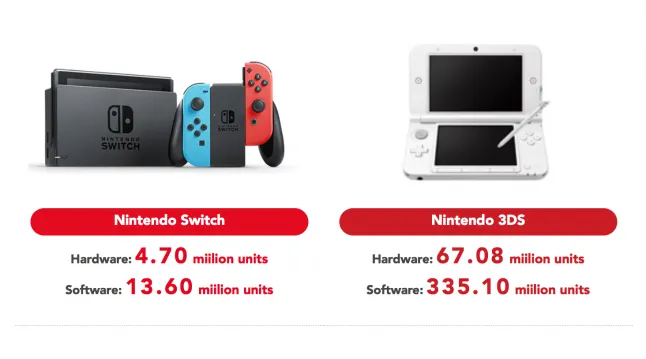 As for Nintendo's mobile shenanigans, the firm's smart device related income for the quarter hit 9 billion yen ($80.5 million) -- an increase of 450 percent year-over-year.
That might sound like a seismic leap, but it's important to remember that this time last year the company had only released one mobile app: Miitomo.
Compare that to the start of this quarter, when it had Super Mario Run and Fire Emblem Heroes out in the wild, and it's clear why there's been a shift of that magnitude.
Looking ahead, the console maker believes big-name first party efforts like Splatoon 2 and Super Mario Odyssey will take the Switch to even greater heights.
It also claims the launch of the 2DS XL in June and July, along with the release of Pokémon Ultra Sun and Pokémon Ultra Moon in November, will shore up its handheld business.
WIth that in mind, Nintendo says it's still on track to meet its full year forecast, and expects to see sales of 750 billion yen ($6.72 billion) and profits of 45 billion yen ($403.8 million) by the end of the next fiscal year on March 31, 2018.