Steam is quickly transitioning from a tightly curated store to an open market where more games are being released than ever. This has triggered many to debate about the indie bubble bursting or if there even is one. Regardless of all of this, the truth is that being a successful indie developer is still the same – make a good game and get it noticed. Developers simply must look elsewhere to find the visibility that Steam once granted. This has left many developers wondering how much visibility does Steam still offer and how well can a game still do when launching on the service.
Last month I was one of those curious developers when I released Crea on Steam Early Access. I had very little idea of what sales would be like. In the past a few developers have been open with their sales figures, such as Hitbox Team and David Pittman of Eldritch, but nothing for this quickly changing Steam world. I want to continue this spirit of open development and share what the first month of sales on Steam has been like for us. First some context is needed before we get to the sales figures below.
Crea launched on Kickstarter in July 2012, shortly after the popularity of games on Kickstarter exploded. We managed a successful campaign of $28k thanks to some news coverage, Kickstarter cross-promotions and heavy Kickstarter traffic due to Ouya's and Castle Story's campaigns.
After the Kickstarter campaign we kept our community updated but otherwise stayed very quiet while we worked on our game. We remained quiet even a year later when we released an alpha version of Crea through Humble Bundle to start getting player feedback as early as possible.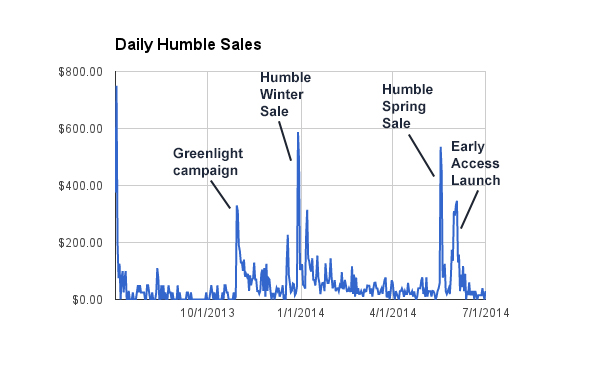 Working with Humble has been a great experience. While the number of sales was sometimes, well, humble, this stream of income was crucial to keeping food on the table while we worked on Crea full time.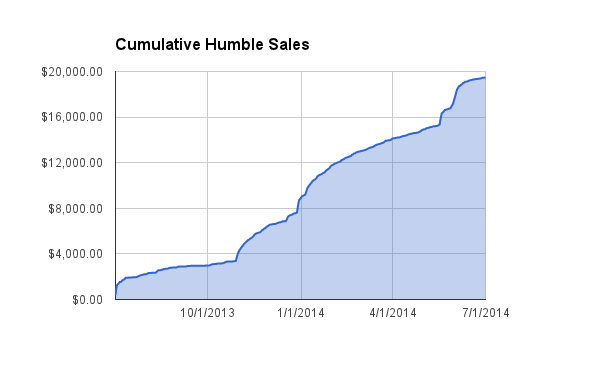 It was not until the launch of our Greenlight page in October 2013 that we finally began attempting to make some noise. We reached out to a few youtubers and some news sites; however, by then Greenlight had lost its novelty among news sites, and we mostly went unnoticed. Despite this lack of coverage, Crea was Greenlit by February 2014. Our next goal was to get Crea ready for Steam Early Access.
We continued to incorporate our beta testers' feedback to improve Crea. We spent most of the month of May preparing for the Steam Early Access release. With the help of the wonderful Mary Kish we made a new game trailer and reached out to as much press as we could. I also put Video Game Caster to good use and contacted many youtubers about Crea. We got some great responses from small to medium-sized sites and youtubers but we did not get any coverage from any large sites.
Now we get to the interesting part! What do sales look like for a game launching June 3rd, 2014 on Steam Early Access with little press coverage?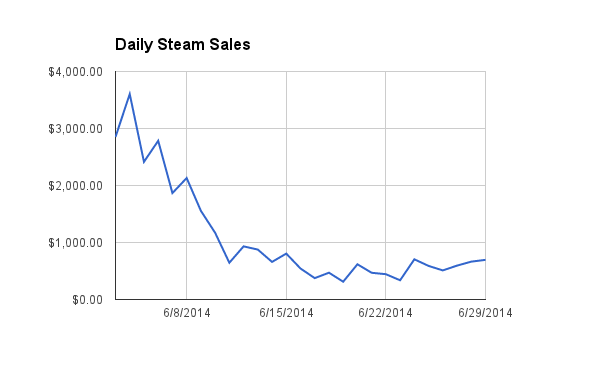 So far these sales have been great! We made $500 in the first hour of being on Steam, and $18,000 in the first week. Sales have slowed down since the excitement of our initial release, but have continued to bring in at least $300 per day. (All numbers are gross profit.)
We decided to not participate in the Steam Summer sale and we expected that our sales would drop during this time. However, as you can see, our sales actually got a small boost during the sale.
Crea was featured on the front page of Steam for Mac and Linux – which is amazing, but even with this prominent feature their sales still have only accounted for 20% of our total sales.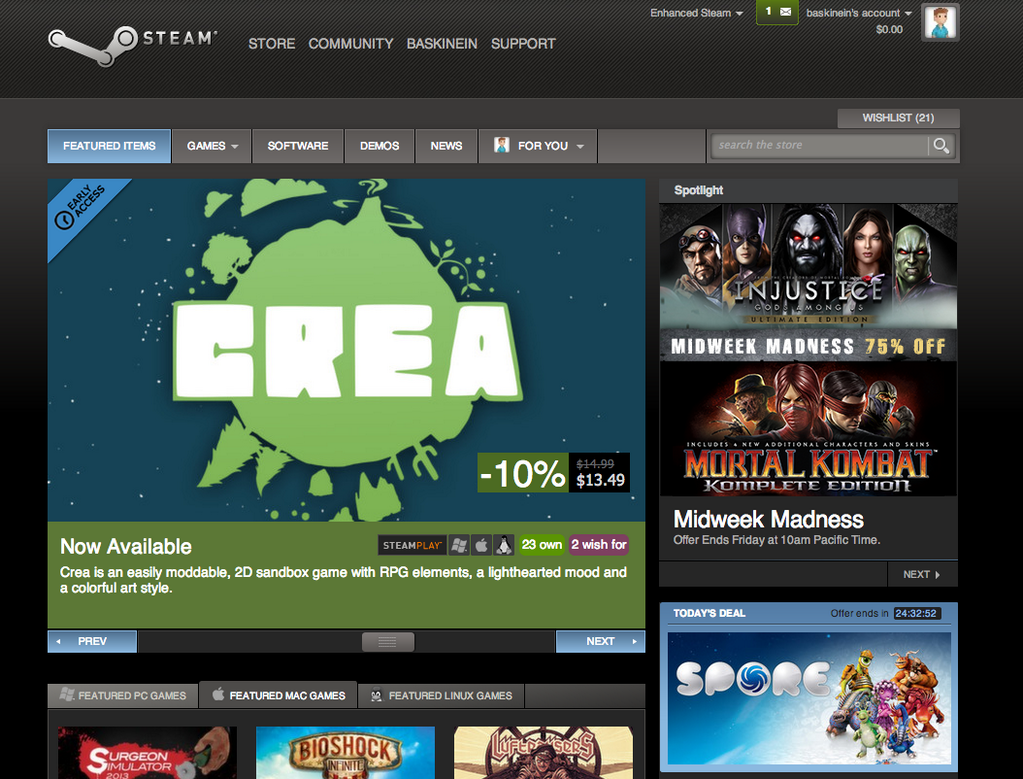 To put everything in perspective, here are all of the gross sales for Crea – including Kickstarter, Humble Store and Steam. Of all the money we've made from Crea over the past two years, roughly 35% of it has come within the last month.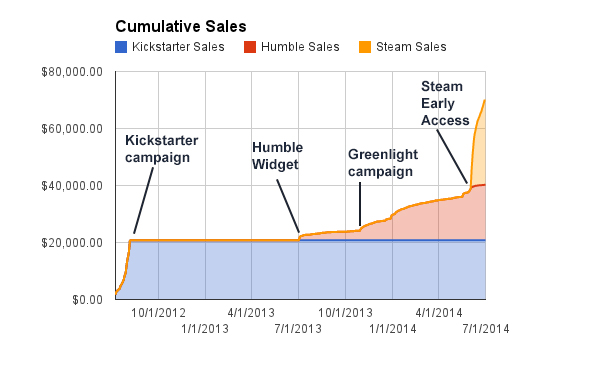 At this point, we're very happy with the sales and all the positive reviews of Crea on Early Access. These sales mean development funding for many more months and enough to hire an additional developer. So while the Steam marketplace may be becoming more and more diluted with games, it's still powerful enough to bring a significant amount of sales to a relatively unknown title such as Crea even in Early Access. We hope that this information can help shape the expectations and plans of other indie game developers. May it be a light for you when all other lights go out.