Without much pomp and circumstance, Valve has seemingly flipped its 'Curator Connect' system live for both developers and curators on its digital distribution platform.
Curator Connect aims to introduce a handful of changes to Steam's existing curator system and ultimately make it more useful for curators and game developers alike. The program launched into a closed beta back in October, but Kotaku UK reports that the system has been released outside of beta and is seemingly now open to all developers and curators on Steam.
On the developer side of things, the program aims to help developers overcome discoverability woes by making it easier to connect with relevant Steam Curators.
Nested under Marketing Tools and Data in Steam's developer options, Curator Connect gives developers the ability to search for curators by name, operating system, language, or curator-specified tags. From there, they can verify a curator's reach and identity through linked social accounts and add them a list of preferred Steam Curators.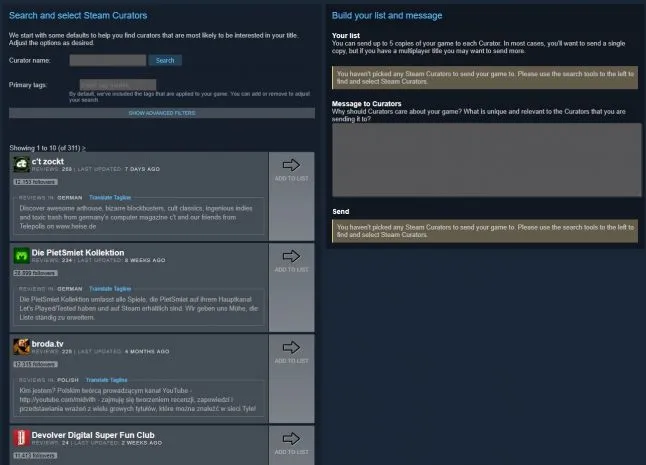 One of the major perks of the new system for developers is that they are now able to build lists of curators and send copies of their games directly to those folks from within Steam itself. Ideally, this lowers the risk that a game code will hit the inbox of someone faking their identity or fishing for codes to be resold on third-party websites.
Developers are also able to apply descriptive tags to their own games with the goal of helping interested curators find games relevant to their expertise and audience. Curators also receive a number of new features that could boost visibility for games on Steam such as the ability to embed videos, group relevant reviews, and view more data about their followers.