Greetings everyone!

In this article I would like to share the sales numbers of my PC game Survivor Squad that launched one month ago (14th May)

I have always enjoyed reading other sales post mortems but one thing I find is that it's difficult to find sales numbers for games that aren't a massive success. Success stories are easy to find and for someone new to the industry it can be hard to figure out how much you can realistically expect to get from a new unknown title.
Everyone knows Minecraft has sold millions but for every Minecraft there's hundreds of unknown smaller indie titles, Survivor Squad is one such title.

I'd like to give thanks to David Galindo for his excellent sales articles about his game, The Oil Blue.


Info

I have been developing Flash Games for the past 3 years and in December of last year I decided it was time to make the move to standalone PC titles.
Survivor Squad is a Strategy Action PC game that focuses on Squad management using true line of sight and highly randomized levels. The game was developed over the course of 6 months using Unity with C#.
Here's an interesting video that showcases the development process.

I did all the code (except for the A* Pathfinding) and art by myself and bought sound effects, music and voice acting.

The entire cost to develop the game was just below $350.


Marketing Plan

My marketing plan was quite simple, create videos and contact all the press I could find.
I started the promotional efforts on the 3rd of April with a Website, Facebook, Twitter, Greenlight and a Trailer. A few sites wrote about the game.
From the initial trailer I got a lot of people who thought the game was a 4 player co op shooter because it didn't show the control scheme very well so on the 25th of April I released a second video showcasing a full playthrough of the Death Lab game mode that better demonstrated how the game actually worked.
I also set up a simple mailing list on the website and by the time the game launched I had 320 emails of interested buyers.
When the game launched I sent review copies to about 85 websites/youtube channels. About 35 downloaded a review copy and about 8 did a review/video.

Results
Game went live on the Website (through the Humble Widget) on May 14th, GamersGate on May 15th, Desura on June 7th. ($8.99, €6.99, £5.99)

There is a demo available which has been downloaded 2000 times.

Alrighty then, so how much did it sell so far? Let's look at an exciting chart!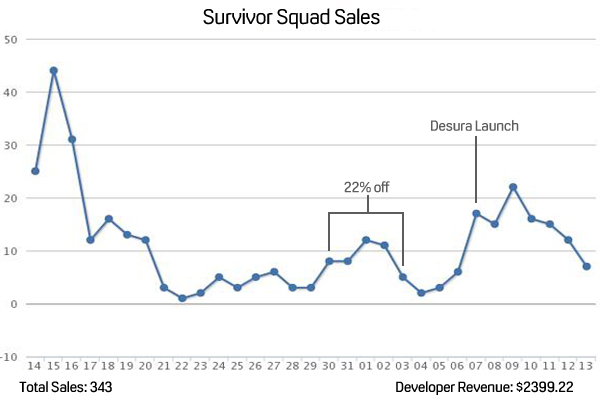 So that's it, I'm pretty pleased with the results and looking forward to what happens next. I'll make another article in about 5 months.

Hope this article has been helpful to someone just like reading about various sales post mortems has been helpful to me. Cheers!