The monthly crowdfunding service Patreon has announced that it is altering the way it collects service fees, a decision that has drawn some level of concern from game developers, artists, and other creators that rely on the platform for support.
On paper, the change will mean that creators take home a bigger chunk of each Patreon pledge and that overall fees will decrease. Previously creators covered the fees which, according to Patreon, could fall anywhere between 2 to 10 percent of a pledge.
The upcoming change instead lowers those fees to a flat 2.9 percent plus $0.35 fee that is instead paid by the user making the pledge. While creators previously took home only 85-93 percent of any given pledge, the new system locks that income in at 95 percent by tacking the service fees on as an additional charge, not included in the pledge amount.
But since the new system places the fee on each individual supporter's pledge, those contributing small $1-$5 pledges to creators see their monthly costs rise and many Patreon users are worried that some lower-tier pledges will vanish as a result.
While creators will still lose 5 percent each pledge to Patreon, the upcoming change charges the 'patrons' contributing to a campaign a 2.9 percent plus $0.35 service fee for each individual pledge they make. So a user pledging a single dollar is now paying $1.38 per pledge while a user pledging $10 would instead pay $10.64.
The biggest hit, however, comes to those supporters that currently pledge small dollar amounts to multiple creators monthly as someone pledging $1 to 10 different creators is now paying $13.79 a month versus the previous $10.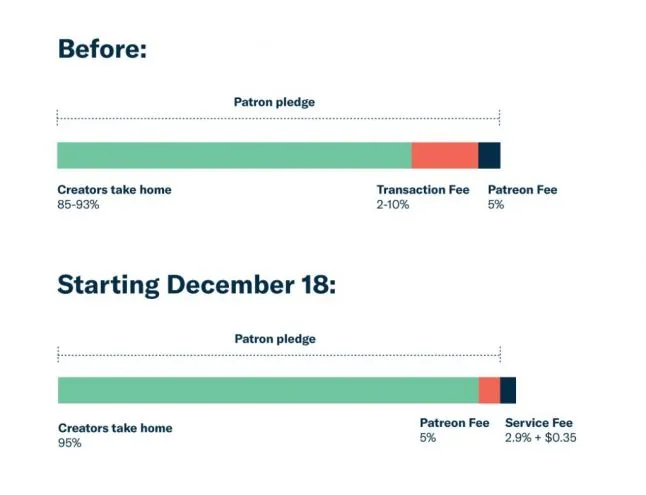 As Engadget points out, many Patreon creators say that those smaller and more affected pledges often account for a sizable chunk of their monthly earnings. As such, many are worried that their monthly income will dip significantly if those patrons aren't able or willing to stomach the additional fees.
In the blog post detailing the change, Patreon expressed that the decision was ultimately made to help creators take home a more predictable paycheck each and every month.
"We want you to know that we approach every change with a creator-first mindset, aiming to help creators grow their businesses. In preparation for this change, we ran experiments and months and months of research to understand patrons' potential reactions and we found that many patrons were happy knowing that this change will send more money to creators," said the post. "While some patrons may leave in the short-term, we know this will help creators earn more money in the long term."
Update: Patreon has updated their blog with a deeper explanation of its most recent change in service. "[We] spent nearly a year reviewing the numbers and running experiments to make sure the end result was creators either make more money, or keep their current earnings," reads the updated post.
"We actually experimented with three different service fee structures, all of which were higher than the 2.9% + $0.35 we selected. As it turns out, patrons weren't nearly as sensitive to the amount of the fee as we predicted, but we ultimately chose the lowest service fee that would offset the third party costs in all likely scenarios," the post explains.
"This was never (and still isn't) about making more money for Patreon as a company. This is a strategic move to make our platform even better for creators and patrons in the future."