As regular data hounds may know, when I see data published in the UK press about video game sales, I try to collect as much as I can. The table below shows the results of those efforts, specifically for software sales.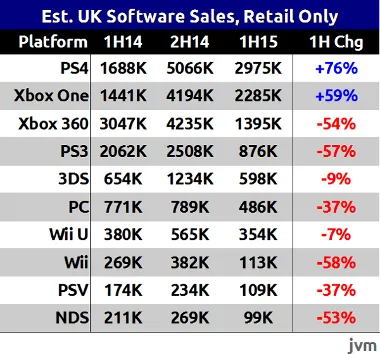 The figures are estimates because I'm aggregating data, not using it in its original form.
Only Sony and Microsoft's newest platforms, the PlayStation 4 and Xbox One, respectively, have seen growth over the same period last year. Every other platform has seen its unit sales decrease.
Notice, for example, how the lead platforms last generation -- Xbox 360, PlayStation 3, and Wii -- are all declining at about the same rate. Of course, the PS3 and Xbox 360 have managed to have longer lives at retail, with sales still in the hundreds of thousands of units.
Alarmingly for Nintendo, each of its current and older platforms are all declining. The Wii U is off 7% in unit software sales compared to last year, despite being the newest of the company's systems. In terms of obsolute sales, only the Nintendo 3DS could be said to be somewhat healthy.
In terms of platform revenue, the table below shows where the platforms are headed.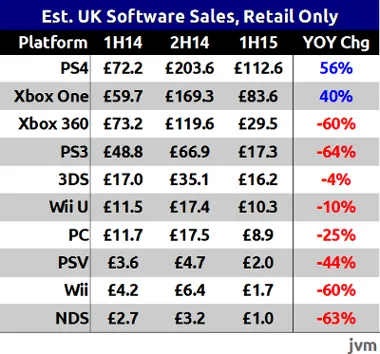 In particular, I'd point out that it appears that discounting has affected the PS4 and XB1, both of which saw unit sales rise faster than revenue. The same is true for Nintendo's Wii U, but not for its 3DS. That is, the 3DS saw its revenue fall more slowly than its unit sales, indicating that what software is being sold is maintaining its value.
Nintendo reports its first quarter results later this week, as does Sony. Microsoft reported improved Xbox One sales earlier this past week.