This week Oculus wraps up its third annual Oculus Connect developer conference, the first it's held since debuting a commercial version of its Rift VR headset earlier this year.
That makes this the first Connect Oculus has hosted as a bona fide platform holder, and it showed.
Devs who missed the Connect keynote should know that it focused on promoting the Oculus platform as a whole rather than any specific headset, while the conference sessions tended to feature Oculus staff or partners speaking directly to devs about how they could build better games and experiences for the platform -- with an emphasis on lessons learned by devs who had been doing just that.
Anyone who's attended dev conferences in the past will appreciate how that's all par for the course and not at all surprising -- which is a bit of a departure from prior Oculus events. With Oculus hardware and software still coming together around them, earlier Connects prominently featured company cofounder Palmer Luckey and other Oculus execs talking passionately about revolutionizing VR hardware, changing the world or describing the path to a "metaverse" in VR (while throwing foam tchotchkes into the crowd.)
That kind of presentation was notably absent at this year's Connect keynote, as was Luckey, who has been a significant stage presence in years past.
According to a comment Oculus chief Brendan Iribe gave Polygon, Luckey himself chose to skip the event because "he didn't want to be a distraction" -- likely referring to the condemnations Luckey received from some devs last month when his support of a pro-Trump troll group came to light.
"Virtual reality is the perfect platform"
In lieu of Luckey, Facebook frontman Mark Zuckerberg spent a significant amount of time onstage at the Connect keynote talking up Oculus' plans to flesh out its platform (which encompasses both the Rift and Samsung's Oculus-powered Gear VR) with services like party chat and party meeting rooms. Later, Oculus exec Nate Mitchell took the stage to talk up new Oculus tech like customizable avatars, a new framework ("React VR") for creating VR experiences for the web, and a new web browser, codenamed "Carmel", that's optimized for use in VR and meant to run on any Oculus device.
All of these seem like notable additions, ones that will bring Oculus' technology even more in line with platforms like Xbox, Playstation -- or Facebook.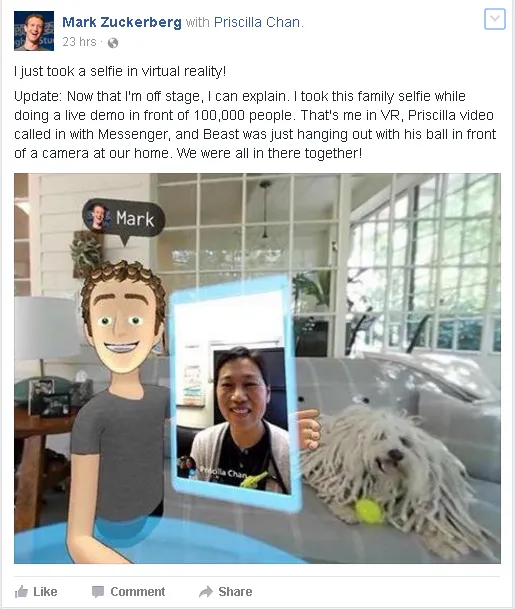 A post-show Facebook update from Zuckerberg, referencing a screenshot of the social VR network he demonstrated onstage during the keynote
"Virtual reality is the perfect platform to put people first, because of presence. You feel like you're really there," Zuckerberg said at one point, during a demo of yet-unnamed VR social software, which appeard to allow him and other participants to meet in VR, take phone calls in VR and give the people on those calls a window into the VR get-together via a virtual facsimile (see above) of a giant phone.
"The point is," he added. "We have this space and we can do anything with it."
For devs with an interest (financial or otherwise) in VR, the heavy emphasis on growing and refining Oculus as a platform, rather than as a hardware company, is probably a good thing. The rate at which people are buying Rifts (or any VR headset, for that matter) has a lot of room to grow, and past the mid-range (but still notable) PlayStation VR headset, the Rift and HTC Vive make up the priciest end of the VR spectrum thanks to both their own asking price and that of the powerful PCs required to run them.
Here, too, Oculus seems intent on improving things. Onstage at Connect Iribe announced a fresh wave of "Oculus Ready" (i.e. Oculus-approved) custom-built PCs that are poised to enter the market, as well as the first-ever Oculus Ready laptops. That's probably a step in the right direction in the eyes of devs who've long complained that contemporary PC VR is intimidating for many people to get into because of both the high asking price and the lack of "plug and play" options.
Iribe also took pains to hype up some new optimization techniques Oculus has developed -- most notably a new "asynchronous spacewarp" trick --in an effort to lower the minimum system specs required to drive VR games and experiences for the Rift.
That seems key for the future of Oculus, since what was notably absent during Connect was any talk of how well the Rift is selling now, months after a slightly rocky launch. Zuckerberg briefly acknowledged that "we had a little bit of a slow start earlier this year on Rift." In a later conversation with Polygon, Oculus VP Nate Mitchell declined to give sales numbers, stating instead that "I would say that we're far, far from being saturated."
To get more people buying Rift hardware and jumping on to the Oculus platform, the company probably needs to keep funding development of VR games and experiences -- and sure enough, this week Oculus personnel announced various plans to continue pouring money into the Oculus ecosystem.
Zuckerberg confirmed the company has invested over $250 million into Oculus developers to date "to fund development of all kinds of content," and plans to invest $250 million more -- plus another $10 million which is earmarked for the development of educational VR games and experiences.
Mitchell added that the company has partnered with Epic Games to cover all royalty fees for Unreal Engine titles shipping on Oculus Store for up to the first $5 million in gross revenue per game.
Ebony Peay Ramirez, Oculus' chief of diversity, proclaimed that the company is investing another $10 million specifically to fund diverse programs for VR development. "We're going to increase funding for Oculus Launchpad, VR for Good, and create new programs like the Diverse Filmmakers Project," she said.
All of these promises are probably good news for devs, though they're again not surprising -- Ocuius dev relations chief Anna Sweet told Gamasutra earlier this year that "our plan is to keep investing for as long as we need to" in order to jumpstart Oculus' ecosystem, and that appears to be just what Oculus is doing.
On the hardware side, Oculus is catching up to HTC as it looks toward the future
It's also playing a bit of catch-up. While Oculus did have a prototype headset to hype up at Connect -- a "still early" wireless VR headset, codenamed "Santa Cruz", that's being designed to use computer vision systems to track the world around it rather than relying on cameras in the room -- it devoted far more time to promoting its Touch motion controllers, which it now expects to ship in December for $200.
That will finally bring the Rift right in line with HTC's competing Vive headset, months after the Vive launched. Touch and a $600 Rift combined match Vive's $800 asking price, and the Touch packages ship with two hand controllers and an extra tracking camera (with additional cameras being sold for $79 apiece), allowing Rift owners to engage with room-scale VR experiences.
That's a big deal for VR devs because without competent motion controllers, the Rift has lagged behind the Vive in terms of functionality. It's also a big deal for Oculus because the company has made "hand presence" -- the reinforcement of the feeling that you're "really there" afforded by seeing your hand and finger movements replicated in VR -- a cornerstone of its vision for the future of VR game development.
"I believe it's going to be one of the fundamental differentiators of the Rift, and I'm very confident you'll see all the other VR systems out there pivot and go in the direction we're going," Iribe told Gamasutra last year, following a demo of Oculus' Toybox VR playspace using Touch prototypes. "This is the right path for VR input."
And sure enough, the lion's share of VR demos at this year's Oculus Connect seemed to be being played by people standing and moving around, waving Touch controllers around -- not unlike the way people play games on the Vive, and very much unlike the demos which dominated earlier Connects, most of which were best played sitting down with a gamepad in hand.
So by the end of the year, Oculus aims to have a PC VR headset that can do everything its primary competitor can, a market-leading mobile VR headset in Samsung's Gear VR (which, despite all the recent focus on the Rift, is almost certainly the leading edge of Oculus platform adoption) and a wireless new headset in the works that's meant to walk the middle path between portability and power.
But if you look at Connect's keynote this year, what the company seems to prize above all of that hardware is the platform which ties them together -- the in-between places where people in various Oculus-powered headsets slip behind custom facades to chat with each other, play games and share experiences with one another.
This shouldn't come as a huge surprise (Facebook did spend a cool $2 billion to buy the company, after all) but it is a good reminder that as much as many devs still think of Oculus as a hardware company, what it really cares about are the people using that hardware to get into VR -- and onto its platform..