Nintendo president Tatsumi Kimishima believes the Switch wil be able to approach relative parity with the Wii if everything goes according to plan during the next financial year.
Kimishima was speaking during a Q&A session at the company's latest financial results briefing, when he was asked about his sales aspirations for the new home console-handheld hybrid.
"The truth is we want to raise the installed base of Nintendo Switch up to the same level as Wii," said the Nintendo boss. "As we mentioned during our presentation, Nintendo Switch in America had the fastest start of any Nintendo hardware, despite launching in March."
"In the video game business, it's important for consumers to feel that a sales momentum is going to grow, and we are setting a standard with Nintendo Switch to release a continuous string of major software titles from now on.
"And if our sales go according to our plan this fiscal year, we will be able to see Nintendo Switch gaining the momentum in which it can approach relative parity with Wii afterwards."
In order to reach parity with the Wii, the Switch would have to sell around 100 million units during its lifetime, while on the software front, sales of Switch titles would have to surpass the 900 million mark.
It's a tall order, but Kimishima seems hopeful that the Switch's ability to transform from a home console to a portable device will convince consumers that one system per household simply isn't enough, boosting sales in the long-term.
He also maintains that if the Switch can meet its sales target of 10 million units by the end of this fiscal year -- which draws to a close on March 31, 2018 -- it'll stand a chance of matching the Wii blow for blow.
Naturally, software sales will also be critical in driving the system forward, but Kimishima doesn't seem worried about failure on that front, having been bouyed by the positve response to recent and upcoming releases like Breath of the Wild, Mario Kart 8: Deluxe, and Splatoon 2.
"We set this fiscal year's 10 million shipment forecast for Nintendo Switch based on the fact that we were able to ship 2.74 million units during the last fiscal year, combined with the response our sales offices around the world have reported from retailers and consumers about the software we will be releasing during this period," he continued.
"Mario Kart 8 Deluxe was released today and although we did not cover it when creating our sales plans, it has gotten especially positive reviews. Feedback from consumers at our ARMS and Splatoon 2 preview events has been positive, as well. We have also gotten good feedback about 1-2-Switch.
"All this together gives me the sense that Nintendo Switch is going to outperform our initial expectations."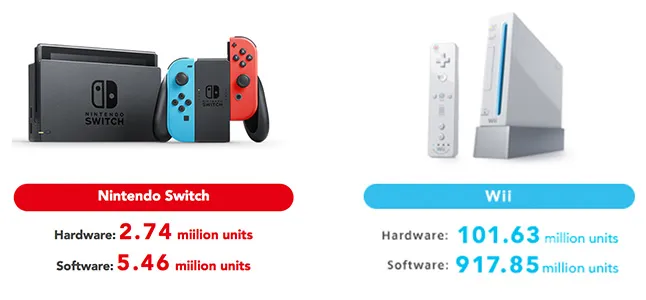 Head to head: Switch and Wii hardware and software sales as they stood on March 31, 2017