A new survey conducted in association with the team behind Indie Megabooth, an annual indie game showcase held at PAX events, EGX and GDC (part of UBM Tech, like Gamasutra), has shed some light on the financial side of indie development - at least for its exhibitors.
According to the results of an anonymous survey, which collected data from Indie Megabooth exhibitors, the most common forms of funding are sales profits from previous games, Kickstarter, and personal savings.
Although some developers argued that risking and investing personal savings in a video game project was a foolhardy move, with one dev calling it the "bad" funding source, it's clearly seen by many as a risk worth taking.
Loans and donations from family members, partners, or friends ranked relatively low by comparison, although the survey does suggest that some developers will benefit from those sources in more indirect ways.
Region-specific grants such as the Ontario Media Development Corporation Fund, and investment bodies such as IndieFund or private angel investors, were also found to be popular sources of outside funding.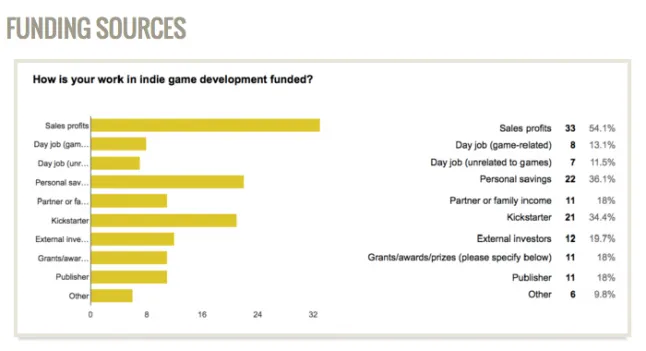 The survey also tried to make sense of revenue figures and sales expectations, however, due to the fact that indie developers operate on drastically different scales, the resulting data was deemed to be "messy and pretty unwieldy."
Despite that, questions about developer satisfaction and development costs did reveal some interesting tidbits, with roughly 78 percent of those asked claiming they managed to recoup the total development costs of their latest release.
More interesting is the fact that only 13.9 percent of developers admitted to being dissatisfied with their most recent sales and download figures. In fact, 30.6 percent of participants claimed they were very satisfied with their latest game's commercial performance, while 55.6 percent said they were either "satisfied" or "somewhat satisfied".
What's more, 75 percent of those who failed to recoup their development costs said they were still satisfied with their sales and download figures, which, according to the Indie Megabooth team, suggests that some developers aren't motivated by money alone and may find satisfaction in the creative aspects of video game development.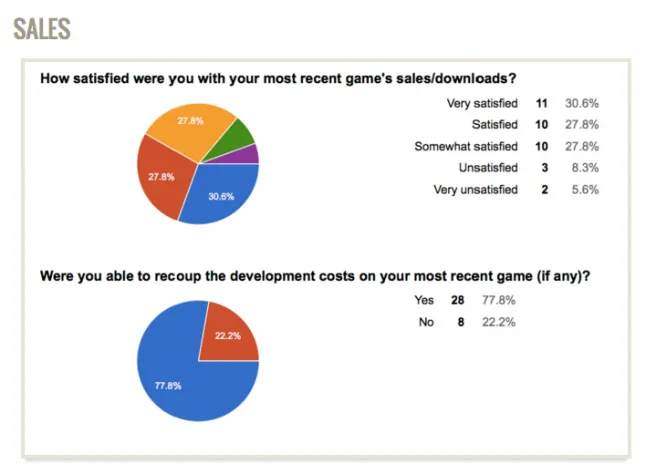 Finally, the average annual household income of the indie devs who have exhibited at Megabooth ranges from $72,520 to $78,826 - with roughly 80 percent of those asked identifying as full-time indies.
To give some context, the average annual household income in the U.S. was $53,657 back in 2014, meaning that most of the indies surveyed would be placed in an "above average" household income bracket.
That said, the research team were quick to point out that being on a high income doesn't necessarily mean a dev has been releasing financially successful games. In some cases, they'll be supported by day jobs, spouses, parents, or independent funding - and the Indie Megabooth exhibitors surveyed are likely to be some of the more promising indie devs out there.
[UPDATE: We'd like to clarify that the survey referenced in this story was reportedly conducted by independent researchers in cooperation with the organizers of the Indie Megabooth, as an earlier version of this story implied it was conducted by Indie Megabooth staff. As noted in the comments below, those researchers began publishing their findings on the Megabooth blog early this month.
Also notably, a Gamasutra-authored survey conducted in early 2014 suggested that "solo indie developers earned an average income of $11,812 in 2013, down 49 percent from 2012's $23,130 average." Those are self-reports of direct income as a game developer, not total household income.]