Following
Gamasutra's in-depth report into the influx of Steam releases
over the past several months, today we look in more detail at what sorts of games you'll be competing with if you release a game on Steam in 2014. More games have been released on Steam in the first 20 weeks of 2014 than during the entirely of 2013. But we wondered how many recent releases were brand new, versus previously-released back catalog games that were newly added to Steam. And how many of those games are Early Access, and/or came via successful Greenlight campaigns? To provide a snapshot, we pulled data from the latest 300-plus releases on Steam to give you a general idea of what sorts of games will be taking up the "New Releases" page on the same day that you release your own game. Let's tackle new vs. old first. From the games that we pulled data for,
56 percent were brand new releases or Early Access games
, while the other
44 percent were old games brought to Steam for the first time
. If we delve deeper into when these games were originally released, 75 percent were released during this decade -- that is, released for PC, Mac or Linux since 2011. By comparison, 18 percent originally came out during the 2000-2010 period, while the other 7 percent originally released during the 90s. None of the games in our dataset originally released before the 90s.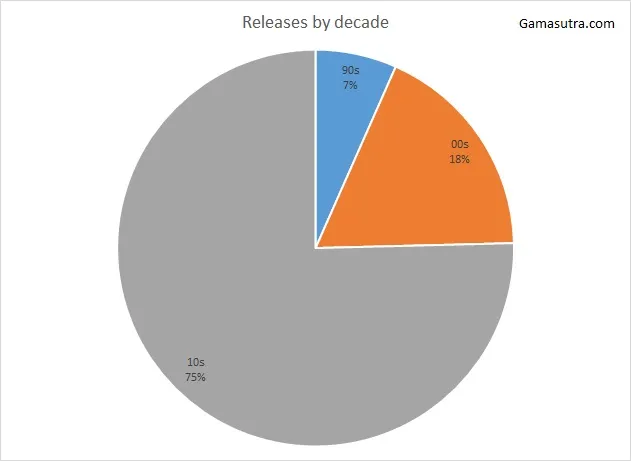 Notably, if we just count new releases on Steam during 2014, and forgo back catalog additions, this means around 340 of the 600-plus games released during 2014 are actually new. Clearly, then, there's a lot of publishers dumping back catalogs on Steam. For example, out of the latest 300-plus releases we examined, Strategy First, 1C Company and Humongous Entertainment brought the most catalog games to Steam. They each tend to dump multiple titles are once, meaning that the New Releases tab isn't constantly clogged up with their old games. Of course, if your game releases on the same day as one of these back catalog dumps, you could see your new release disappear from the front page within hours. But there's only so much backcatalog that can be brought to Steam, so hopefully we'll see these dumps dying down soon. As for Early Access games -- how many of those came to Steam, compared to full releases? 17 percent of the games we pulled data for are either currently Early Access games, or were Early Access before fully launching. Note that Early Access games do not appear in the "New Releases" tab until their full releases, so if your game is a full release, you won't have to compete for visibility with these titles at least.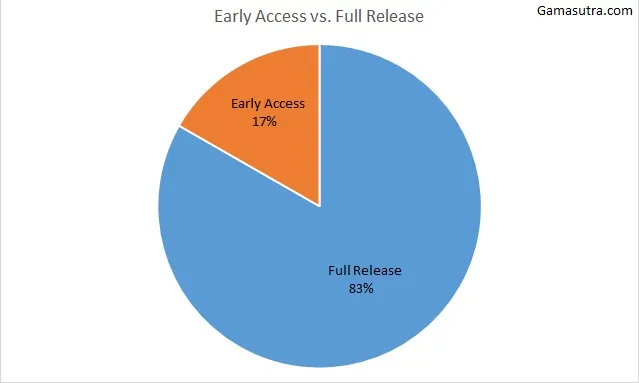 As for Greenlight, it turns out that working out how many games made it through the Greenlight process is tougher than anticipated. Valve recently altered the rules such that you do not need to display your "Chosen by the Greenlight community" banner on your store page, and as it turns out, not many developers want to display this to the world. Of the 300-plus games we surveyed, just nine featured the Greenlight banner. This doesn't indicate how many games are coming through Greenlight, but given that the number must be higher than this (hundreds of games have been Greenlit in the last year), it's clear that many devs are choosing to remove the Greenlight banner from their game store pages. For an in-depth look at what the current influx of titles on Steam means to developers,
be sure to check out our big feature
.
Data for the charts above was collected from steampowered.com's "new releases" section.