Samsung wants to help indie mobile game devs with marketing, production, and tech support through its "Made for Samsung" exclusivity program.
The company had previously been offering its services to app creators and partners, such as CNN and The Weather Channel, and is now hoping to convince indies to sign exclusivity deals with the promise of practical, rather than financial, aid.
Speaking to Gamesbeat, Samsung's vice president at emerging platforms, Mihai Pohontu, explained what the company means by "exclusivity."
"We want to work with indie devs to launch their products exclusively on Samsung platforms," said Pohontu.
"Exclusivity for us can be time bound. We can continue to promote an app or game even after the exclusivity program is over."
Although he conceded Samsung is some way behind in the mobile games market, Pohontu claims the phone maker can deliver 40,000 installs a month, and believes its close ties with Oculus -- whose tech powers the Gear VR headset -- will prove helpful.
"Developers can get prime featuring on Gear VR-compatible games," continued Pohontu. "If you launch your VR app with us, you can also launch your mobile game and we will promote it."
You can find Samsung's support terms in the image below.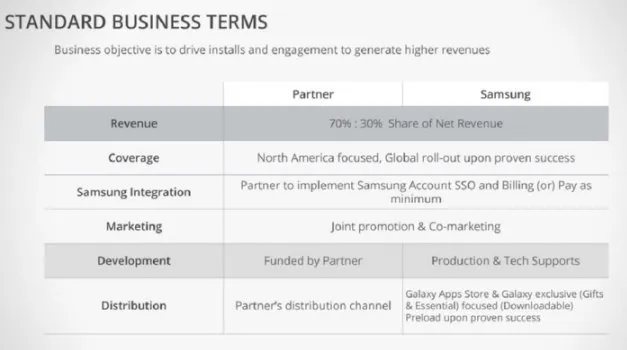 Image credit: Gamesbeat