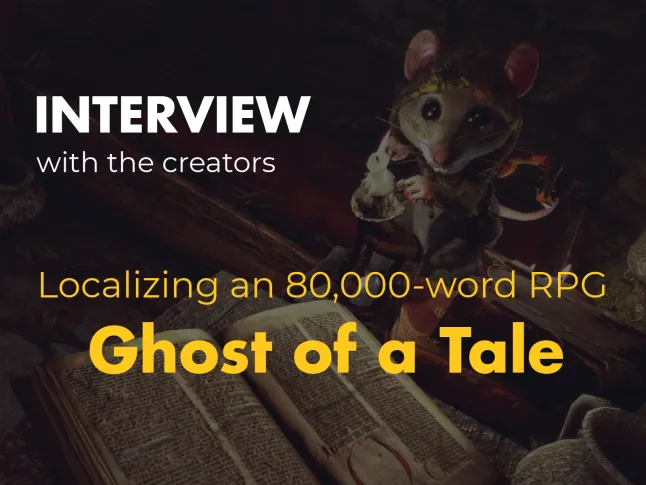 This article was originally posted on Level Up Translation's blog.
A year ago, a mouse minstrel named Tilo was sneaking out of early access after 5 years of development. SeithCG reached out to us back then to localize their game in 6 languages.

Ghost of a Tale's writing and localization got critical acclaim from gamers and critics alike, which positively impacted the game's reviews and sales.

One year later, thanks to the success of the PC version of the game, Tilo and his friends from Dwindling Heights are scurrying to PS4 and Xbox One.
From early drafts to last-minute font issues, through developing custom localization tools, Lionel Gallat and Paul Gardner told us everything about their localization process, the problems they bumped into, and how their investment in localization paid off.
This is how, together, we localized Ghost of a Tale.
Our interviewees

Lionel Gallat

Lionel Gallat, also known online as Seith, currently lives in the south of France.

His professional background is in animation. Lionel worked many years for DreamWorks on their first 2D (The Prince of Egypt, The Road to Eldorado, Spirit, etc…) and then 3D movies (Sharktale, Flushed Away). He was also the animation director for movies like Despicable Me and The Lorax (for Universal this time).

And then one day he thought, "Hey, why don't I make a game?"


Paul Gardner

With Lionel, Paul was responsible for the writing and game design of Ghost of a Tale.

Paul has been writing and designing for games for almost 20 years now, and he has worked on games like Crash Twinsanity for Traveller's Tales, Afro Samurai and Splatterhouse for Namco, and Marvel vs. Capcom: Infinite for Capcom. He's currently based in the Bay Area in California.
You told your fans early on that you wanted to give the game proper localization.

Why was it important to localize your game in the first place, and why did you need professional localization?
Lionel Gallat
Well, after spending five years carefully developing the game and its lore we were not going to hand it off to a non-professional staff.

If players were not going to read our words because they're not fluent enough in English, then they would get the next best thing. And as you know, that requires professionalism and dedication!
Fun fact: "Scrunt" is a curse word that exists only in Ghost of a Tale.
It's a word too rude to define, but which had to be localized and start with an "S," as some NPCs make a connection between the note signed "S" that Tilo finds at the very beginning of the game and the word "scrunt."



"You have to be available to answer any questions they have and give feedback, of course."
Paul Gardner
It was, of course, important to localize the game so we could reach as wide an audience as possible. Lionel and I would write in English, and we used a lot of puns and wordplay.

Sometimes Lionel would joke, "The localization team is not going to be happy."

I'd worked on a number of games before where that was an issue, but in my experience the best localization teams are creative individuals in their own right.

You have to be available to answer any questions they have and give feedback, of course. But if they're given the freedom to run with it, a great, professional localization team can create a true adaptation of the story. The wordplay and songs still work in the target language: it's not just a literal translation.
In the ballad mini-game, the player is asked to find every second line to write a song about two thieves, Gusto and Fatale.
In most languages, it was nearly impossible to translate literally from the English version. As a result, our translators created custom songs from scratch in order for the mini-game to work as intended.
How did you decide which languages to localize your game into?
Paul Gardner
We had fans of the game requesting that the game be localized for their region for a long time, and we're still receiving requests to add new languages. Also, because two-thirds of the core team is French, I always assumed that the game would be localized, at least into French.

We found during our initial IndieGoGo campaign, and later during early access on Steam, that so much of our support came from Europe and Russia, so it made sense to do the work to try and reach that audience.



"Localization is not a cheap process by any means, but we didn't want the result to be cheap either!
I'm happy to say it all paid off."
With 80,000 words, Ghost of a Tale is pretty "wordy" for an indie game, which represents quite an expense in terms of localization and a financial risk for a small studio.

How did you evaluate the profitability of localizing your game?
Lionel Gallat
It simply came down to the fact that we needed to be able to sell a certain amount of copies in a given language in order for it to make sense financially. We simply budgeted for as many languages as we could at the game's release.

Localization is not a cheap process by any means, but we didn't want the result to be cheap either! So let's call it a carefully planned gamble, a financial investment based on how many copies we expected to sell in each language. I'm happy to say it all paid off!
We always emphasize the importance of keeping localization in mind and including it as early as possible in the development.

When did you start preparing your game for localization?
Paul Gardner
We'd had some preliminary discussions about the best format to use earlier in development, and decided on using a parallel series of directories – one for each language – each containing localized copies of our text files.

A good week before the localization process began we discussed it with Damien at Level Up Translation to test our workflow and make sure we were providing files in an appropriate format.





"Whenever the localization team needed further information, they logged a query in an online Q&A file."
What was your localization process like?
Paul Gardner
Due to the nature of our dialogue tools we ended up with a lot of individual files – one for each quest, one for each dialogue, one for each book page, etc. Fortunately Level Up Translation's tools were able to keep track of each of these files, including any changes we needed to make during localization.

Damien had created an exchange folder where I uploaded batches of files that were ready for localization. He would then give me an estimated time for delivery for those files, and I would retrieve them from the exchange folder when they were ready.

Whenever the localization team needed further information, they logged a query in an online Q&A file, or Damien would reach out on Skype if anything was urgent or required clarification.

Once the translations were ready and implemented into the game, our engineer Cyrille and his partner, who spoke four of our six languages, were our first line of defense when testing the localized files. This was supplemented by bilingual members of our GoaT community forums.



"One thing I hadn't really considered while writing, though, was the issue of having gendered words in other languages."
Game development is very much about problem solving, and localization comes with its own share of challenges.

Can you tell us about some problems you bumped into?
Paul Gardner
The localization process itself went surprisingly smoothly, thanks to regular communication with Level Up Translation throughout the process.

One thing I hadn't really considered while writing, though, was the issue of having gendered words in other languages.

We have a character that everybody assumes is male, but is later revealed to be female. Originally the reveal of that information was an optional thread in the conversation, but that made localization into some languages impossible. So I had to rewrite that thread, to make the discovery of that information unequivocal.
Fun fact: In the Italian version of the game, Merra (Tilo's wife) became Marna because "Merra" sounded very similar to an Italian curse word.
Our dialogue trees were created in a mind-mapping application that Lionel wrote a parser for. The external application gave us a lot of functionality, and made the process really visual and intuitive, but its text editing functionality wasn't great and caused some problems during the editing process. In fairness, we were using it for a purpose it wasn't intended for, but that's something we'd like to address in the future.

We also had a last-minute issue with some of the fonts we used, which were not compatible with Russian and Chinese.
Test your fonts in all languages: A couple of days after release, the team discovered that some of their fonts were not available in Cyrillic.



"We provided the localization team with as much information about the game as possible."
I know your team actually developed custom tools for this game.

Can you tell us about the documents and tools you created to make the game's writing and localization easier?
Lionel Gallat
I wanted Paul to have all the tools he needed in order to have a fine degree of control over each aspect of the dialogue, so I wrote a fairly simple in-game dialogue system that evolved over the course of the development. Towards the end of development Paul could actually script game logic directly from the dialogue itself.

In other words, Paul could work in an unrelated external mapping tool, but everything he did in there was parsed at run-time and translated into game logic.

In a sense it was neat, but in the future we'll eventually have to develop a proper dialogue application that will be integrated into the game's inner code more tightly.
Dialogue maps are a real treat for game translators, as they provide key context information about who's talking to whom. Gender and plural affect translation in most languages.
Paul Gardner
We provided the localization team with as much information about the game as possible before they started their work. In addition to keys for the game itself, we created a style guide that gave an overview of the story, and provided references that helped give a sense of the spirit and tone of the writing.

Since we had branching dialogues, we gave the team PDF copies of the dialogue trees so they could follow the conversation and have a better understanding of context.

We also provided the team with our character biographies, and created a lexicon that gave a definition for any unfamiliar or made-up words and names, including the gender of the word.
We asked Paul to provide us with a lexicon of all the game's characters so we would know their gender, manner of speech, and if their name should be localized or not.



"Almost half of our sales came from non-English speaking countries."
This is the "1 million copies" question every indie developer asks themselves before taking the leap: all in all, was localizing Ghost of a Tale worth it?
Lionel Gallat
Yes, without a shadow of a doubt. The return on investment was almost immediate. I can't share any numbers, but almost half of our sales came from non-English speaking countries.
Paul Gardner
Absolutely! Many of our reviews came from the European press, and the fact we had localized for those countries meant we received a lot more exposure than we otherwise would have.



"Localization is not an afterthought.
Start thinking about it early, even if just at a high level."
If a dev team with a project the scale of Ghost of a Tale came to seek your advice regarding localization, what would you tell them?
Lionel Gallat
From a technical point of view, localization is not an afterthought.
Right from the beginning of Ghost of a Tale we planned to support multiple languages in all of the game's text elements.

At first it felt a bit like overkill; after all, we could have just included the English text and been done with it. But we had heard about the importance of planning early for localization support and I can say it's one of the best decisions we made at the beginning of the project.

It's a time investment that we recouped MANY times over when the moment came to swap languages.
Paul Gardner
Start thinking about localization early, even if just at a high level.

Talk to the localization team as soon as possible, to establish workflow.

Give the localization team as much background information about your game as possible, before you begin – character biographies, a glossary of any names or words unique to your game, etc.

Make sure you take time to discuss the style and tone of the game with the localization team.

Be available to answer any questions the team has. It will make the project stronger, and allow the translators to move forward with confidence. I really enjoy this part of the project, as you get a good sense of how others see what you've written.
BONUS - The game's upcoming release on PS4 and Xbox One on March 12th is the last stage of this 6-year journey.

Is there anything that didn't make it to the final product that you regret?
Lionel Gallat
The game reflects exactly what we were able to do with our limited budget and (speaking for myself) experience. I'm actually proud that we were able to bring this project to fruition without getting lost on the way.

I think we created something special here. And on a more personal note, I got to meet and work with terrific people like Paul, true professionals who dedicated their creative energy to making Ghost of a Tale what it is today simply because they believed in it.
Paul Gardner
Sure, there are a few game mechanics and enemies that didn't make it into the final game, but we told the story that we set out to tell.

If you look at what we originally planned, it's very close. In that respect this is the happiest I've ever been with any project I've worked on. Working with Lionel has probably been the most fulfilling creative experience I've ever had.
Can we expect a sequel to Tilo's adventures? :)
Paul Gardner
Well, we have the rest of Tilo's story mapped out. I hope we get the chance to tell it.
Lionel Gallat
It would indeed be wonderful! ;)



"Level Up Translation have successfully adapted Ghost of a Tale, with all the subtleties of the characters, story (and the puns!) intact."


read Paul's testimonial in Achievements
Ghost of a Tale, "Best Indie Game" at Ping Awards 2018, is currently available in French, Italian, German, Spanish, Russian and Simplified Chinese.

PS4 and Xbox One versions available on March 12th, 2019.

Steam - GOG - Humble
Twitter - Facebook

More info: www.ghostofatale.com
---
Like what you just read?
Check our blog for more game localization best practices and tips.
Need localization for your game?
We're professional game translators with years of XP! Get in touch :)