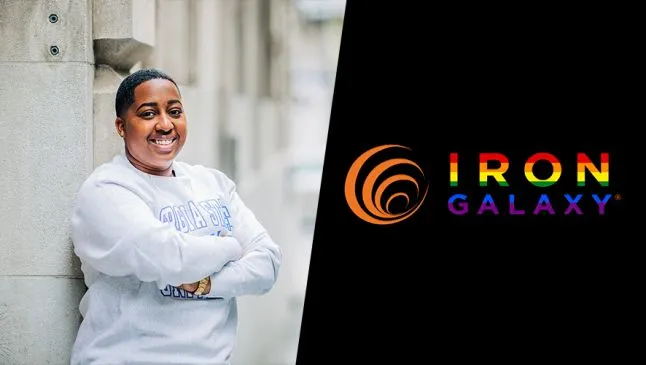 This month, I am excited to introduce our new DEI & Access Program Manager at Iron Galaxy Studios, Rejess Marshall. Rejess is joining our team as an expert in DEI, who also understands that there is ALWAYS more to learn.
I formed Iron Galaxy's first D&I Committee about three years ago to explicitly give a voice to concerns our employees had around DEI at Iron Galaxy. I wanted to work together to identify areas to improve and initiatives to get us there. Since then, we have had organizational meetings, hosted speakers, reviewed game content, studied how we recruit, created logos celebrating our diversity, shared recipes and stories related to the varied heritages of our employees, donated to causes supporting our communities and Black Lives Matter, changed our internship programs to find more underserved candidates we might have missed before, been humbled by the self-identifying demographic data employees have felt comfortable to share, and established two Iron Galaxy Diversity in Games Scholarships with DePaul and UCF. We know we still have tons of work to do.
About six months ago, I realized that despite the best intention of the DEI Committee, we were not able to make as much progress as quickly as I'd hoped. I recognized that both the Committee and Leadership needed an accountability partner to help prioritize and organize our initiatives and to help us generate rich data on our progress or lack thereof.
Rejess comes to us with a passion for "creating equitable spaces for all people." Previously, she was an LGBT+ Employee Resource Group Ambassador. I'd like to make space for Rejess to introduce herself and share her story in her own words.
Rejess: When I reflect on my commitment and contributions toward greater diversity, equity, inclusion, and anti-racism, I immediately think back to my undergraduate tenure at Georgia State University. It was there I was first introduced to the concept of diversity as a discipline. I was fortunate to serve as an Intercultural Ambassador. This paraprofessional role plans and develops cultural programs and assists in training other students on issues related to cultural awareness. I was able to educate others and have conversations surrounding diversity and inclusion. I credit these experiences to creating self-awareness of my diversities, the diversities of others, and how this impacted our individual and collective experiences.
While companies strive to create diverse workforce, support for those diverse employees is lacking. Often, I would find myself being the only person in the room aware of the lack of support. However, it allowed me to become comfortable speaking up for underrepresented and under-supported groups, as many of my colleagues simply didn't "get it." Determined to realize an inclusive work environment and pursue a career that resonated with my core values, I now serve as an agent of change at Iron Galaxy Studios.
I strive to use my personal experiences and the experience of others to create a positive employee experience for everyone. As a black, queer woman, I understand how intersecting identities can create workplace barriers, preventing upward mobility. Leadership should focus on aligning the unique experiences, identities and needs of their employees with corporate programming and communication.
Aligning corporate actions as related to diversity, equity, and inclusion with employees' experiences and unique needs should be the focus of leadership. Iron Galaxy recognized the need for a program lead to continue their diversity, equity, and inclusion efforts. They were able to acknowledge their shortcomings and began to take action. I'm excited to be a part of driving that action and joining the Iron Galaxy team.
Pride Month means lot to us at Iron Galaxy Studios, where over 16% of our staff openly identify as part of the LGBT+ Community. We thank all the activists who came before us paving the way to a world where we can all live without fear of repercussions for loving who we love and being who we are.