This week organizers of XRDC released the third annual AR/VR Innovation Report, which is jam-packed with interesting insights from professionals involved in developing virtual, augmented and mixed reality experiences.
If you're working in AR and VR or thinking about making the jump, this report offers you fresh perspective on the diverse and rapidly shifting AR/VR/MR industries - from sustainability of the markets, to practical challenges, platform popularity, funding and more!
For more information, download the full report for free here!
This year's report comes in advance of the highly anticipated XRDC, the premier event for AR/VR/MR innovators. XRDC kicks off in San Francisco October 29th and 30th, bringing together creators of immersive experiences of all kinds—including games, entertainment, brand experience, healthcare, training, design, and more!
As an example of what you'll get in the full (free!) report, today we'd like to highlight a particularly notable finding regarding how many developers are working on platform-exclusive VR or AR projects.
The question of whether or not to release a project exclusively on one platform continues to be a tricky one for devs, and this year about a third (32 percent) of the survey's 600+ respondents said their next experience would be released exclusively on a single AR/VR/MR platform.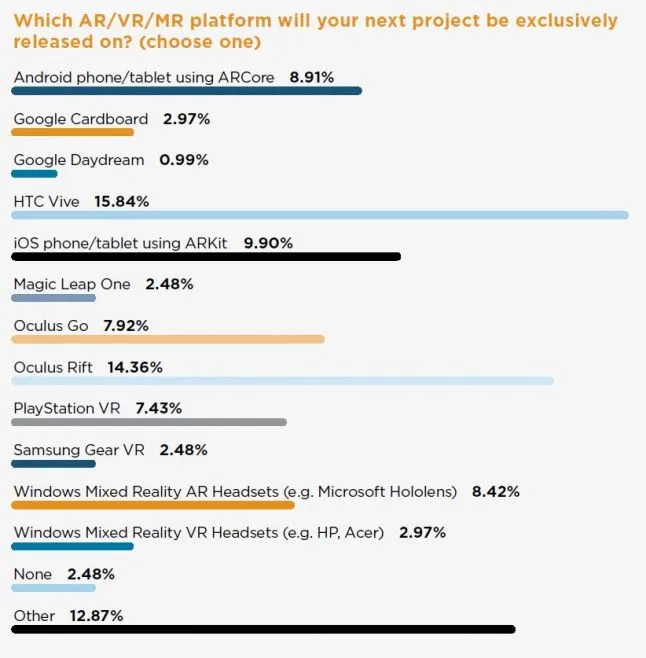 This is exactly in line with the results of last year's survey, when we asked the same question and saw 31 percent of devs surveyed answer in the affirmative. Given that two years ago just 21 percent of respondents said they were working on a platform exclusive, it seems that after a brief surge, dev interest in exclusivity deals is holding steady.
So where are these exclusives going? We asked devs who said they were working on one to tell us which platform it was for, and once again the HTC Vive proved the most common target (16 percent) followed by the Oculus Rift (15 percent).
Intriguingly, despite offering a wide variety of platforms to choose from in our survey (everything from the Android/iOS to PlayStation VR to Magic Leap One), the third most common platform for proved to be "Other", with 13 percent of devs saying that's where their next exclusive will debut. This is a significant shift from last year, when the most popular platforms for exclusives were the Vive (35 percent), the Rift (13 percent), and Samsung's Gear VR headset (13 percent).
More details about what AR/VR/MR devs are up to, including which headsets they're developing for and where their funding is coming from, is freely available within the full report.
Excited about the future of AR/VR/MR? XRDC is happening October 29th and 30th in San Francisco at the Westin St. Francis Hotel. Now that registration is open, you'll want to look over XRDC passes and prices and register early to get the best deal!
For more information about XRDC, which is produced by organizers of the Game Developers Conference, check out the official XRDC website. You can also subscribe to regular XRDC updates via email, Twitter and Facebook.
Gamasutra, XRDC, and GDC are sibling organizations under parent UBM Americas