[Sister site GamerBytes' editor Ryan Langley examines March 2011's Xbox Live Arcade debuts and continuing successes, with charts and Leaderboard data, for a look at how XBLA titles -- from Swarm to Full House Poker -- are performing.]
During March, the Xbox 360's House Party promotion for Xbox Live Arcade titles came to a close -- but not without some heavy hitters.
Beyond Good & Evil HD, Full House Poker
and
Torchlight
appear to have seen some big successes this month, while other titles, such as
Swarm
and
Islands Of Wakfu
, have difficulty catching on with players' interests. We take a look at the Leaderboard statistics from all the new titles from March 2011, keep tabs on some downloadable content that made itself available on the marketplace, and see how deals affect the marketplace in terms of sales, when over 20 titles get discounts during the month.
Beyond A Remake
Whether the
Beyond Good & Evil
sequel will ever surface remains to be seen, but a good way to gauge interest in the franchise is with this new HD XBLA variant developed by Ubisoft. It takes the original game and gives it a nice HD sheen, with widescreen support and Achievements. It was also part of the House Party promotion. Directly after launch, the game added 41,629 people in a single week – a fantastic amount for an XBLA game, and for the 5 weeks added over 76,000 players, all at 800MSP.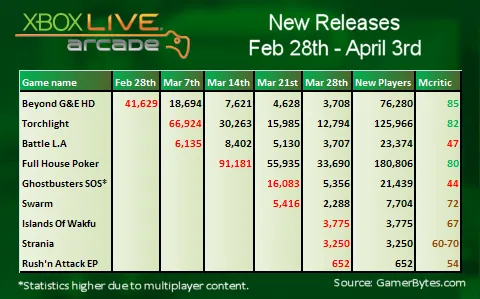 Old Is New Again
Runic's
Torchlight
, released for 1200MSP, was the second to last game in the House Party promotion but by no means the least – the game added 66,924 players in its first week, a fantastic turnout for a port of a PC game that came out in 2009, and was apparently developer Runic's
best day of sales ever
. However that was not the only release that week. Despite being in the middle of a promotion, Konami's
Battle: LA
game based off of the movie came out on the Friday of that week, with very little fanfare. The game has since received poor reviews, citing lack of content and that the game roughly times its campaign at around one hour long.
Side Pot
Though the winner of the month, and the winner of the entire House Party, was
Full House Poker
. The game added 91,181 players in its first week, with over 180,000 for the month, a staggering amount which we haven't seen since
Dead Rising: Case 0.
In terms of sales, this year's House Party has been on par with last year's Block Party, which had
Toy Soldiers, Scrap Metal
and
Perfect Dark
-- though both
Perfect Dark
and
Toy Soldiers
sold better
than this year's selection. That being said, the sales of
Torchlight, Beyond Good and Evil
and
Full House Poker
have been great as well.
Swarm Of Ghosts
The post-House Party week had two new games –
Swarm
for 1200MSP and
Ghostbusters: Sanctum Of Slime
for 800MSP.
Swarm
was Hothead's 5th title, after the two
Penny Arcade Adventure
titles and two
DeathSpank
titles, and Ignition Entertainment's second published title following
Blacklight: Tango Down
. Despite quite a lot of promotional material, lots of previews and reasonable Metacritic score, the game has failed to catch on in the marketplace, with only 5,416 players in the first week and just over 7,700 for the first two weeks. It is available on the PlayStation Network as well, and has seen similarly low numbers. Not entirely sure what else could have been done here. The game has over 20 reviews, with the main gripe being the difficulty further into the game. Ultimately
Swarm
should have been a less costly product than that of the
DeathSpanks
, so hopefully it doesn't hit Hothead too hard.
Ghostbusters: SOS
did surprisingly okay, despite having the lowest Metacritic rating of the month. The thought of busting ghosts is a pretty good incentive, and we haven't had a cooperative top-down shooter since
Lara Croft: Guardian Of Light
. The game added 16,083 players in its first week, but we must remind you that would also include multiple players playing on the same system, which this game is made for, so this number is a little inflated. Still, probably did better than Atari's previous offerings of
Haunted House
and
Blade Kitten.
Too Crowded In Here
The final week of March had three new releases: I
slands of Wakfu, Strania
and Konami's
Rush'n Attack: Ex-Patriot
, each at 800MSP. Unfortunately it seems that none of these games did very well.
Strania
is an odd title, developed by Japanese group G.Rev, it has very little in terms of English translation, to the point where there is no English logo, and the majority of "score" pickup notifications are untranslated. With little English marketing, the game has also not received enough reviews for a Metacritic score. It only gained 3,250 players in the first week.
Islands Of Wakfu
doesn't seem to have fared well either, despite very nice graphics and plenty of people playing the popular free-to-play MMO in the same world (
DOFUS
). It's only been able to garner 3,375 players in the first week on XBLA. Konami's
Rush'n Attack: Ex-Patriot
is a new game based off an old franchise, but has received low review scores, citing dated gameplay and uninspired level design. The Leaderboards currently only update once a player has completed a full level, which can take up to an hour. Currently the Leaderboards only show 652 players, which is still pretty low with that requirement. Also note: this week was the time of Microsoft's big sales push, with 20 games being on sale during it, which did not help any of these games.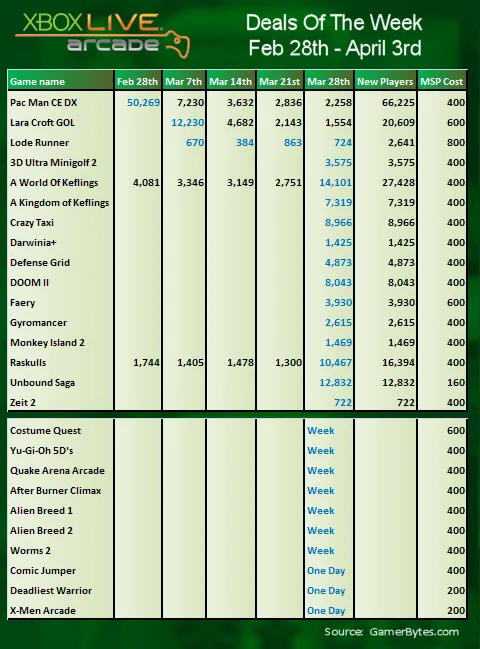 Deals, Deals, Deals
Pac-Man CE DX
was the title on sale in the first week, after being released back in November. Based on that discount, it has the best sales for a downloadable game we've seen in a while, adding over 50,000 new players. The game is now at 190,000 players total, a fantastic amount for the game. The next week had one new deal –
Lara Croft and the Guardian Of Light
for half price, which seemed to do well for the game, adding 12,000 new players that week. While not a deal of the week,
Lode Runner
was also discounted to 800MSP permanently. However, it doesn't really seem to have helped the sales of the game much.
Deal Roulette
Over 20 games were put on sale on the week of March 28, in the course of three separate promotions – The Deal of The Week, featuring
World Of Keflings, Worms 2 and Raskulls
, which was for Gold members only, an "Extreme shopping " promotion featuring many other titles, and a single day promotion for
Comic Jumper, Deadliest Warrior
and
X-Men Arcade.
Of the ones we could follow, it seems the Deal Of The Week games actually fared better than those in the other promotion, since
Raskulls
added over 10,000 new players and
World Of Keflings
added 14,000. Out of the 'Extreme' promotion, it seems that
Unbound Saga
did best with 12,000 new players – but it was also heavily discounted, down from 800 to 160MSP – just two dollars. While we weren't able to check
Comic Jumper
at the time, the game has now added over 75,000 player's total, which is only up 15,000 from the beginning of the year, so even a heavy discount didn't spur on too many extra sales.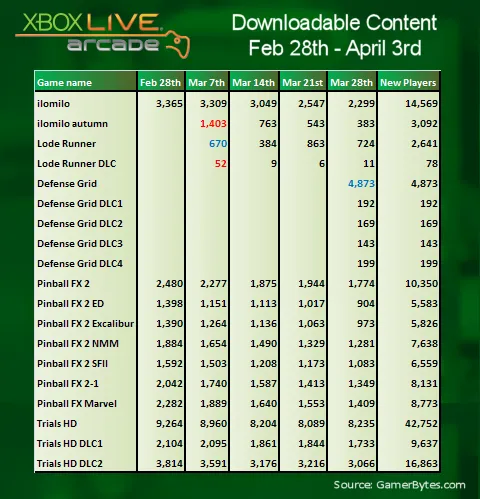 In The Fall
There were two new pieces of downloadable content that we could follow this month –
Ilomilo
's Autumn chapter, and
Lode Runner
's Skill Expansion pack. However it seems that both games' DLC didn't do so well –
Ilomilo
's only added 3,092 players of a possible 99,000 players since its release. Based on
statistics from GiantBomb.com
only 40% of players even got to chapter 3, and only 13% of people completed the game, so there's little reason for more people to buy the game. The
Lode Runner
DLC did barely anything at all. The DLC was actually incredibly difficult to get to for some weeks, not showing up on Xbox.com and not through the game itself – only through specific links from the press release.
Pinball FX 2
continues to do well, though we're unable to follow the
Rocky & Bullwinkle
table or the games' Superscore thanks to a reset of Leaderboards. Zen Studios must be doing pretty well for themselves, and have at least 8 new tables in the works.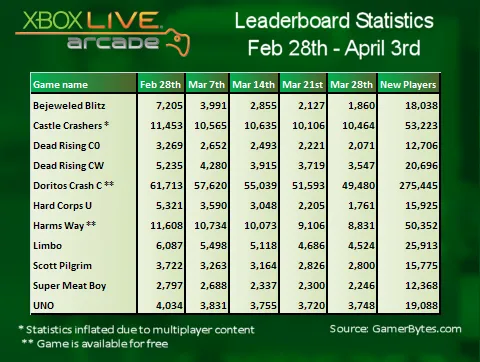 Other Titles
The other titles in the House Party promotion,
Bejeweled Blitz
and
Hard Corps Uprising
, have not done well in their second month, adding only 18,038 and 15,925 players respectively. Both have been easily surpassed by the later titles.
Dead Rising Case 0
seems to have finally slowed down to a more manageable amount, while the free titles
Doritos Crash Course
and
Harms Way
continue to do well for themselves.
The Future
Previously April has been a bit of a hit-or-miss month, but we're looking pretty good for this month.
The Dishwasher: Vampire Smile, Might & Magic: Clash Of Heroes HD, Section 8: Prejudice
and
The Fancy Pants Adventures
all look like they could be big sellers.