How is the launch of the Oculus Rift VR headset going to go?
Given how things kicked off, it feels like we've been waiting a long time for the Oculus Rift to hit the market. But it will -- and not too long from now. This year's Oculus Connect is the final significant pre-launch event for the company, and so Gamasutra sat down with VP of product Nate Mitchell to discuss his expectations for its introduction.
"It's exciting; I feel like we are on the precipice of a couple different things," said Mitchell. With the November introduction of the new Gear VR, there's "mobile VR going out on a consumer level," on top of the "sustained presence and the next-gen VR gaming that we've been talking about for three years. That's exciting."
But when asked what kind of expectations he has for consumers to actually buy the devices, he hedged a bit. While he has hopes toward "hopefully making VR a little more mainstream" with actual sale of Oculus' products, he admitted the company isn't quite sure how many people are going to take up VR and just what they might ultimately do with it.
"It's exciting. We'll see. We're going to learn a lot in this first generation of VR," Mitchell said.
"We have lofty goals," he said. "We'd love to change the world as fast as possible." But he seemed to be aware that this may not be as easy as real VR devotees make it sound.
"At the end of the day, I think that if you look at many of the most successful consumer hardware products of all time, most of them sold in the very low millions of units in their first year -- especially new product categories, things like Kindle and iPod. They sold in the hundreds of thousands in their first generation."
"The barrier of entry in terms of price is something we need to drop," he admitted. While the price of the Rift is not yet known, we do know that competitor PlayStation VR will sell for approximately the price of a new video game console, and we also know that a fairly beefy PC is required to use the Rift.
He admitted, also, that the products don't always immediately connect with audiences. When it comes to the (current iteration) Gear VR, "Even after people try it they say, 'This is amazing. I am not sure why I want this in my life.'"
What's the answer to that? "The other big thing that people need is content." Oculus has been investing in games, of course, and also founded initiatives like its Story Studio, which produced the impressive Henry demo showcased at Oculus Connect. (And that's also why there's a year between the launch of the Innovator Edition of Gear VR and its consumer version -- comments echoed by Samsung in our interview about the product.)
Henry
But the company also intends to lean heavily on independent developers to innovate on its platform; one of the best pieces of news out of the show is that when the product becomes commercial, there will be a "Concepts" area on the Oculus storefront for devs to post works-in-progress. In other words, Oculus Share isn't dead, and you don't need a slick, commercial game to connect with the Oculus audience.
This should both help continue to foster innovation in VR game design (via idea-sharing) and keep vested commercial interests from completely controlling the marketplace. Developers, too, will be able to get feedback on their early work from peers and players both.
There's another advantage to keeping things open: "Different types of content brings different audiences," said Mitchell. "Audiences make the ecosystem better for developers."
"We're going to see a lot of indie developers in the space in general, because so many indie developers believe and they can afford to take a risk," Mitchell said. "Generally, I expect a lot of indies to be successful, because their budgets are lower and they believe in the dream."
"If we can sell enough that developers start being successful and they can reinvest in the system," he said, "we can start the cycle and kickstart the chicken and the egg problem. I think we can make this thing into a thriving ecosystem."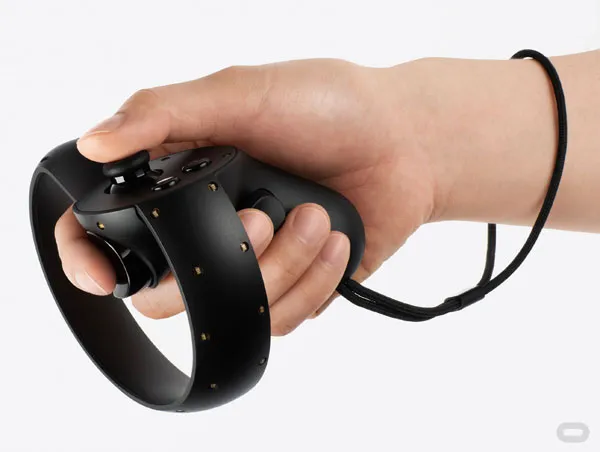 Oculus Touch
In fact, Mitchell expects small-scale games to be the norm as the platform launches; the economics may prevent anything else. It'll be "hard to do a 5, 6, 7, million dollar game, because the audience isn't there yet," he said. But if developers "can sell to 30, 40, 50 percent of this community who is so hungry for these Touch games, these Rift games," they will find major success, he thinks.
So is the audience for Rift indistinguishable from its development community? Mitchell doesn't think so. "Suddenly, if you're a consumer and you're listening, it sounds like, 'I'm ready to buy this thing.' I think there's a big audience that's going to come."
But those big 'ifs' linger: "Price is going to be one of the biggest barriers to entry. It's just not going to be some insane, insane console launch, but if we can build this thing year over year and keep growing the community and the ecosystem, then we can make VR that changes the world."