One of the most fun challenges of my job (as a trailer craftsman) is when a game has original mechanics that are tricky to communicate. They lead to a difficult question:
"How do we show this?"
That conundrum was the biggest reason I loved working on multiple trailers for Dimension Drive: a game that splits your attention into two halves (and eventually unifies into one dual set of realities). One half is where your ship is, the other is where your ship will be. Each dimension is separate, but connected. And your core arcade shooter rules apply: avoid enemies and their fire, shoot them when possible. It's not the hardest thing to describe verbally, but showing it effectively required a little bit of editorial gymnastics.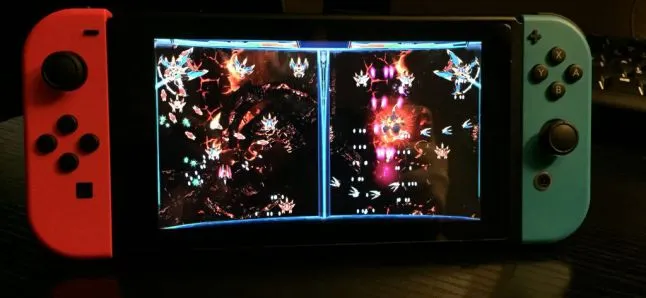 Today, the game is out on Nintendo Switch.
Since the game has a great story mode, I wanted to bring all of its parts (story, differentiating mechanic, and core mechanics) together in a single opening scene. We ran into a lot of hurdles along the way — not the least of which is that cutting away to other shots in a dual-screen visual is particularly tricky unless there's some background contrast. So, we changed-up shot-distances, faked a few transitions, and tried to make it flow evenly and quickly.

In those early draft stages, I didn't find that the unique mechanics were coming across. So I got a bit didactic to make sure the framing narrative worked. Fortunately, we had amazing voice talent to carry my "boil it down for me" script. But I may have dialed too far into "let's make sure they get this." While we turned-down the explanations for our subsequent trailers for the game, I think this "Over-Explaining" approach was essential for moving forward. If you're trying to figure out how to showcase what's special about your game, I think that's a key takeaway:
"Go full kindergarten teacher, before you trim your candy-coating"
You can see in our Early Access trailer, how I didn't pull any Kindergarten teacher punches (er, maybe gentle repetitions is a better metaphor), but the hyper-emphatic gameplay framing makes sure that the audience really gets it.
Players take at least half an hour of playing Dimension Drive before they're able to really see both sides of the screen in unison. But I wanted to somehow simulate that sense of control, by giving just a hint of camera focus, and precise cuts to make sure it feels like your eyes aren't darting all over the screen (more than they should). This camera-and-cut granularity worked with the voice acting and boss battle sequence in a way that added-up. As a result, we ended up with a pretty meaty trailer (over two minutes long).
When Nintendo gave us the thumbs-up to make the Switch announcement. It was a perfect time to ask:
"Okay, what can we trim-off of here?"
We only shaved off 18 seconds by shaving-out some of the more didactic explanations of the mechanics for the Switch Announcement version. A lot of comments on the YouTube video still questioned how it worked. So it confirms for me that still, some people won't get all of what the game does unless you spell it out for them. Nevertheless, we got what we came for.
We needed to move on—and highlight what's really important:
"SHOW ME THE ACTION!"

For the launch trailer, we wanted to get to the good stuff as fast as possible. So I had to quickly find shorthand for the mechanical framework. Again, I drew from my inner Kindergarten teacher: and said, "Let's just repeat the opening mechanic eight times!" But we did this to the stylish beats of José Mora-Jiménez as a bit of a charge-up action before the real stuff kicks off. Essentially, we framed the differentiating mechanic in 6 seconds and then let the action drive itself.

José's soundtrack turned into the trailer's spine for my edits.
José was a real pro. I probably sounded less like a kindergarten teacher and more like a Kindergartner explaining an action movie — describing how I thought the trailer should sound. He just nodded and smiled as I did all this, me not knowing if he was just thinking I was a crazy kid or if there was a method to all my literal ramblings and vocal sound effects. But somehow he knocked it our of the park! Satisfied my vision perfectly, brought his amazing talent to the table, and made the perfect base layer for the action story we were showcasing. The key for me was nailing that intro so it feels like we're able to set the mechanical foundation in 8 seconds. But he made something perfect and complete in every way. So it mostly started to just fall in place after that.
Other trailer editors may disagree with me, but this is what I believe:
"When you fill your literacy gap, your edits can flow from instinct."
You kind of just feel where things go—how to smack hard, into the action—or where to force a point. You can kind of just let the music drive, and place the shots where the rhythm lead you.
There's always more refinements from there, but when you have your core edit, the fine tuning is all you have left (though that often is "the final 90%"). Still, I think that captures how we assembled this final Launch trailer.
That should help you out if your game is hard to show: just put all your eggs in the literacy basket until it fully resonates with new audiences. Then, feel free to go wild!
"But don't forget about the fun."
There's a bit of a test at the end of the process: does the game still come across as fun? As I discussed in my Echo article yesterday, capturing fun is an elusive task. Every player's tastes vary: one man's fun can be another's torture. But playing the game now that it's done, it's clear to me that the game delivers a tension that made me want to lean-in. I have had so much enjoyment with the experience, and I can see that gleaned-at in our trailers. It's more than enough to abate my fears.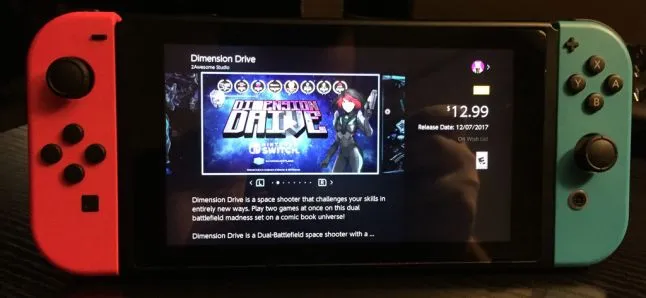 It's been a long journey for the 2Awesome Team. It takes a ton of effort to make a game with such a distinct mechanic — that really stands-out in the minds and imaginations of players. I hope it catches your eye if you see it on Steam and the Switch eShop.
~
Find my indie game trailer work at mjoshua.com. This original post was a part of my blog.