Free-to-play online games are perpetually reinventing themselves with patches and new content, but they don't often get a second chance to make a first impression. But Gazillion Entertainment managed to pull that off with the relaunch of their free-to-play MMORPG Marvel Heroes last year. The secret: a very slight tweak to the name.
When Marvel Heroes launched in the summer of 2013, it was generally considered to be...well, a mess. Critics grumbled about a lack of content, originality and difficulty. Gazillion CEO David Brevik freely concedes that the game was put out before it was ready, and that it was frankly not very good.
In the crowded free-to-play space, a lukewarm launch can be a death knell. (Even when there's a high profile comic book license attached.) "Here we were stuck with this Metacritic 58 score," Brevik tells me, "So our marketing dollars were going to waste. We would try to bring attention to the game, and they'd all just say, 'Well it's a 58, why bother?'
A year after its inauspicious debut, Gazillion relaunched Marvel Heroes. "We wanted to get a message out there we're completely different from what we were," says Brevik. "That's incredibly important, so how do we do that?"
They trumpeted the message that this was literally a different game than it had been a year ago. Like Jean Grey becoming Phoenix, it was returning in a more powerful form with a new name. "We wanted to avoid a label that was tied to any particular piece content," says Brevik. "Since we add all this new content all the time, it felt weird to name it something like, say, 'Secret Wars,' and then content for the next six months has nothing to do with Secret Wars."
The game was ultimately reborn as... Marvel Heroes 2015.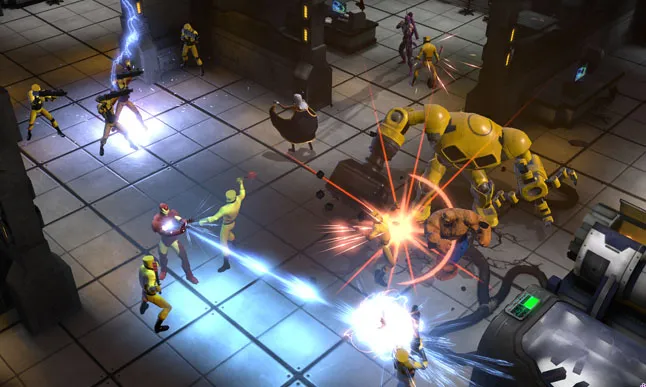 Marvel Heroes 2015 amalgamated a year's worth of yeomans work on patching, rebalancing, and added content. "I think that a lot of people who had tried the game at launch and been disappointed came back when we relaunched as 2015 and were pleased," says Brevik. Just as importantly, it also garnered its own new page on Metacritic, and it got onto the green this time. (Granted, the reviews that were now almost uniformly positive were from a somewhat smaller and more MMO-focused set of outlets.)
"Rebranding has been very effective for us," says Brevik. "Our audience is now bigger than it was a year and a half ago, and there are still people who only recently heard about it, so I think it's going to continue to help with retention."
Now that Gazillion has avoided the fate of the Infinite Crisis MOBA, whose popular license couldn't save it from bad buzz, they have been able to fully capitalize on cross-promotional synergy with other Marvel properties. "For the last Avenger's movie in May, we had more new players than we've ever had." Brevik tells me. "We have tons and tons of metrics, and our retention coming out of the Avenger's movie was higher than at any other time."
But over a year after the successful relaunch, Marvel Heroes 2015 is faced with a new problem: it's not going to be 2015 for much longer. The development team at Gazillion is preparing for another name change.
They will be ticking that number up a year.
"We're kind of stuck with it," Brevik says. "But it's not a bad thing, because now we can plan for it. The naming convention is something we thought about long and hard, and came up with a long list of possibilities. There are a lot of products that do annualized releases, from Windows products to sports games, all sorts of things. It communicates that it's the same game, but it has all these new features."
Marvel Heroes 2016 will provide a fresh focal point for all of Gazillion's marketing dollars. "We'll run promotions that tempt people in, and we'll get a lot of attention not only from press but also some slotting on Steam, and other things that give a big marketing push around the event," says Brevik. "It's our big launch for the year, basically. And I think as we get better with improving the game as well as watching our metrics and measuring things, our retention will improve as well."
There might be a lesson there for other free-to-play online publishers: a new name is a great way for the public and the media to get a handle on your latest batch of content and fixes. And if Madden NFL already came up with the perfect naming convention for an annualized franchise, don't reinvent the wheel.