The dust has cleared, the games are online, and the 1650 jammers have caught up on their lost sleep, and The First Annual Global Game Jam has been completed.
Visitors to the GGJ site will find a searchable archive of 370 games churned by teams at 53 locations around the world waiting to be downloaded and played. Since they're all, in theory, designed to be played in five minutes or less, you might actually be able to play them all if you have a spare 30 hours.
The Global Game Jam started when Susan Gold, head of the IGDA's Education SIG, came up with the idea while at the Gotland Game Awards in Sweden.
There, she met Gorm Lai, one of the co-founders of the Nordic Game Jam (NGJ) and pitched him the idea of a worldwide jam.
There was some initial skepticism from the NGJ, but they soon agreed to be the flagship event for the Global Game Jam. Gold then pinged her network about the idea, and the event began take on a life of its own.
Ian Schreiber, co-author of Challenges for Game Designers, developer, professor, and student outreach coordinator for the Education SIG, became the third collaborator.
Since the NGJ was the flagship site, and was an established annual event with set dates, the team had just four short months to do the planning and cover all the logistics efforts.
Despite this, the first Annual Global Game Jam sprang to life on January 30th as the clock struck 5 pm in time zone GMT +13.
First, the Big Picture
For the Ed SIG, the GGJ offered them the opportunity to address several of their goals; encouraging collaboration across educational institutions and with industry, extending outreach beyond North America and mixing students with pros.
Even better, they would meet these goals by encouraging the making of games via a unique experiment in creativity.
Roughly two thirds of the site organizers turned out to be academics; the remainder were game industry professionals. Locations that were able to have a mix of students and pros working together in teams and/or had pros participating as mentors offered a great opportunity for everyone during the GGJ.
While most of the sites were on college campuses, some jams were held in game studios and commercial buildings. One jam was even held in the middle of the International Comics Festival in Angoulême, France -- the primary comic convention in all of Europe.
---
Some of the site organizers cited an additional motivation in participating, to galvanize other developers in their local communities.
"I love making video games, and organizing a node of the GGJ was a perfect opportunity to share the love for making video games, as there is not very much written or said about the local video game industry in Venezuela," says Ciro Duran.
"It seemed like a great way to get local guys in South Africa involved (we're kind of isolated down here)," says Dr. Patrik Marais.
"Actually, one of our (company) goals is to create a community of game developers here in Costa Rica. So, we are planning to do some related activities during this year, in order, to archive this goal," says Shirley Monge.
For the three core jam organizers, the job didn't stop at planning and logistics. The actual running of the jam required a little additional endurance.
"It was 68 hours for us because we had to be there from the time the first people started in New Zealand until the last ones ended on the west coast of North America, so we had to coordinate our sleep schedules," says Schreiber. "But it was really amazing to see so many people getting organized and making games."
"I think the hardest part for us as coordinators was not being able to make games ourselves," says Gold. "We had to stay up all night watching people make games -- which is about as much fun as watching paint dry. The best part was hearing how much people enjoyed the jam experience, so not getting much rest on a weekend was well worth it for us."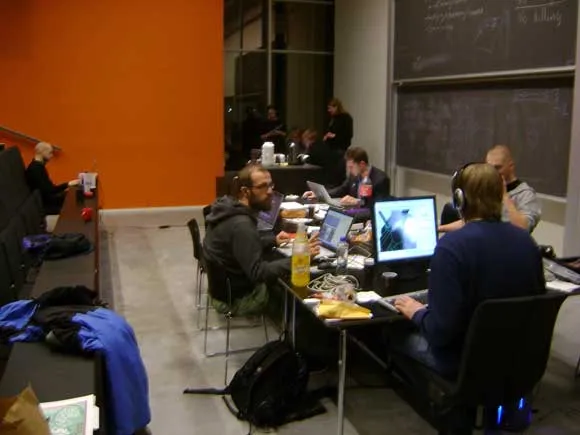 Nordic Game Jam and industry veteran Gorm Lai was puling double duty in Copenhagen. He was running the largest game jam, and having to help run the whole operation around the globe:
"For me the whole thing was pretty hectic; I was backing up Susan and Ian when they needed sleep, while at the same helping to organize the world's biggest game jam here in Copenhagen. Luckily for me, Ian and Susan went mostly without sleep, and I had four good colleagues plus eight volunteers helping me organize the event in Copenhagen."
For some GGJ participants, more than the usual stock of dedication was required. They needed to be willing to push themselves outside of their usual perception of themselves -- people that don't usually code programmed, and the graphically challenged made art when pressed.
"In Charlotte, first the number of participants swelled from the pre-registered 21 to 48; then a radioactive fire broke out in the same building during their first night. They were evacuated from the building into the freezing cold outside and then relocated. But it didn't slow them down, they kept pitching in the cold till they made it back inside," according to Schrieber.
"Ottawa had its registration numbers reduced by almost half due to the combination of inclement weather and a bus strike. In Ankara, a site organizer walked around every few minutes reminding people to save their work in case of power failure."
"Earlier in the day, someone plugged in a broken kettle and blew the power of the entire building, bringing things to a halt for 15 minutes, but no work was lost," he says.
Despite the extra challenges in some sites, and the effort required of participants and organizers alike, all the GGJ succeeded in producing games. The event also drew eyeballs from around the world as over 20 sites were webcast by Ustream.tv.
---
Around the World in 80 Games
It's virtually impossible (and not really desirable) to detail the action at 50+ sites hour by hour. Instead I got in touch with one site in each time zone to try to paint a picture of the event as it happened across the globe. (The total number of games produced by the sites below was actually 84... but the heading is less cool if I use the real number.)
Each site shared an opening keynote speech via video by Kyle Gabler, World of Goo developer, introduced by IGDA President Jason Della Rocca and Gold.
After this, each site organizer shared the design constraints. The first was a mechanic: each game play session should last no more than five minutes. The second was a theme: each game should relate to the phrase "As long as we're together we'll never run out of problems."
Additionally, each time zone was issued a list of three unique adjectives, of which the teams had to select one to also relate to the game. This third variable constraint was added to ensure that no one time zone had an advantage over the other.
While the GGJ itself was not set up as a contest, and there is no official "winning game" of the jam, many of the sites either brought in local industry members and/or help end of the game voting to pick a favorite game or games.
New Zealand GMT +13
At Dunedin's University of Otago, the tone words were "blank, cold, and modern." Here at one of the three sites to kick off the GGJ it looks like blank was the constraint choice for Dunedin's favorite jam game, TerrAqua.
As described: "See what happens when a previously care-free blank, barren planet gets slammed with a massive ice meteor, forcing upon it a myriad of issues to deal with, as it must balance the forces of its newfound ecosystem."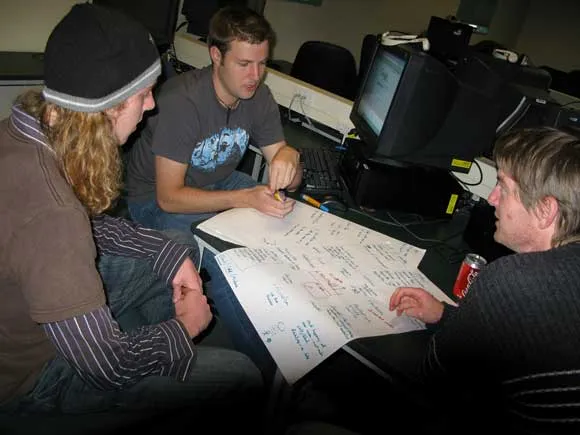 The Dunedin site organizer, Tim Nixon, head of Straylight Studios, added a constraint that would please the Quality of Life SIG of the IGDA.
"Our local constraint was that the lab was locked for everyone to go sleep from midnight till 8 am. We wanted to work smarter, not harder. On Saturday I woke up at 5 am like it was Christmas morning, itching to get back in the lab."
"Everyone turned up at 8 am sharp and was so focused and productive. I felt proud that we could take this approach and come out with 3 really tidy finished games at the end, without needing to thrash our guys and drink a ton of cola."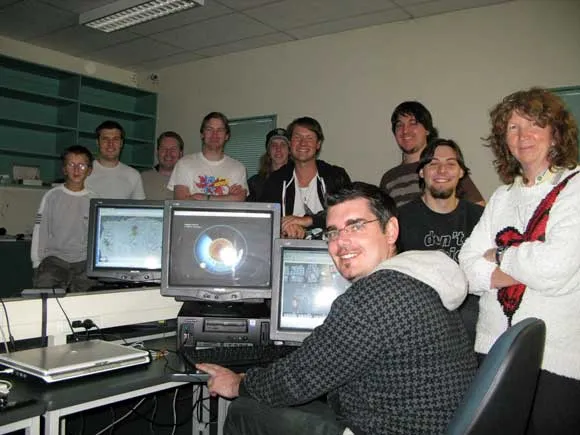 Israel GMT +9
In Tel Aviv at the Garage Geeks Hacker Space, the organizer was Software Developer Yuval Sapir. Sapir had originally planned on being just a participant, but he stepped up to take over from Corbomite Games' Oded Sharon, who had originally intended to be the coordinator, but changed his mind when it became clear that the GGJ coincided with the due date of and his wife Lee Eden.
This, however, did not stop Sharon and Eden from participating on the first day. Tomer Sharon arrived a week later, just missing his chance to be the first child delivered during a game jam.
In the mean time, Sapir kept the site running despite being sick and feverish through the experience. Tel Aviv's GGJ teams had the words "sleepless (especially appropriate for GGJ), cloudy, and destined."
The site favorite, Gravema, went with "sleepless" to produce a two-player battle game between an insomniac old woman and a hungry vampire. Sapir's personal favorite game was Starry, Starry Night, which used a mouse and a microphone for controls.
South Africa GMT + 2
At the University of Cape Town, Dr. Patrick Marais was keeping an eye on things. The tone word "missing" held special meaning for one jammer there.
"One guy pretty much wrote a game (Bash Bunnies, which involves... bashing bunnies) by himself after his two teammates left after day one. I thought that was pretty damn impressive. I think the best part was watching the final demos after 48 hours -- I had my doubts as to whether anything playable would come out. Fortunately I was very, very wrong. The teams were all frazzled but they had a great time," said Marias.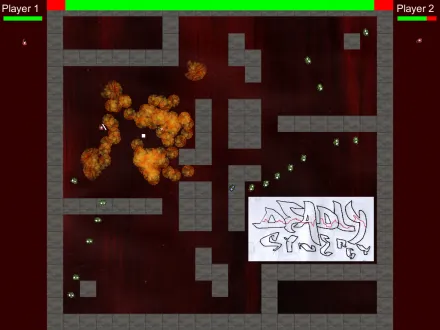 Deadly Synergy
Though Marais was impressed by the solo effort put out to complete Bash Bunnies, gameplay award went to Deadly Synergy, which Marias describes as "A cool little game which two people play together as a team, having to manage their strategy to defeat marauding enemies in a maze. But if the players approach each other too closely they, wind up killing each other by mistake."
---
France GMT +1
In Angoulême, the GGJ was located in the same space as the International Comics Festival. To add spectacle to the comics event, the jam was viewable on video monitors within the festival.
To celebrate and synergize the mixing of the two, Stephane Natkin, the site's organizer and Director of the ENJMIN The Graduate School of Games and Interactive Media, invited the celebrated comic artist Middam, author of Kid Paddle, to add an additional constraint.
So, in addition to the universal theme and play mechanic and the time zone dependent tone words "developing, falsifying, and trapped," Angoulême jammers had to produce language-independent games with the look and feel of comic strips.
At the end of the jam, each participant was awarded a comic strip from the festival and a discussion about the relationships between games and comics ensued.
The jammers were treated to another local resource as well during their 48 hour ordeal and Natkin proved he was a "hands-on" administrator: "As we are not far from the sea, we had an oyster dinner; I was in charge of shucking the oysters."
Angoulême's favorite game was selected by a jury that was directed by Serge Hascoet, chief creative officer at Ubisoft. The winner was The Reflection Fool, a puzzle game where the player has to take into account the movements of both his avatar and the avatar's reflection.
The two move along a symmetrical plane, while facing different obstacles, playing with spatial representation within games.
Ireland GMT
At the Tipperary Institute, Phil Bourke, program coordinator for its honors degree in Games Design and Development, showed off his surviving jammers to the school at large.
"We decided to present all the teams with their (GGJ) pins in front of other students that Monday -- that was a proud moment -- each team got a big round of applause and cheers from their peers and my fellow faculty members."
Though one of the tone words was rushed, it didn't seem to apply to the jammers. Says Bourke, "The guys came up with eight great game ideas and then quickly and professionally selected four for development."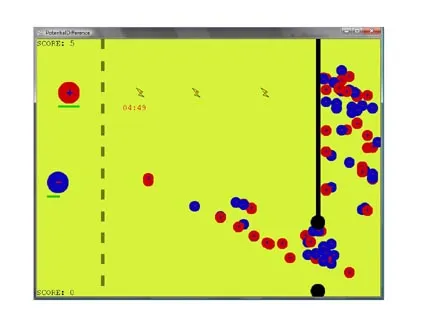 Potential Difference
The Irish local favorite was Potential Difference, a game where each player needs to shoot enemies of an opposite color/charge while collecting enemies of his own color to stem the loss of his rapidly diminishing health.
Brazil GMT - 2
In sunny Rio De Jainero, in the labs of the Universidade Federal Fluminense, Professor Esteban Clua joined the GGJ to "Offer something cool for the CS and Art students in our country."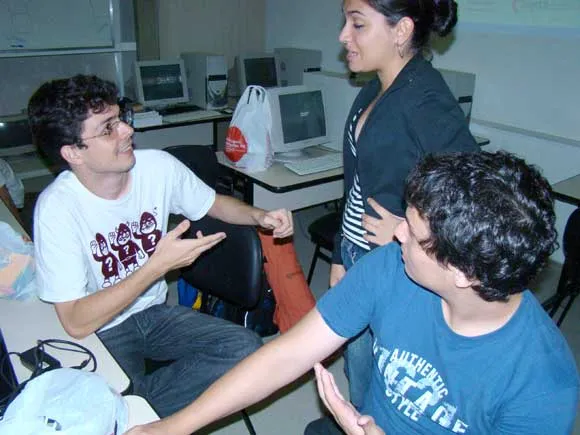 Tone words "traveling" and "busy" came into play in a head-to-head challenge between two of the jammers. Says Clua, "There was a competition between two participants to see who would go through the whole GGJ without sleeping.
On Saturday afternoon one of them said he was 'going to eat something,' but actually went off to take a secret nap. The other, seeing that his opponent was not present, went to a corner of the development room and also took a 'secret' nap (asking his friends to wake him immediately upon the return of his nemesis)."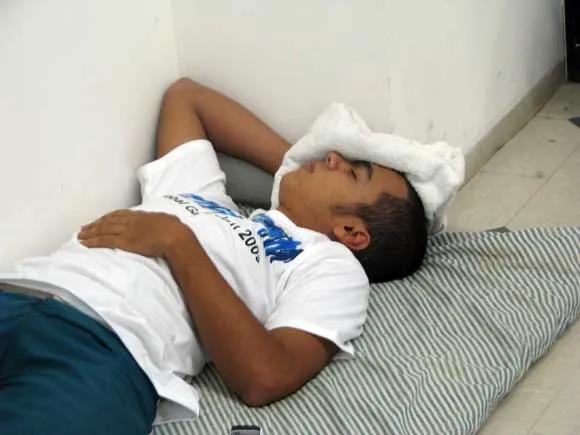 Rio's favorite game used the third tone word, "tiny", to spark Escape the Drain, where an odd-couple cockroach and his spider lady-friend have to exploit their "web connection" to escape the downpour from the showerhead.
Venezuela GMT - 4.5
Flex Programmer and Distance Learning Developer, Ciro Duran, ran the Jam at the Universidad Simon Bolívar in Caracas. Their GGJ participation ended up inspiring students beyond the college campus.
"On Saturday there was a special event for high schoolers to get to know the campus and the majors offered there, and you could see the bright faces of the students as they saw people actually making games.
The fave game of Venezuela was Gnaka Gnaka, a shooter with a moral dilemma attached. Up to four players combine into a kind of Marvel Comics Galactus-ish type of creature at points during the game, planet resource devouring team which must ravage a world and exterminate its inhabitants to stay alive.
---
U.S. GMT - 5
First Playable developer Elizabeth McLaren is a veteran. She signed up to run the ship at SUNY Albany "...because I like game jams and because we're trying to get more people connected in the game developer / enthusiast / student ranges around here."
Her moment to remember? "I just really liked the point where I looked around and realized everything was clicking -- we had meals arriving on time, we had people who were doing a bang-up job taking care of the site preparations, we had a lot of media support, and we had people who were willing to meet new people and work with them on games."
The tone words of "illusionary, pointed, and persistent" manifested in the Albany favorite Monster <3 Kitty, starring another mismatched romantic couple. The 2D sidescroller centers on the trouble the love struck pair's relationship causes them.
To protect the kitty, the monster must escort kitty through ten areas of monster world before kitty's nine lives are up. Perhaps the developers channeled the old Warner Brothers' cartoon 'Feed The Kitty.'
Costa Rica GMT - 6
Shirley Monge, an event planner with Mysterios Development, was the GGJ site organizer in San Jose, Costa Rica. One thing that stood out to Monge was the number of viewers their Ustream video got during the event. "We were in the top ten of the most viewed shows, so that attention was really unexpected for us and our sponsors!"
"Slippery" was one of their three tone words, and it led to a best game vote for Muu, a game where magically-enhanced cow feed leads to an over-productive milking barn for poor Benito and his pet bird Bobby, who must race from cow to cow milking before the poor beasts explode.
(Depending on the fat content of the milk, perhaps the other tone words "reduced" and "light" also came into play here)
US GMT - 7
Steve Graham, a professor at Dakota State University in Madison had teams "twisting their GGJ t-shirts into Ninja headbands" right out of their game Geezer vs. Ninja.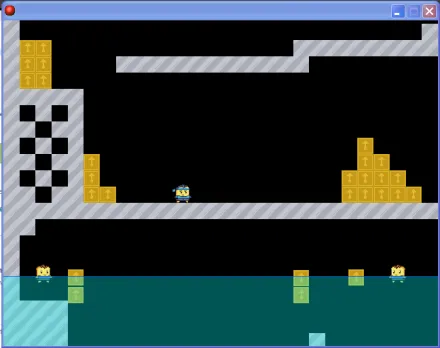 Narwhal 2: Revenge of the Whale
The favorite game? Narwhal 2: Revenge of the Whale. The player must save as many passengers as possible from a sinking cruise ship -- while stacking passengers to reach his fiancé, trapped at the top of the ship.
A varied NPC cast of "normal" people, fat guys, brats that throw candy, and Lobster-Throwing Ninjas populate the ship, which has had its hull punctured by a giant whale with a huge golden horn, a Viking hat, and a beard. Perhaps this team could have used a few more constraints.
Canada GMT - 8
Dr. Magy Seif El-Nasr, Assistant Professor at Simon Fraser University, was the last site organizer in the last time zone. Her reason for taking up the GGJ administration challenge? "Susan [Gold] told me to," she says.
"Seriously, though, I have been trying to get students and industry designers together for some time to have them give talks, etc. But what a better way than to get them together in one event where they all make games! "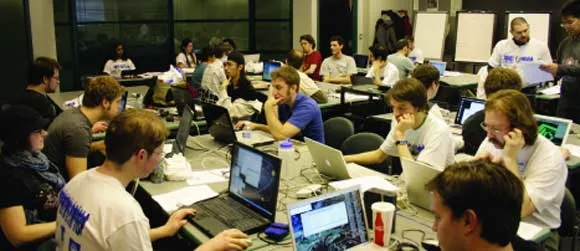 El-Nasr's location may have helped a novice break into the local industry as well: "A professional traditional animator (and the only woman participating in our event) came to the jam to learn about the process of game design."
"She joined a group who were quick to realize her talent and devised the game to maximize the art aspect of it. This relationship grew as the jam progressed and in the end she gained a lot of experience and possible job leads and offers."
El-Nasr said that all the games at her site were excellent and that no "winner" was chosen.
The Party's Just Getting Started
The SIG's goals for the event were actually exceeded. The GGJ Survey has shown that the event was a seminal one for many of the participants, galvanizing their passion for making games and creating a successful blend of industry and academia that will help build and/or strengthen ties across the two.
All this has ensured that this really was just the first GGJ. Plans are already in the works for GGJ 2010. Expect to hear more at Gam Developers Conference this year. While you're waiting for the next update, go to the Global Game Jam site and try the games.
If you are at GDC stop by the Dutch Pavilion, Cogswell Polytechnic, and the RIT booths to play some of the games and enter a raffle. The prize? A "training kit" for the next Global Game Jam.
[NOTE: For additional reading, Gamasutra sister website IndieGames has picked some of their favorites from the first Global Game Jam.]