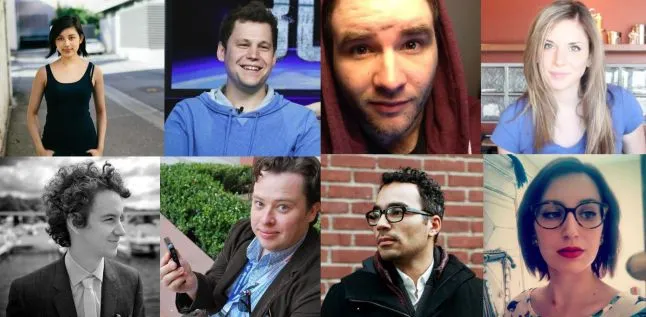 The following video is a presentation I gave at the Full Indie Summit in Vancouver, BC this weekend, with the goal of introducing indies to a different way to consider the press: not as one entity, but as individuals who are well worth being known by name, face, and approach to their craft. Along with my own commentary, (from top left) Tracey Lien from Polygon, Justin Davis of IGN, Chris Priestman from Pocket Gamer, Mary Kish from GameSpot's The Lobby, Patrick Klepek from Giant Bomb, Justin McElroy from Polygon, Jamin Warren from Kill Screen, Jess Conditt from Joystiq, and (no picture submitted) Chloi Rad from Indie Statik all lend their insights and anecdotes to suggest what makes good stories throughout a game's dev cycle.
I've seen a lot of great talks that give examples of how to reach out to the press at large, and yet, I think most developers feel dismayed when they follow the "presskit and press release formula" only to yield no results. I think this might shed a light on what individual writers are looking for when you reach out to them, and what they like to hear.
The last part of the talk also contains some interesting comments on "pitching exclusives," too.
Mike Rose on Gamasutra gave a great presentation last GDCE that polled hundreds of journalists on their job, in case you want an additional source to read up on press behaviors, in general. Several of these anecdotes echo parts of Mike's poll, but it's great to hear concrete examples of how each writer handles stories, and it's excellent practice to start learning these experts of games journalism by face and name.