Today Gamejolt announced the creation of a full indie marketplace for its platform, offering indie developers another home for distributing their games and a chance to receive extended platform support. The company presents this as a community-focused initiative and promises an array of features developers will have in setting up their storefronts.
Developers who choose to publish on Gamejolt will be able to set the percentage of their revenue that goes to the platform, which caps out at 10%, meaning developers will be able to keep up to 100% of the revenue if they so desire. Gamejolt promises to take care of taxes, including value-added taxes for different regions, and will allow to developers to withdraw earnings at any time or store them in their Gamejolt wallet.
The Gamejolt wallet is slightly unusual in that when developers purchase games with funds stored on the wallet, developers won't have to pay any payment processing fees, and Gamejolt won't take a cut of the revenue, streamlining the purchasing experience for buyer and seller.
Developers will be able to use their storefront to also sell soundtracks, artwork, and levels for their games, and will be able to set individual pricing or "pay what you want" models for different items. In addition, the Gamejolt API will let developers include high scores, achievements, cloud storage and more.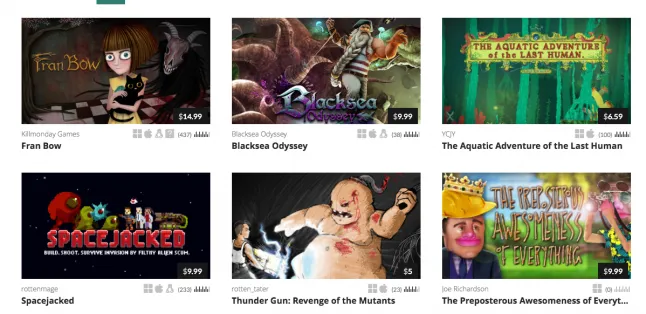 Players will able to become special "supporters" for developers by paying more then the game's price point, and show up on the game's store page.
The marketplace is launching with a select group of developers, including the maker of the critically acclaimed Fran Bow, to test these features, but will be available soon to all comers, according to Gamejolt. The platform's large audience of free-to-play players interested in offbeat titles should certainly be of interest to indie developers, but this may mean developers should expect to price their games at relatively low levels. Currently, most games in the marketplace run under $10, though Fran Bow itself retains its Steam price point of $14.99.