British studio Rebellion has been taking on all kinds of game development work for years now. But as the game industry changed, the company had to evolve as well. The Oxford-based company started out creating games for publishers like Atari, and later for Ubisoft, EA and Namco, but the studio felt more in its element when it was creating its own intellectual property. The original
Sniper Elite
was released in 2005, a tactical shooter published by MC2 France that gave Rebellion a real taste for creating its own brands. Nearly a decade later, Rebellion is moving away from work-for-hire. "Rebellion is making the transition from being a developer to a publisher and developer with its own IP," the studio's art boss Chris Payton tells me. "We own
2000AD, Judge Dredd
, everything that goes with that. We have
Evil Genius
. We picked up the Atari license to
Battlezone
, so we've got that in our backpocket. There are really exciting things going on." Now the company has the true freedom that it has longed for all these years, says head of creative Tim Jones. "If we want to try something, we can. I guess where a lot of studios struggle in the current development cycle is that they still take on a lot of work-for-hire, working on milestone payments from publishers that are paying them to do a project."
"Rebellion is making the transition from being a developer to a publisher with its own IP."
"For a long time Rebellion has always been doing a mix of that," Jones adds, "but wherever possible we're also doing our own thing with our own IP, and publishing our own stuff. And we're now going more that way. Fortunately we're now in the position to weather the change, while a lot of other publishers are essentially battening down the hatches and only developing internally on the next
Call of Duty
, or whatever bankable AAA thing it is." Notably, Rebellion still utilizes 505 Games as a publisher for its console versions. "They have distribution channels linked to consoles that we just don't have," notes Payton. "We're fine on Steam and on the App Stores, but they have a real specialism in those markets, and getting to retailers which just works great for both of us." "Yeah, everyone's got to have their specialisms, and I have enormous respect for those people whose passion is distribution," laughs Jones. "It's just that that's not my passion! I'd probably be rubbish at it. Quite frankly, we'd rather be making stuff!" This new focus on owning and developing original IP has allowed the company to experiment heavily, says Jones. For example, Rebellion has launched a bunch of mobile games over the last few years to test the App Store waters, including
Guns 4 Hire
-- and of course, there's the
Nazi Zombie Army spinoffs
from
Sniper Elite
that have now evolved into something much bigger than Rebellion ever imagined. "We had a bit of downtime for our Runcorn studio, because we were doing
Sniper Elite V2
DLC, and it was something that sort of grew organically," says Jones of the zombie spin-off. "We thought 'Let's try this' and it just worked. It was fun, and it's exceeded our expectations."
This experimentation in between big-scale releases has proven very successful for Rebellion, the creative head adds. "All the talk is about free-to-play and App Stores, and where all the huge crazy money is," he says, "but actually there is really great business to be done for a company like ours on games aimed at more of a 'core user,' as we call them. More traditional PC players who we can get straight to with games that would have been almost impossible to get a publisher to fund development for. We can do that, because we have the resources to do so." The YouTube Let's Play boom has been particularly kind to Rebellion. The company's
Sniper Elite
series is perfect for video replays, as players can show off their crazy sniper shots in super slow-mo.
"We're now in the position to weather the change, while a lot of other publishers are essentially battening down the hatches."
"We really didn't see it coming," laughs Jones. "There's a natural virality behind videos of the game, which we didn't actually plan. But now it's like, obviously people would want to share that!" Going into
Sniper Elite 3
the team isn't purposely focusing on adding new elements in the hope of attracting more YouTube videos -- although they won't complain if it happens all over again. "We certainly want to go further and build on what we'd done before," says Jones. "Obviously there are lots of cool things we an do representing the kill cams in more detail. So there were obvious things we wanted to do there." But, adds Payton, "I don't think it was like 'We must do this.' We revisited so much past game artwork, restructured our entire animation coding system to support better AI. We've rewritten our entire environment pipeline and lighting systems, because we want better environment models. That was in the response to the fact that AI and linear levels were flagged as really the two big problems, and those are the two things we've sought to address before anything else."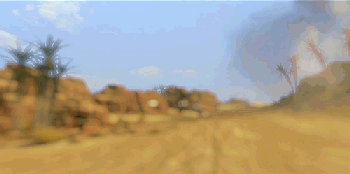 "I'd be lying if I said it was easy," notes Jones of adding to the original
Sniper Elite
concept. "The core mechanic isn't going away - most people said that even if they didn't like other aspects of
Sniper Elite 2
, the sniping was really satisfying. So we haven't messed with that. The things we really wanted to build on were the tactical choice, the stealth gameplay, improving the AI - all those things. So we knew exactly where we needed to target our attention, but always keep an eye on not messing up the thing that's at the heart of the experience." For now, Jones believes that the current trend to follow in video games is "games as a service" -- although he's quick to note just how much of a cliche the phrase has become. "But gone are the days of just putting a product out there and saying 'Right, bye bye!' and moving on," he says. "It's far more interesting now. There's no substitute for real feedback from real players who have actually spent money on your game, not just had a free copy handed to them and needed to play through it as quickly as they could for review, alongside the other hundreds of games they review. That's why we do it."