Given the scale of financial information generated every three months by dozens of game companies, we've been considering a simpler way to present it.
Welcome to the second of our quarterly summary of game company financials.
Starting with the key Western companies, plus Nintendo, this is your cheat sheet of who's up and down.
Ranked in terms of a company's market capitalization, you can simply read along a row to see if a company beat (or didn't beat) its previous revenues and profit figures on a year-on-year and quarter-on-quarter basis.
NOTE: We're not detailing the actual sales and income figures, just the short and long term trends. Also, if a company is/was loss-making in the quarter, we can't calculate the percent, hence the "N/A".
On the up
One key trend in this period - the three months from 1 April to 30 June 2017 - is all companies again experienced strong growth in their share price, both on a year-on-year (YoY) and quarter-on-quarter (QoQ) basis.
Activision Blizzard, EA, Take-Two, and Ubisoft stock are now at all-time highs. For investors, 2017 is shaping up to be a golden period for game company shares.
Additionally, the second row of red arrows demonstrates that most companies experienced a drop in quarter-on-quarter revenue, because the previous quarter was boosted by large amounts of deferred revenue from the October to December season.
Only Zynga and Glu Mobile bucked this trend because they are growing from low bases and because mobile game companies don't experience the same seasonality peaks-and-trough as console/PC companies.
You can read a more detailed per company summary below.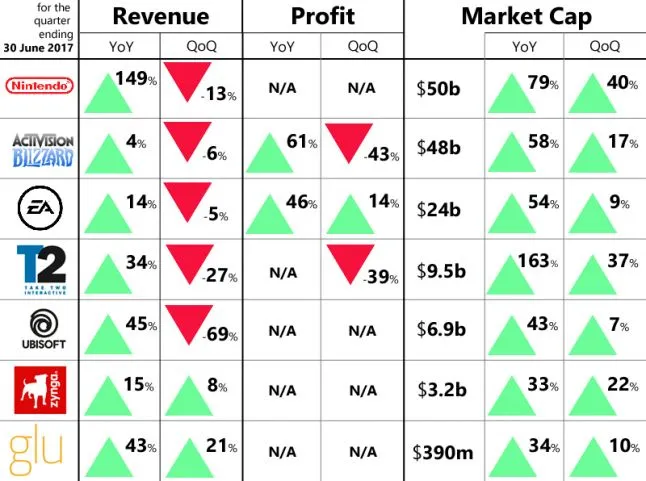 Nintendo
Given the successful launch of Switch, it's no surprise Nintendo posted very strong year-on-year sales growth; something reflected in the heady rise of its share price, which sees it beat Activision Blizzard to a $50 billion market capitalization.
During the quarter, Nintendo shipped almost 2 million Switch consoles (down 700,000 compared to the previous quarter), with software sales up from 5.5 million previously to 8.1 million. The result was a drop in quarter-on-quarter revenue. Nintendo posted losses both 12 months and three months ago so we can't calculate its percent change with respect to profits. [See our previous coverage here.]
Activision Blizzard
Strong digital sales helped Activision Blizzard to "better-than-expected" revenue, with the continued strength of Overwatch combining with the release of the Zombies Chronicle expansion for Call of Duty: Black Ops III and Crash Bandicoot N. Sane Trilogy on PS4 being the main product drivers. King experienced a drop in monthly active mobile players, but generated more revenue on a per payer basis.
Activision's revenue and profits were down down on a quarterly basis thanks to comparison with its January to March period. [See our previous coverage here.]
EA
As with Activision Blizzard, EA's quarter was boosted by rising digital revenues from Ultimate Team operations, which is its biggest single source of income, as well as The Sim 4 and Battlefield 1. On mobile, FIFA Mobile passed 95 million unique lifetime players, while NBA Live Mobile hit 70 million uniques.
However, it is important to note 47 percent of GAAP revenues booked during the quarter were deferred revenues from retail sales and digital purchases from previous quarters, which was enough to also see profits up quarter-on-quarter. [See our previous coverage here.]
Take-Two
Thanks to games such as GTA Online, GTA V and NBA 2K17, Take-Two saw digital revenues up 56 percent year-on-year and that helped it post robust sales growth despite a lack of new releases. As a result, the company has raised its full year sales guidance.
Both revenue and profits were down compared to the excellent previous quarter however. [See our previous coverage here.]
Ubisoft
The surprise wasn't that Ubisoft beat guidance by 19 percent but that it did so without any strong reason why. Its biggest game was Tom Clancy's Ghost Recon Wildlands, but more generally, Ubisoft's entire back catalog performed well. It accounted for 94 percent of sales, while digital sales rose to an all-time high of 80 percent. [See our previous coverage here.]
Zynga
Investment in live operations continues to pay off for Zynga, with CSR Racing 2 having its best quarter ever and Zynga Poker and the company's social slots games maintaining their momentum. The result was Zynga's first profitable quarter for a year and a half. [See our previous coverage here.]
Glu Mobile
Glu Mobile spent almost $14 million marketing its interior design game Design Home during the quarter and was rewarded as it accounted for 27 percent of sales, pushing Glu to its third highest revenue total ever. The company remains solidly loss-making though.
Still, there is hope. With expectations for Design Home remaining high, Glu raised its full year guidance for the second quarter in a row and says it could hit breakeven in Q4.