Digital sales are increasingly important for pure software and service companies like Electronic Arts and Activision Blizzard, but platform holders like Nintendo have long had a broader revenue base. Nintendo, for example, has historically drawn revenue from its own software sales, software licensing to third parties, hardware sales, and accessory sales and licenses.
But Nintendo is now caught in a negative feedback loop that has hurt all of these areas.
We are well past the point of wringing our hands over the Wii U's fate. It is a failed console, and will remain so. Wii U hardware shipments in the past 12 months were just over 2.7 million systems, a figure well under what Nintendo shipped in the two months after the system launched.
The 3DS is past its prime, with its peak worldwide shipments coming 1.5 years ago, around September 2012. At that point, Nintendo was shipping 15.5 million 3DS systems per year, and that rate has been on the decline in each of the subsequent six quarters. It now stands at 12.2 million systems per year.
Will the 2DS save the 3DS? No, it won't. Nintendo only shipped 90,000 2DS systems in the last quarter.
With hardware sales declining rapidly, it is merely a matter of time before software sales begin to contract, and quickly. And with fewer people actively buying the systems, the accessory makers will also see lighter sales.
Along with all these other areas, it now appears that Nintendo digital software sales are also stalling. When I first wrote about Nintendo's digital sales, the company was showing double digit growth in TTM (trailing twelve-month) sales in that segment. However, sales have leveled off in the last three quarters, as the graph below shows.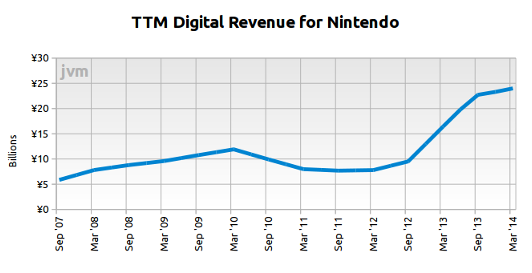 Yes, the company's digital business jumped 46 percent from March 2013 to March 2014. But look at those figures for the last three quarters (September 2013, December 2013, and march 2014). During these last nine months, the company has seen only marginal year-over-year increases in the quarterly revenue figures.
The total for the last 12 months now stands at ¥24 billion, or right aroud $239 million.
Digital has also stopped its growth as a segment of Nintendo's total software revenue. The figure below demonstrates this phenomenon.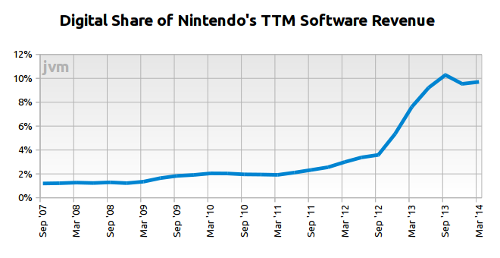 Whereas software and service companies like EA and Activison Blizzard are well on their way to getting half of their annual revenue from digital sources, Nintendo has hit a ceiling at 10 percent.
It seems quite likely that the revenue they are getting from digital has a rich margin attached to it, and that should be softening some of the losses they've been incurring. However, with the hardware bases levelling off, there is only so much that can be squeezed from this audience.
At the moment when Nintendo most needs rich sources of revenue (and more importantly profit), it has run out of steam on practically every front. Nintendo needs a plan to right its ship, but I regret to say that its digital software sales simply won't be much help.