Nigel Lowrie of Devolver Digital began his GDC talk with a screenshot from the original Legend of Zelda. He claimed that it epitomized the relationship between indie developers and publishers.
The classic Nintendo game begins with a mysterious old man offering our hero Link a sword and telling him, "It's dangerous to go alone! Take this."
For Lowrie, this is an object lesson in bad advice-giving and poor decision-making.
"Link's about to embark on this grand adventure," he says. "He just takes the sword and rolls out, because he asssumes this old guy knows what he's doing. But he quickly finds that he needed quite a few more things than a sword to finish his adventure."
"Link doesn't know who this old guy is or what he did," Lowrie adds. "He doesn't even know what cut the old guy is getting--maybe he's getting like 75% of the rupees!"
Lowrie's takeaway is that Link's failure to take the time to arm himself with all fo the knowledge and tools he needed to succeed made his task much harder (and doomed him to appear in a "shitty sequel.")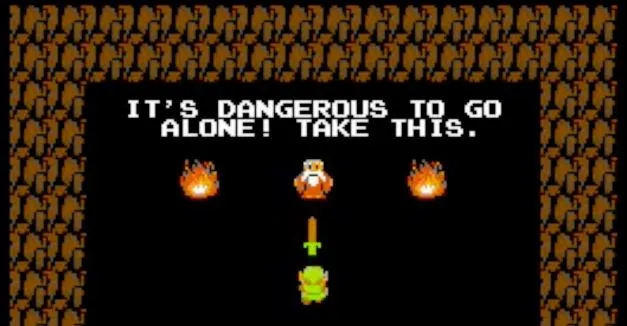 Lowrie believes that "digital distribution has bestowed an unbelievable amount of leverage to developers," but admits that he was being a bit flip when he named his panel "You Don't Need a F'ing Publisher." He says his real message to indie devs is that if they are contemplating a relationship with a publisher or partner, they should make sure to ask a lot of questions before they finalize a deal.
Lowrie listed off some of the many potential partners out there. In addition to Devolver, there are outfits like Sony, Curve, Indie Fund, Double Fine, Finji, Adult Swim, and Team 17. He exhorted devs to ask granular questions about what a publisher planned to do to help them with funding, production, marketing, and distribution.
"Are they doing PR themselves, or are they contracting it out?" asked Lowrie. "And is it just in North America? There are a lot of people outside of North America who want to be talked to in their own language with their own cultural nuances."
"Do they go to events outside of America?" he added. "A lot of people go to things like BitSummit. Do they reach out to Youtubers and streamers? If not, walk out the door!"
Lowrie stressed the importance of studying a publisher's previous marketing campaigns, their success in placing games on platforms like Steam and the Playstation Store, and their associations with certain niches and genres--for instance, certain publishers are so well-known by fans of point-and-click games that being associated with them can generate real synergy for devs working in that genre.
Lowrie also stressed the importance of talking to other developers who've already worked with a publisher. "And don't just talk to people who sold lots of copies of their game, because they're naturally gonna be very happy about everything," he says. "Talk to people whose game was fine, but it didn't sell a ton. How does the publisher carry itself if things are not as stellar?"
He stressed that developers should demand enthusiasm for their product, a stage and a spotlight, and brutal honesty in all dealings. (Developers should in turn be brutally honest about their demands, their complaints, their delays, and other issues.)
"Publishers are gonna show you the best things they've done, the fancy launch trailers," says Lowrie. "Trailers are important, nice booths are important, but look for creative things they did that cost nothing and got the communiity excited," He cited a free Google phone number that Devolver set up while promiting Hotline Miami. It ended up getting thousands of voicemails and text messages from fans of the game.
Some other tips from Lowrie's panel:
You want to have a personal relationship with your publisher or partner. If the person signing your game is not person you will deal with on day to day basis, why? Who is the person who will answer your calls in the middle of the night? Who is it that can execute and make things happen for you?
If a game is your baby, the intellectual property is its soul. Do not sell your IP.
Even if your game is a hit, it can take six weeks to two months before the money starts rolling in from the platform. Don't get caught short because you expected to get paid on the day you launch.
Try to understand the health of your publisher. Plan and position for the future--game out what you're going to do next.
If a publisher guarantees you success, they are lying.
You have lots of publishing options, and each can do different things for you. Make sure that you and your partners know each other completely. Never forget that you're in charge, and that self publishing is better than a bad deal.