Making a game from the ground up in a 48-hour period can be messy, sweaty, exhausting...and a great way to shake up your creative sensibilities.
It can also produce some surprising and illuminating innovations that you might not have ever stumbled upon via the standard design process.
Some of these rough-hewn gems have even made their way to a commercial release. We decided to look at several prototypes that got commercialized.
We've collected a sampling of titles that hit big, or are about to go on sale later this year. Each offers lessons in marketing, design, and even how the format of a jam can foster compelling designs.
Superhot by Superhot team
Game Jam it Emerged From: 7DFPS, aka, 7 Day First Person Shooter Game Jam
What is it? The concept can be stated in one sentence: time only progresses when you move. With otherwise familiar first-person shooter controls, the result is a unique concept born from the fires of a week-long game jam that caught the video game world's attention instantly.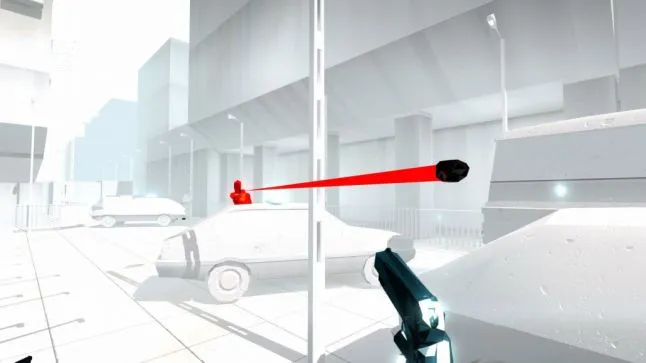 What Can We Learn? The team's main sources of inspiration were Flash game called Time4Cat and a music video called "Bad Motherf*ckers." It successfully captures the the compelling essence of its inspirations.
The time/movement mechanic highlights how hewing to a simple rule can explode into a variety of interesting design decisions when fueled by a clear aesthetic direction. It's also a beautifully simple high concept that's easy to describe and imagine. (Its demo at E3 was compared to Neo dodging bullets in The Matrix). All of this makes it imminently marketable, and the Superhot team were very savvy about spreading the word about their prototype. Its savvy marketing campaign, from playable-in-browser prototype to Kickstarter to Greenlight, shows how a developer can capture the gaming world's interest with a polished game jam prototype. (The fact that it's playable in browser, with no need to download or configure a file, probably also helped it build word of mouth.)
Commercial Release: The finished version of Superhot will be out sometime later in 2015 on Steam and Xbox One, but for now, why not give that original prototype a spin?
Costume Quest by Double Fine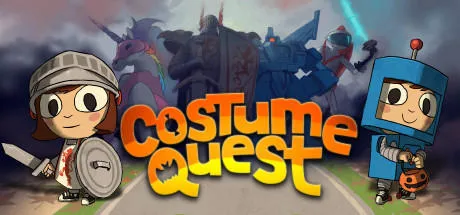 Game Jam it Emerged From: Double Fine's Amnesia Fortnight Game Jam--a two week internal jam that first took place during Brutal Legend's development. It was meant to encourage the creation of small prototypes for the company to experiment with, as the studio worked on Brutal Legend 2.
What is it? Costume Quest's prototype mostly serves to showcase the basic nostalgia for the Halloween costumes of your childhood, when you could feel like a world-conquering hero in cardboard armor with a trash can lid shield. Both the game jam prototype and final game contain this infectious costumes-turned-real-life aesthetic, steadied by a base of RPG mechanics as old as Final Fantasy
Costume Quest was one of several prototypes Double Fine cooked up during their internal Jam. When Brutal Legend 2 was put on "indefinite hold" by EA, Double Fine dug into its Amnesia Fortnight prototypes in search of projects that might have commercial viability. A commercial version was released in October of 2010.
What Can We Learn? The game doesn't introduce much in the way of new mechanics or design, but it and the other Amnesia Fortnight titles show how a game jam within the company was used not just to let designers flex their muscles on their own projects, but to help deal with problems you may not even know you have to solve yet (like a major project falling through).
Other in-studio jams that Amnesia Fortnight is worth comparing to is Insomniac's internal game jam that led to the creation of the traversal mechanics of Sunset Overdrive, and Riot's famed Thunderdome project which gave birth to some of League of Legend's new game modes, as well as crazy hacked projects like a League of Legends Super Smash Bros. mod.

Commercial Release: You can pick up Costume Quest and other Amnesia Fortnight prototypes in Double Fine's personal store.
Super Time Force by Capy Games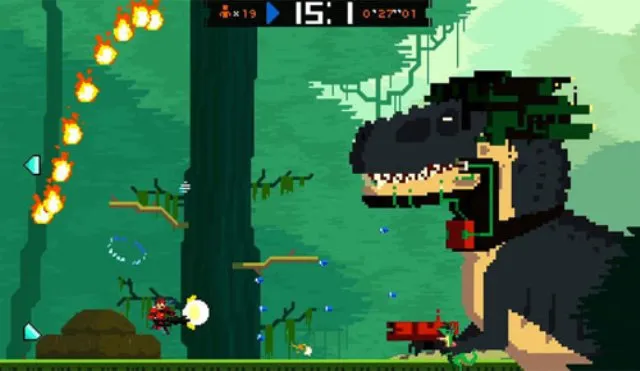 Game Jam it Emerged From: 2011 Toronto Game Jam
What Is It? Capy Games' Super Time Squad was born at the 2011 Toronto Game Jam went on to become Super Time Force, a critically and commercially successful side-scroller.
What Can We Learn? Capy Games' Nathan Vella actually broke down the lessons from that jam-to-production process at GDC Next 2013, giving lots of tools and advice for developers to take their game from the game jam to an eventual commercial release.
Vella pointed out that game jam prototypes need to be considered separately from the normal prototyping process----a jam is about "finishing something," while prototyping is supposed to "answer a question." He notes that at their core, both of these different kinds of prototypes are "about an idea, then getting a controller in someone's hand to get them playing that idea."
Vella's talk also explains the process that Capy Games went through to hire new team members for different parts of the production, as well as the value of immediately getting their game to conventions in order to accumulate player feedback.
Commercial Release: It was commercially released on PC and Xbox Live in 2014. You can get it on Steam, or from the developers' site.
Classroom Aquatic by Sunken Places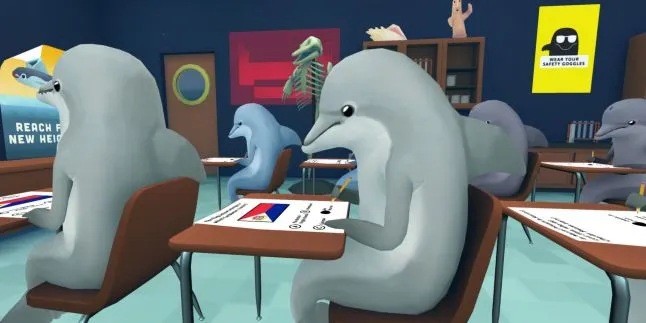 Game Jam it Emerged From: 2013 Oculus VR Jam
What Is it? A stealth game where the player is stuck at a desk trying to cheat off other students. Who are, um, dolphins.
What Can We Learn? Classroom Aquatic was one of the entrants from the 2013 Oculus VR Jam that's already been listed on Steam in anticipation of its launch. You can download the demo on Steam, and play it with or without an Oculus Rift. Classroom Aquatic is one of several VR demos created at the Indiecade and Oculus-backed VR Jam, with cash prizes available to a wide selection of winners.
It's very straightforward, but it's a very intelligent use of VR. Like one of its fellow jam celebrants Darknet, Classroom Aquatic reinforces the notion that the VR revolution is a reinvention of traditional right-stick/mouse camera movement, and locks the use of the movement to focus on a set of rules defined by the player's instinct to peek at a strange 3-D space.
If you're working in Oculus Rift, or have any desire too, you might want to get in on the 2015 VR Jam for your own shot at the prize money.
Commercial Release: It's scheduled to be released at the end of 2015.
Gods Will Be Watching by Deconstructeam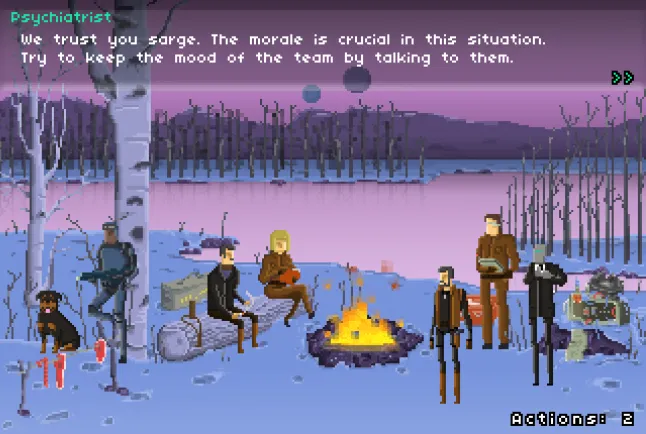 Game Jam it Emerged From: Ludum Dare 26. Ludum Dare is a regularly held global game jam that takes place over the course of a weekend, where games must tie back to a specific theme. (In this case, it was Minimalism)
What Is It? A Point-and-click adventure game that evolved from a single "tough choice" scenario into a longer story based on the same challenging and tough decision making process.
What Can We Learn? Gods Will be Watching is a dark, angry game that kills characters on a whim and is determined to drive its player to dark deeds in order to "win" its bleak scenario. Checking out the original prototype, you can see the difference between how its mechanics, obfusticated ruleset, and randomized variables play out in a one-scene scenario versus the multiple scenes of the final game. In the original prototype, the goal to ensure that enough people survive a cold alien winter forces the player into deciding how much of their limited time to spend on each of their crew members. The full game takes this crew and these dire scenarios and stretches them out into a full adventure, serving as a model for how to scale up such consequence-driven storytelling.
Commercial Release: Launched on Steam on July 24 2014.
Surgeon Simulator by Bossa Studios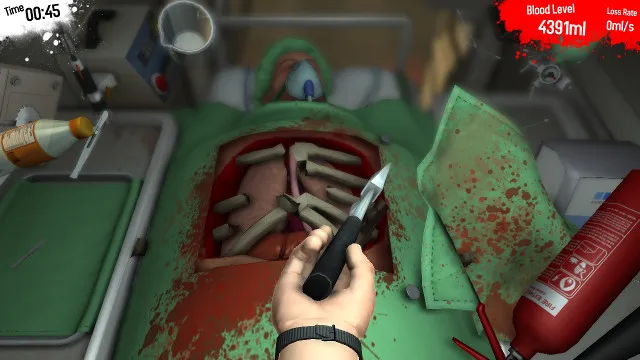 Game Jam it Emerged From: Global Game Jam 2013
What Is It: It's been described as a cross between the board game Operation and the deliberately frustrating controls of QWOP. You control a surgeon--or rather, the hand of a surgeon--as it fumbles around an operating room and grabbing bone saws and scalpels and transplant organs in a haphazard attempt to patch up a patient. It's awkward, hilarious, and not for the weak-stomached.
What Can We Learn? What's impressive is how many clever variations Bossa Studios was able to work on this one-joke premise. Once you've mastered the game to the point that you are no longer killing all of your patients, Bossa replaces the operating room with an ambulance that interrupts your incisions with random jostles and bounces. After that, you get to treat patients on a gravity-deprived space station.
Commercial Release: Bossa had a commercial version ready soon after the jam in January of 2013, and it appeared on Steam that April. It has since been released on iOS, Android, and PS4.
Goat Simulator by Coffee Stain Studios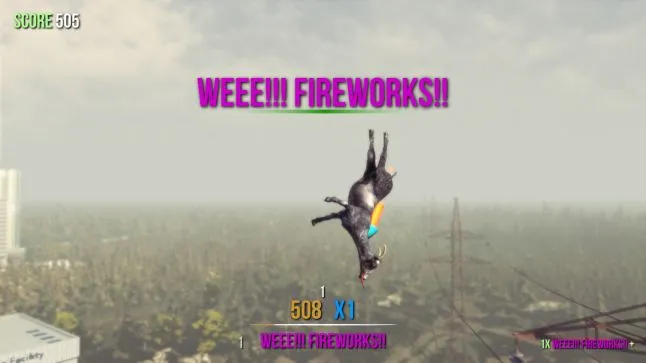 Game Jam it Emerged From: An internal game jam that Coffee Stain Studios staged after finishing its commercial title Sanctum 2.
What Is It: A completely accurate simulation of the life of a goat.
What Can We Learn? Anyone who's seen this rough, bizarre game in action won't be surprised to learn that it was never intended to be a purchasable game. But it encouraged the sort of sandboxy physics experiments that no Let's Player could resist. A video of its broken, buggy alpha went viral online, and demand escalated quickly.
If most of the games on this list have been about exploring different ways to polish and expand rushed prototypes, Goat Simulator might be a lesson in realizing when your rushed prototype itself might be a commercially viable product. In this age of Early Access alpha releases on Steam, the line between rough-hewn Game Jam proof of concept and commercial release is becoming more and more blurry...
Coffee Stain Studios' Armin Ibrasabic even gave a talk at GDC Europe explaining how his team discovered that Goat Simulator would be their next game----their main mantra being, "try not to try too hard."
Commercial Release: Launched on Steam on April 1st, 2014. (When else?) Coffee Stain Studios moved on to release the game on mobile and consoles, focusing mostly on making the game playable, then eventually shipping DLC.
This isn't a comprehensive list of unique game jam games that made it to market. What are some game jam games you've purchased and enjoyed? What are some prototypes you'd love to see finalized and brought to market? (If you want to look at more game jam projects that have successfully made the jump to commercial release, check out this handy list assembled by Them Games)